UFC on FOX 1: Live Results and Commentary of the UFC's Landmark Fight Card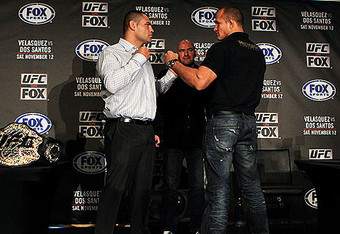 If a picture is worth a thousand words, the image of UFC heavyweight champion Cain Velasquez vs. Junior dos Santos is worth five volumes' worth of MMA history.
The Terminator and Cigano are seen as the No. 1 and No. 2 heavyweights in the post-Fedor-and-Couture era of the sport, but some argue the UFC 141 headliners Brock Lesnar and Alistair Overeem are in the mix with dos Santos in an underrated heavyweight pack.
Many have questioned whether the card would deliver, considering that the heavyweight championship bout is the only bout televised on FOX, especially with a deserving lightweight title eliminator between Ben Henderson and Clay Guida on this card. However, when the ZUFFA brass has put on fight cards with such long-term significance as the one this card holds, it very seldom underwhelms.
With fights such as DaMarques Johnson vs. Clay Harvison, Norifumi "Kid" Yamamoto vs. Darren Uyenoyama, Dustin Poirier vs. Pablo Garza, and Alex Caceres vs. Cole Escovedo—among others that will lead up to the monumental main and co-main event of the evening—this card has the definite potential to bat 5,000 without striking out once.
All these fights, plus celebrity sightings, Big John McCarthy and hopefully Brittany Palmer are all here, as this is the MMA landmark night in Anaheim, California.
This is UFC on FOX 1, live and direct on Bleacher Report MMA!
They circle and a Velasquez leg kick hits first. Both men are swinging heavy but a big right hand connects and Velasquez goes down from the overhand right and the big three hands he dropped afterwards!
Dana White said it'd be a fight, and by God, it was a fight!
Now would be appropriate to say "DOWN GOES VELASQUEZ! DOWN GOES VELASQUEZ!"
You may or may not like it, but we have a new UFC Heavyweight Champion, and the traveling man has done it!
Tears down the face of JDS as his dream is realized, but Cain has nothing to be ashamed about. All the best have to fall and Cain will come back from this to become even better than he was when he was defeated Lesnar.
If anyone could beat Cigano, it'd be Overeem unless Lesnar can hold him down ("him" meaning Dos Santos), but after a performance like that, I feel bad for anyone that has to stand across the Octagon from your winner, the new UFC Heavyweight Champion, and the new consensus #1 Heavyweight in the world, Junior "Cigano" Dos Santos!
Thank you everyone for being a part of history, and on behalf of Brian Oswald, Kenda Perez, and all of the B/R MMA family, my name is Dale De Souza, signing off until UFC 139 in San Jose next week, and thanking you for sticking with us, as this has been UFC on Fox live and covered by Bleacher Report MMA!
Forgot to mention that Cain is in the black trunks, and both men are primed and ready to give the crowd what they came to see here tonight.
Junior is taller and younger, but Cain is heavier, and I'm getting goosebumps as we are finally underway with the CSAC-sanctioned main event of the evening, officiated by Big John McCarthy.
And I still consider "It's Time!" to be one of the greatest hype lines in the history of combat sports announcing.
The Californian, Cain Velasquez, is out next, and the champ looks as great as I think I have ever seen him look for a fight. He's undefeated in his MMA career, he's finished everyone not named Cheick Kongo, and his wrestling is one of the best at 265 pounds.
The loyal Anaheim contingent up in arms in partisan support of their fighter as Junior Dos Santos, the Brazilian "Rocky story" of MMA, looks to at least go the distance with the champion, Cain Velasquez. Watch out for the heavy hands of both men, the takedowns of the wrestler that is the champion, the takedown defense of Dos Santos, and the heart both warriors show on fight night!
JDS is in the white trunks, by the way.
The UFC Heavyweight Championship fight is coming up next and if you're not a part of the sold-out crowd in Anaheim, we thank you for sticking with us for UFC on Fox live on Bleacher Report MMA!
Velasquez carries his heritage into the cage with him as the first fighter of Mexican descent to hold that title, but the question is "can Dos Santos be the first Brazilian to hold the UFC Heavyweight title?"
Brock Lesnar joins Menefee and Dana White and Alistair Overeem is in the crowd tonight.
Menefee asks Brock the tough question about Cain Velasquez, and Lesnar breaks it down for us; Cain is a great wrestler, heavy-handed striker, and to be honest, no Heavyweight in the history of the UFC's brand of MMA has fought at 265 pounds with the cardio Cain has.
Dos Santos is a success story of a man who earned his name "Cigano" by being a traveling man--a wanderer if you will--and being a man without a household before finding MMA.
In the history of the UFC, many nationalities have not held the UFC Heavyweight title, and Brazil is one of the nations to have not had one of their own representing the twelve pounds of UFC Heavyweight gold.
The eighteen-year history of the UFC is chronicled before Curt Menefee and Dana White hype up the fight between the champion and the challlenger.
Ladies and gentlemen, the UFC Heavyweight Championship is coming up next, so tune your channels to FOX now.
Bendo lands a toes-first head kick and Guida has his footwork still going well for him. Guida gets a knee to the body but Henderson gets him against the cage,
Guida moves Henderson across the cage but Henderson gets the fight to the ground, where it stays with submission attempt after submission attempt in a brilliant display of just about every aspect of the sport!
All I can say is WHAT A FIGHT! Both men were lion-hearts with the fighting spirit of two Spartan armies, and they never let themselves tap out, even when they looked to be a second away from tapping out.
Fight of The Year? This one gets my nomination for that honor, but 2011 is a great year to be an MMA fan, and this fight exemplified that truth tonight!
Guida and Henderson exchange but they alternate with takedown. Henderson gets up from Guida's while Henderson situates Guida in an uncompromising position. Guida now against the cage and he takes a knee to the body. Guida jockeys for position and gets Bendo against the cage but Bendo gets it back and lands a knee to the body. Guida gets dropped and gets a guillotine but Guida nearly gets subbed by a rear naked choke. He defends it well in the last second of the round but Bendo wins the MMA equivalent of "the round of the century", in my book.
Knee to the body from Bendo. Guida again with an attempt at a takedown but Bendo stuffs it. Henderson gets a Superman punch but gets rocked and survives a rather weak guillotine attempt. Round ends with Henderson landing a few leg kicks.
Who gets the 10-9?
Who'd you pick?
Guida has that crazy foot work going and both men waiting to get off first. Guida slips and the first wild exchange of the night goes down. Henderson pushes against the cage to make Guida expend energy on the takedown attempt and he now gets Guida against the cage.
Herb Dean is our ref and the staredown is rather ominous.
Guida is out next, high-energy as he always is, and the white trunks look all too familiar to me. Those trunks and that head of hair have gone through wars. Guida is older and his reach is two inches shorter than Henderson.
Ben Henderson and Clay Guida are beasts for sure, but one thing to remember: Guida is neither Mark Bocek, nor is he Jim Miller.
As for Bendo, who walks out first, he's no Takanori Gomi, and while Anthony Pettis is not easy to control, Guida may not be able to control Henderson as he controlled Pettis.
Henderson is in the black trunks.
Can Clay Guida stop the train that is Benson "Smooth" Henderson, or will "The Smooth One" find a way to upset Guida?
That fight is our co-main event of this evening and it is coming up next!
Tweet from Dana White said that Guida vs. Henderson was up next. I'm going live with my Facebook stream and all I'm getting is a view of the crowd. Not that I am complaining.
Tweets coming in from my phone that said Michael Bisping seated himself during the submission win. I guess it had nothing to do with Poirier, Garza, or the fight. That second round wasn't bad at all, in any event.
Not sure why the crowd booed the submission. The tap was a clear tap and it was a clear finish to the fight. Would a decision have been better at the rate the fight was going?
Poirier capitalizes on a sprawl that leads to Garza in half guard, and working to finish from his back, but Garza slips his arm in and sinks in a D'Arce for the second round tap out!
They circle and Poirier lands a head kick before getting a slight takedown on Garza. Garza responds with a wild takedown and a leg lock attempt.
Poirier gets Garza down and is inside the guard of Garza. Round ends with little activity, and Poirier wins it 10-9.
Crowd is ecstatic as Pablo Garza faces Dustin Poirier next! Garza walks out first, followed by Poirier. Poirier is in the white trunks, while Garza and his height advantage are in the black trunks. Not tough to think Garza might be able to make his 73-inches work against Poirier's 73-inches.
Larry Landless is our ref and we're underway.
This article is
What is the duplicate article?
Why is this article offensive?
Where is this article plagiarized from?
Why is this article poorly edited?