Constructing the Perfect NBA Player Mini Series Part 2: Offensive Skill Set
November 13, 2011
After creating the frame, the next step is developing the skillset. Both offensive and defensive abilities are essential to making a complete player, and every aspect on both ends of the court needs to be accounted for. 
First, the offensive arsenal. 
Footwork
His ability to adapt and refine his game is astonishing. He has been able to compensate for the degradation of his athleticism and explosiveness by perfecting his footwork. It is evident in all aspects of his game, but most notably in his post up game. He retains balance and concentration regardless of the situation that presents itself. 
3-Point Shot
B.J. Armstrong
This was an extremely difficult decision, and is obviously highly controversial. I'm sure many of you were thinking Ray Allen but, contrary to popular belief, Allen isn't even in the Top 35 in three point percentage.
Armstrong is the only player in the Top 10 for three-point field goal percentage in the regular season and postseason with impressive 42.5 and 45.1 percentages, respectively.
His stroke was flawless and, although it was arguably a product of playing with Jordan, the numbers still speak for themselves.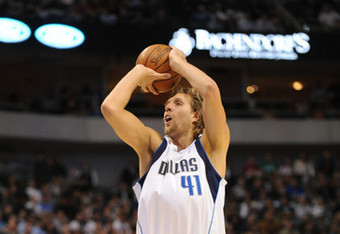 Mid-Range Shot
The mid-range jump shot may be a lost art in today's NBA game, but the German Assassin still strokes the 16-23 foot jump shot with ease.
Slam Magazine reports that Nowitzki made 46 percent on 3.8/8 attempts per game during the 2010 season—the best in the league. His combination of an indefensible fade away and flawless form makes Dirk's mid-range "J" the best in the game. 
Free Throw
Mark Price
I was going to use Rick Barry for his majestic yet unorthodox "Granny Style" form, but Price is unarguably the greatest free-throw shooter of all time. He leads the league in both career regular season and postseason free throw percentage. He has averages of 90.4 and 94.4 percent, respectively.
Fun Fact: Price shot a perfect 100 percent during the 95-96 season, albeit on only 10 attempts. 
Dribbling
"Pistol Pete" Iverson
This is the first hybrid player (Allen Iverson and Pete Maravich) I'm drawing abilities from, but this one is well warranted. The Answer's crossover was deadly in its prime, and even gave Jordan whiplash on one instance—or should I say on two.
Maravich's all-around dribbling abilities are unrivaled. He was the first player to really introduce and familiarize the NBA sphere with the crossover, around the back, and other uncommon moves. 
Passing
"Magic" Nash
The use of the hybrid players is officially in full swing. Magic Johnson and Steve Nash are the two greatest passers the game has ever seen. Johnson was famous for the no-look pass, and is the all-time leader in assists per game with an 11.2 average.
Nash's passing abilities have been recognized over the past seven years with the Suns in Phoenix. He has led the league in assists five times, and his combination of flashy, yet fundamental passes have made him a two-time MVP and fan favorite.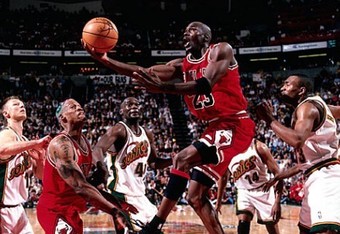 Post Up
Hakeem Olajuwon
The perfect player wouldn't be complete without Olajuwon's Dream Shake. Even the Admiral couldn't hang with Hakeem's illusive post up arsenal. Everyone in the basketball world envies his moves. So much so that Kobe even contacted and worked with Olajuwon to attempt to master them. 
Layup
Michael Jordan
I'm defining this attribute more so as a player's ability to finish around the basket, and no player finished around the hoop better than MJ. His acrobatic moves were, and still are, unparalleled. Regardless of the amount of defenders or contact, Jordan always seemed to give the ball a chance to go in. 
Dunk
Vince Carter
Vince Carter is in my opinion the greatest dunker of all time. His top 100 dunks is the most remarkable compilation of dunks I have ever seen. Few dared to challenge Carter when he was taking off for flight. His combination of athleticism and creativity makes his dunking ability the most desirable for the perfect player. 
Miniseries Navigation:
Part 1: Physique
Part 3: Defensive Skill Set
Part 4: Intangibles