NFL Picks Week 10: 49ers Rumbling, Bumbling, Stumbling to Victory vs. Giants
November 12, 2011
Ezra Shaw/Getty Images
The San Francisco 49ers will be put to the test against the New York Giants. In the NFL, every game is tough, but when two teams of quality come together, the games can be even harder to pick.
The outcome of this contest will be determined by whether or not the 49ers can successfully dominate at the point of attack. It is cliche, but true: In the NFL, the game is won and lost in the trenches.
The 49ers have faced a couple of teams already this season, the Detroit Lions and the Philadelphia Eagles, that rely on a devastating pass rush from the outside as a means to disrupt the offense. In both contests, the 49ers' offensive line was able to get the best of their talented opposition.
Yet as good as the Lions and Eagles are up front, there is no comparison for the brutal test that the New York Giants' front four will present. 
Thankfully, 49er head coach Jim Harbaugh and assistant coach Greg Roman have installed an offense that doesn't rely too heavily on quarterback Alex Smith and the passing game to move the chains. So far this season, out of 455 total offensive snaps, the 49ers have run the ball 246 times. 
And so far, the formula is working. 
With a defense that is savagely beating up opposing running backs, the 49ers have the winning formula for January: Run the ball and stop the run.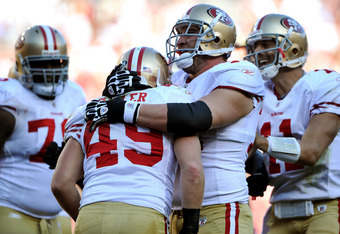 Patrick Smith/Getty Images
Running back Frank Gore is benefiting from a revamped offensive line that features utility lineman, Adam Snyder, who replaced the perpetually disappointing Chilo Rachal. Since Snyder's insertion into the right guard position, the 49ers have been able to consistently bully opposing defenses and wear down their will to keep fighting. 
Don't forget about the dazzling complexities of the 49ers' "big" package that features starting nose tackle, Isaac Sopoaga, as its battering ram and sometimes pass catcher (okay, it only happened once, but it'll keep the defensive coordinators awake the night before games).
Another reason for the 49ers' success on the ground has been rookie fullback, Bruce Miller. Since Moran Norris' broken leg forced the team to rely on the untested rookie, the team has been on a tear. Miller is a sledgehammer. He also caught his first touchdown pass last week in the win at Washington.
Quarterback Steve Young came on a San Francisco Bay Area radio show earlier in the week and said that the 49ers need to start opening things up on the offense before the playoffs. I can't disagree with his sentiments, but this weekend's contest against the Giants isn't the right platform for this experiment. 
The 49ers will be rumbling, bumbling, and stumbling their way to victory against the Giants tomorrow and will further increase their death grip on the NFC West crown.