John Fox, Not Tim Tebow, Is the Problem for Denver Broncos
November 10, 2011
Bart Young/Getty Images
Jake Delhomme's coach during the Carolina Panthers Super Bowl run of 2003 was...Rodney Peete. I know—I was there and saw it with my own eyes.
In no way was it John Fox or offensive coordinator Dan Henning (who stayed in the booth). And, as far as I have been able to research, the team did not even employ a quarterbacks coach; that shows you just how much Fox values his offensive centerpieces.
When the Panthers offense was on the field, John Fox had his entire defense lined up on the bench and was coaching them up. When the Panthers defense was on the field, John Fox was on the sidelines, coaching them up.
Meanwhile, the O-line was wandering around aimlessly, poor star running back Stephen Davis was trying to catch his breath, Steve Smith was drinking copious amounts of Gatorade, and Jake Delhomme was way off down the sideline.
He would have been out there literally all alone if it hadn't been for Rodney Peete, who spent every minute he could encouraging and coaching the guy who had replaced him. Talk about class.
John Fox was incredibly lucky to have, in one year:
Stephen Davis in his finest professional football season: 1,444 yards, averaging 4.5 per carry and 6.2 per reception.
Steve Smith at his exuberant youthful best and Mush Muhammad in his prime.
One of the most effective change-up backs of the decade in DeShaun Foster (who was woefully under-utilized in the Super Bowl, by the way; I was there, too.)
Rookie O-lineman Jordan Gross—okay, I'll give Fox credit there.
The absolutely awesomely underrated Ricky Proehl:  one of the best and smartest and toughest No. 3 WRs of all time (just ask Kurt Warner).
John Kasay kicking everything in sight between the uprights.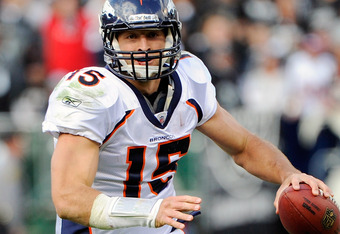 Thearon W. Henderson/Getty Images
Yes, the defense was wonderful, ranking 10th overall and in the top five in terms of intimidation—thanks in no small part to the young Julius Peppers.
That, as we all know, is the closest Fox has come to the Big One.
Fast-forward to the 2010 offseason, when John Fox must have slipped something into the meal during that famous dinner interview with John Elway and Co. They came out of that meeting practically anointing Fox as the second coming of Vince Lombardi, and John Elway waxed absolutely poetic in his praise of Fox's football acumen.
Okay, how about we let him go teach, then? Because coaching a team that includes a highly paid sophomore quarterback (not drafted by the current regime) who is lost at this level is not something John Fox has any business doing—obviously.
Yes, I know the Broncos just won their Week 9 matchup, but that doesn't change the overall issues at all.
To quote Sunday Night Football:
Dan Patrick: "Tim Tebow played a little better today."
Tony Dungy:  "Tim Tebow got a little help today."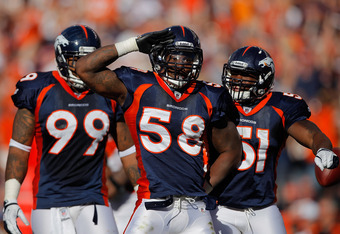 Justin Edmonds/Getty Images
Here is my theory:
1) Every Denver player acquired before Elway arrived back in the building is getting a huge dose of "here's your hat, what's your hurry?" Not that I think that is a bad thing—RB Knowshon Moreno, for one, is a huge disappointment as a first-round pick out of Georgia.
If it weren't for Willis McGahee, this team would have had no offense left. The "old man" is averaging 5.1 yards per carry and ripped off a 60-yarder for a score Sunday. Did I mention that his hand is held together with bailing wire from a surgery a couple of weeks ago.
When asked about the screws, pins and incisions, Willis responded: "Yeah, it hurts. But, so what?"
This gentleman has turned out to be quite a good guy as a full-grown man.
2) Elway and Fox were too stubborn to make a deal sending a Kyle Orton with value to the Miami Dolphins, and now they are stuck with someone who will be worth much less in March. Good move, guys.
3) The boys in the front office thought Fox would shore up the defense just enough to limp through the first year while they figured out how to get rid of Tebow.
4) They benched Orton in order to prove to Denver fans that "Timmy" (as Elway condescendingly refers to Tebow) cannot do the job and thus should shut up.
5) They did this despite the fact that within seeming seconds of the draft, Tebow Bronco jerseys instantly became the No. 1 selling NFL jersey in America (I believe they still are).
The people had spoken—and ignored. So they spoke again, booing Orton and paying for billboards. Doesn't Bowlen know a legitimate Paul Bunyan phenomenon when he sees one? 
None of us have ever seen a player (particularly one not supported by management or coaching) inspire this kind of spending. Make no mistake about it, it is the spending part that has finally gotten the Broncos' attention.
SO...
6) They benched Orton (after blowing his trade value) in order to pump up Tebow in order to dump him for something in the offseason. I think they'll trade both Orton and Tebow, either draft a QB or get yet another stop gap veteran, and keep Brady Quinn as the backup.
7) Fox and Elway traded away the only A-level wide receiver in Brandon Lloyd to force Tebow to be marketed as a running back; or, even worse, to force Tebow to fail so badly that the fanbase would turn on him (thus, setting them free to dump hm without blow-back from the fans).
I do have to admit wideout Eric Decker is coming right along, and losing Lloyd is letting him develop all the more quickly. He may be one player not drafted by the Fox who survives the upcoming offensive purge.
Even Eddie Royal came out of witness protection to contribute again on special teams and the offense.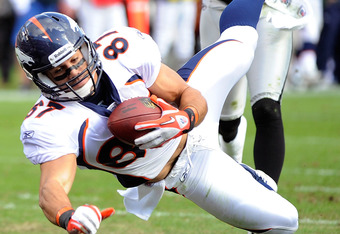 Thearon W. Henderson/Getty Images
Former WR Billy Davis (Cowboys and Ravens) said on ESPN Radio that he thinks they are fighting for plays to reach their performance clauses in contracts that were actually based on having a passing attack. Good point.
I will also admit the possibility that Lloyd was loyal to Orton and he was traded to avoid locker room turmoil. Of course, if that were your goal, don't you think you would have traded away both Orton and Tebow and drafted Andy Dalton? I'm just saying.
Let's say that all of the above is true and that Fox's entire job was to fix the defense and wait until 2012 to deal with the QB issue. Okay:
1) D-line: Fox brought in Brodrick Bunkley to help and Fox, of course, has been praying star defensive end ElvisDumervil can stay healthy. Left DE Robert Ayers is still a work in progress, but I'm sure Fox's system can help him on the growth curve (See? I'm fair).
2)  No. 1 draft pick—the excellent, classy and brave Von Miller, is living up to expectations as the new strongside linebacker. Remember, this is the only rookie who had the nerve to join the players' lawsuit before the draft.
Fox is finally making enough adjustments to accommodate Miller's unique talents and allowing him to shine. (Gee, and it only took him nine weeks of the season). The best part of the new formations is that it frees up Von Miller to simply and generally wreak havoc.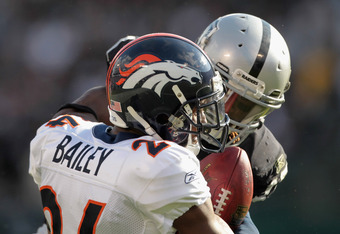 Ezra Shaw/Getty Images
This is the reason Miller was such a high draft pick out of Texas A&M. You would think that this freelancing might be encouraged, but I have a feeling Mr. Fox needs to feel a little more in control. Too bad.
3)  I cannot believe Brian Dawkins and Champ Bailey are still playing at this stratospheric level in the secondary. Perhaps they are on Tony Gonzalez's health system. and I hope 10-year veteran Andre Goodman joins them. Whatever it is, it's working.
4)  Rookie Quinton Carter is starting at safety, as Rahim Moore continues to battle injuries. The kid has 23 tackles (19 solo), so he's also doing something right.
The Fox system of rushing the passer combined with good cornerbacks looks like it could really take off here in the Mile High City. However, the lack of Rahim Moore makes the nickel and dime packages risky unless the team can play with a lead. 
This leaves the linebackers to deal with the run; yeah, we'll see. Remember that the Raiders were playing with their second- and third-string rushers on Sunday—I want to see them beat down Darren McFadden and Jackie Battle. 
So, how's it all working? The run D is 15th in the league, the pass defense is 22nd, and overall, the defensive unit is 31st in the league—including Week 9 stats. Yeah, that's an improvement.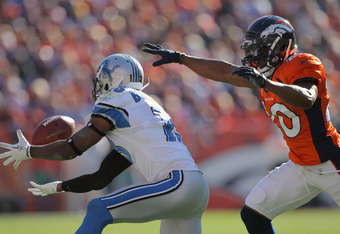 Doug Pensinger/Getty Images
Offense Take 2:
Back to Tim Tebow. John Fox finally allowed his staff to employ an offensive strategy designed to give No. 15 a shot at success: the read-option run. Basically, you plan a run and then decide whether or not to keep the ball based on the read and development of the defensive plays (virtually what Timmy did at Florida).
It led to a win Sunday, but Tebow was hit 17 times by Oakland. He's a big kid, but no one can sustain that for long—ask David Carr. 
All these coaching and system machinations have resulted in a win, euphoria for Tebowmaniacs (short-lived I'm afraid), and hope that Denver may win some more contests down the road.
It has not resulted in anything resembling a long-term strategy, however. If I were a player on this Broncos team, and had just been assured of essentially losing one of the very few years I had in this career, I would be, well, it's a family website so let's just say...unhappy. Way to build a team there, coach.
Incidental fact:  the Broncos quarterback coach is Adam Gase, who joined the team in '09. He went to Michigan State but didn't play college football and was the QB coach in Detroit from '03-'08; well, Jon Kitna probably didn't need a coach, and the rest of the Lions QBs were dreadful. So I guess that means Fox can blame Gase if Tebow doesn't turn into a winner by the new year. Next.