Joe Paterno Fired: Why Mike McQueary Has To Be Next To Go for Penn State
November 10, 2011
Chris Gardner/Getty Images
In one of the biggest breaking news stories of the decade, Joe Paterno, former Penn State head coach, has been fired from the university, and it should be seen as imperative that assistant coach Mike McQueary should be the next to go.
When a college program as legendary as the one that Joe Paterno left behind at Penn State becomes stigmatized and tarnished as brutally as the way that it currently faces, a holistic change of leadership is needed.
In the official press conference this evening with John P. Surma, vice chairman of trustees, one of the more pressing questions that the reporters focused on was the status of Mike McQueary. McQueary, a former player and current receivers coach at Penn State, became involved in the issue when he became a direct eyewitness to the sexual abuse scandal that currently haunts the program. 
Read the first line of the recent ESPN story about the status of McQueary. "Mike McQueary, one of the central figures in the burgeoning child sex abuse scandal at Penn State, will remain receivers coach on Saturday." Mike McQueary saw a ten-year old boy being raped in the shower by one of his colleagues, and he did nothing. Now, he lives to coach another game.
At State College, devastated fans gather around campus and Paterno's house loudly chanting "We want Joe! We want Joe!" to show their support for the man with the most wins in college football history. Paterno, 84, now has the unfathomable task of having to adjust to life without being a football coach. While Surma has said that he hopes the students at Penn State realize that the decision was "in the best long-term interest of the university," fans are forced to recognize that this issue is wildly bigger than sports.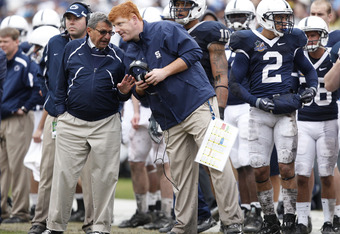 Joe Robbins/Getty Images
Fans and students of the university become attached to the players and management at their school, with a recurring theme that their coach is their guy. Ultimately, however, by failing to report the actions of Sandusky, Paterno was ignoring the law.
If fans can concede to that truth rather than screaming "JoePa deserves to be here until the end of time!" in front of the ESPN camera crew, they can come to another highly-significant realization. Considering JoePa was guilty, then so was Mike McQueary.
McQueary told the grand jury that he had seen the incomprehensible actions of Sandusky and went on to report what he had said to Paterno. What McQueary had to deal with by encountering such an unfathomable scene is beyond the world that the casual American can ever imagine. Yet, what Paterno has been targeted with, not reporting the obscene actions of Sandusky to federal police, is something that McQueary is guilty of as well.
It's a difficult situation for McQueary. In 2002, when he acted as a graduate assistant to one of the most legendary figures in the history of the sport, McQueary was new to management and was only recently out of his gig as starting quarterback at the university from 1994-97 seasons. Life for McQueary would have changed forever following this incident. But as State Police Commissioner Frank Noonan pointed out, "I don't think I've ever been associated with a case of this type of eyewitness […] where the police weren't called."
McQueary was 28 years old when he walked in on Sandusky sexually assaulting what he estimated to be a 10-year-old boy in the shower. Rather than stopping the assault, it is reported that McQueary quickly exited the locker room and called his father in a panic to ask for help. 
To call the acts of Sandusky an "incident" is simply not enough. Grand jury reports that there were allegedly eight victims of Sandusky. My blood boils and my body shakes and my brain does not even allow me to visualize or imagine any of this circumstance. It would be thoroughly difficult to imagine how McQueary must have felt. The difference, however, is that McQueary had a chance to try and stop this, and he did not. Due to our legal system, Sandusky did not face criminal charges until nine years after McQueary walked in on Sandusky.
I don't even think about football, sports or management when I think about how deep this issue cuts. I think about the lives of the young boys who had the rest of their future flipped on its side on that fateful day.
It's thoroughly saddening to think that the legacy of Paterno will forever be associated with his lack of an ability to speak up and try to help. In hindsight, he has said that he wished he had done more. Now at 84 years old, fans will be forced to think of this rather than his 409 career victories. Now, fans will be forced to think of this rather than his 24 bowl victories. Now, fans will be forced to think of this rather than his numerous "Coach of the Year" awards or his two national championships from 1982 and 1986.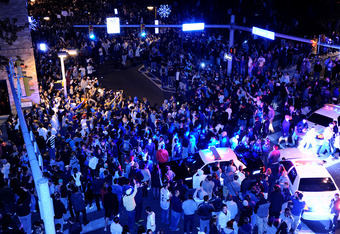 Patrick Smith/Getty Images
The same, I maintain, now goes for McQueary. McQueary could have had a brilliant coaching career in front of him at Penn State, following an impressive college career. He went to high school a mile and a half away from Penn State, forever dreaming of playing his career for Paterno. He lived that dream, and even ended up coaching alongside him. McQueary, however, actually witnessed the alleged rape.
In the biggest test of his career, he opted to turn to Paterno rather than the police. Now, he too is perpetually linked to this wildly severe issue. I cannot imagine a world in which he continues to coach for Penn State. Too many implications stand, and if Paterno is gone, McQueary should be gone as well. It was his foremost responsibility to make a stand.
This should mark the end of McQueary's tenure for Pennsylvania State. College football lives in the modern age in a sense of mayhem. This is much bigger than recruiting violations and an example needs to be set. These are the lives of young boys. McQueary cannot continue to coach for this university with this in his woodworks. Word has come out, the story has broken and his name will always be tarnished with the mark of these allegations.
McQueary is not a malicious individual, and he did not mean harm. He, too, became a victim of circumstance when he walked in on Sandusky. The entire situation is wildly unfortunate, but his job at Penn State is no longer something that he should have the privilege to hold. This speaks awfully for the culture of football, and I wish that Paterno could have played out one more game. Still, the issue has become too big for him to continue. The same should go for McQueary. Paterno was simply the face.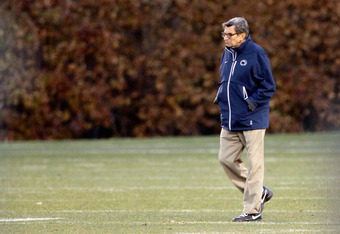 Rob Carr/Getty Images
It is my hope that fans around campus remain safe and do not engage in any other similar actions to the recently flipped news truck. The protest is wildly unnecessary, especially in a world in which so many more serious issues are actually happening in front of us.
By showing that support for Paterno simply enables Sandusky in this horrific issue. Paterno and McQueary should have spoken up, and Penn State students should not have. Paterno was a football coach, and Penn State did nothing wrong. They are protecting their program. You can be a Joe Paterno fan, but he should no longer be associated with the university as too many factors now are in play. Penn State needs a new identity, and McQueary severely needs to be disassociated from it.
Until then, my thoughts remain with the victims of the horrible attacks and with all who have been affected by this incident. 
Click here to Follow @BryanKalbrosky.