Penn State's Lack of Institutional Control Led to Joe Paterno's Firing
November 10, 2011
Patrick Smith/Getty Images
Among many other reasons, Penn State's Joe Paterno was fired because the university has lacked institutional control over the past week.
When ABC Action News Philadephia's Jim Gardner reported the ouster of embattled Penn State head coach Joe Paterno, many analysts celebrated the announcement. Bleacher Report's own Elliott Pohnl wrote: "The healing process has finally begun."
All of this is true.
But there is one underlying reason why Paterno—a man who had already announced his resignation—was abruptly fired.
When Paterno announced his retirement would take effect at the end of the 2011 NCAA football season, he was dictating an exit on his own terms.
With the Penn State trustees blindsided by this scandal just like the rest of us, there was no question that PSU had lacked institutional control over the moral dealings of its football program for almost a decade.
With calls for the NCAA to issue Penn State their form of the death penalty, the PSU trustees had little choice but to immediately respond by firing both Paterno and university president Graham Spanier, both men among the now-infamous Penn State six.
The quickest way for PSU to regain institutional control and attempt to repair its crippled institution is to clean house and purge all parties involved in the alleged nine-year cover-up scheme.
When Jerry Sandusky was allegedly caught by Mike McQueary in the commission of his heinous crime, a long chain of secrecy, deception and corruption began in the Penn State athletic department.
When Sandusky was finally arrested and charged with 40 counts of abuse, the PSU trustees were as shocked as we all were.
If anything, the trustees were even more betrayed than almost everyone else; everyone, save for Sandusky's alleged victims.
As I've previously written, the victims of these alleged crimes deserve our collective compassion and support. This article doesn't change that, not by a long shot. That is a fact none of us should forget.
In the course of human events, such a shocking story that seemingly appears out of nowhere tends to lead to sensationalizing and an inclination to leave all objectivity behind.
What we do know is this: Sandusky is accused of something so abhorrent, horrific, terrible, awful, reprehensible, despicable and every other word you can think of.
He is accused, but has not been convicted. He is not guilty—not yet.
However, the Penn State trustees could not afford to wait for the legal process to work itself out. The media is covering this story on par with the OJ Simpson-level sports scandals and disgusting stories of the past.
PSU didn't know about this tragedy for almost 10 years and now all perdition is breaking apart.
From the trustees' standpoint, this is a case of trying to regain control of their damaged aircraft of a program before it completely plunges into the Pacific Ocean.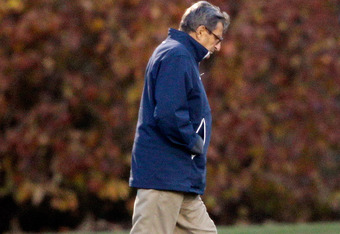 Rob Carr/Getty Images
The ground proximity warning system is yelling "Pull Up" and the trustees are desperately trying to save their program with all their might.
Though many Penn State students are still rallying around their now-former coach, it's too late.
This story has developed so quickly, is so outrageous and damaging that the PSU trustees couldn't afford not to fire Paterno tonight.
If Paterno had been permitted to coach Penn State's game this or any other future weekend, the NCAA would have given PSU the death penalty.
Now, thanks to the PSU trustees, Penn State can at least hope for a lighter sentence, though the NCAA still will—and should—throw the book at the Nittany Lions' program.
PSU still lost control of its institution. No amount of personnel changes can fix that.