Penn State Scandal: Joe Paterno Shouldn't Step Down
November 8, 2011
Rob Carr/Getty Images
If Joe Paterno steps down, it would be an absolute travesty and the media would be every bit to blame.
Paterno absolutely fulfilled his legal obligation in the matter of the Jerry Sandusky sex abuse scandal. It seems that the Penn State board of trustees, as well as the national media, is taking this opportunity to force out the greatest coach in college football history.
It's no secret that Paterno's popularity has declined over the last decade, despite some very impressive football squads. He has been called to resign several times in the last decade.
Why?
Because people in today's sports world want new coaches every five years. It's ridiculous. Joe Paterno has been the head coach for 46 years and has done an excellent job at doing so from day one to now. The guy is a living legend and should be treated as such.
Is Joe Paterno guilty? NO! He reported to Curley immediately after finding out from a graduate assistant that Sandusky had abused a child. So what if he didn't follow up, he had nothing left to do in his power. It was in the hands of the athletic director to act accordingly, which he flat-out didn't do.
I want to take this space to take a very pointed shot at the media. It is sickening to see how much the spotlight is now being spread to minor characters to this story.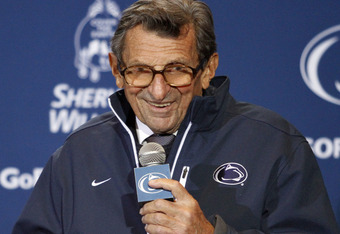 Justin K. Aller/Getty Images
The story is AND SHOULD BE that Jerry Sandusky is a terrible human being for abusing eight boys and should go to jail for a very long time. I would even argue that Tim Curley should also share some blame. But beyond that, no one else bares responsibility.
Joe Paterno didn't commit a crime. Nor does he have any moral obligation. Anyone who says Paterno acted selfishly to try to cover for his friend is plain ignorant. He reported Sandusky immediately. Last time I checked, that's not a friendly thing to do, that's a morally correct thing to do.
Penn State is in the midst of one of their best seasons in the last few years and now thanks to a defensive coordinator who retired 15 years ago and his actions he committed AFTER he retired will completely mire the season.
And if Joe Paterno steps down, it will have also clouded one of the greatest and storied coaching careers in sports history. By stepping down, Paterno, by default, admits fault, whether it is his decision or not.
This is pathetic and a waste of time. Paterno should remain the coach and Sandusky and Curley should go to jail. End of story.
As seen on Jackman Sports