St. Louis Cardinals: Why Jose Oquendo Is the Best Choice for Manager
November 8, 2011
Dilip Vishwanat/Getty Images
For 16 seasons, Tony La Russa was the man who lurked in the shadows of the St. Louis Cardinals dugout. Arguably one of the greatest managers of all-time, he made the right choice by riding off into the sunset after leading the Redbirds to their NL-record 11th World Series title.
Now Cardinal nation awaits the hiring of a new manager to take on a talent-heavy clubhouse filled with the likes of Matt Holliday, Chris Carpenter and most likely Albert Pujols.
While St. Louis cannot simply replace La Russa, who trails only Connie Mack(3,731) and John McGraw(2,763) with his 2,728 all-time managerial wins, they must ease the pain of losing the beloved manager.
So the search begins. General Manager John Mozeliak recently said he is "hopeful" the Cardinals will have a new manager by next week. Until then, Mozeliak must choose one from a long list of possibilities.
Last week, the Cardinals interviewed three guys who have a connection with St. Louis: former catcher Mike Matheny, former draft pick and current White Sox third-base coach Joe McEwing, and AAA Memphis manager Chris Maloney. Matheny was a fan-favorite and currently serves as a special assistant in the front-office; he seems like the best choice of the three.
Former Boston Red Sox manager Terry Francona has also been mentioned on the list of possibilities. At the same time, the rival Chicago Cubs are heavily interested in "Tito."
This week, Cubs legend Ryne Sandberg is also expected to interview for the position. Sandberg currently serves as the Phillies AAA manager in Lehigh Valley after being denied the Cubs opening before 2011.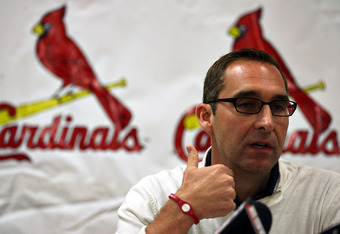 Marc Serota/Getty Images
Then, there is Jose Oquendo, the Cardinals third-base coach. Oquendo has been in the Cardinals organization for the last 26 seasons. A utility guy who could play anywhere, even on the mound, Oquendo was in St. Louis for 10 seasons as a player.
*Fun Fact: In 1989, Oquendo acquired his lone player achievement when he led the league playing in 163 games. That postseason, the Oakland A's swept the San Francisco Giants in the World Series. La Russa was Oakland's manager.
After retiring in 1996, the Puerto Rico native accepted an offer to coach in the Cardinals minor league system. He remained there until becoming the bench coach in St. Louis for 1999. A year later, he moved to coach third base, where he has remained for the last 12 years.
Jose Oquendo is the perfect example of a dedicated baseball man. In recent years, he has been interviewed to manage the San Diego Padres, Seattle Mariners, and New York Mets, but his heart has remained in St. Louis.
Without a doubt, Cardinal nation loves Jose Oquendo. The enthusiasm he brings is untouched and lifelong fans know what he has done for their organization. They respect him more than most fans respect their third-base coaches. Plus, Albert Pujols is rumored to have said he wants Oquendo chosen to lead the team next season.
John Mozeliak and the Cardinals would be making a mistake in hiring anyone but Jose Oquendo.
It isn't like he lacks managerial experience with big league players. Oquendo managed both the 2006 and 2009 Puerto Rican teams in the World Baseball Classic, which featured stars like Carlos Beltran, Ivan Rodriguez, and Cardinals catcher Yadier Molina. He will most likely manage the 2013 team as well.
There is no reason St. Louis should go elsewhere with the managerial job. He is an embodiment of Cardinals baseball and will bring the same spark and confidence in his team that Tony La Russa displayed.
Hell, maybe he'd even leave his starting pitchers in later than the third inning.
Steven Conklin is a contributing writer for the Bleacher Report and a student at the University of Central Missouri. He joined the B/R in October 2011. Any comments, questions, or suggestions are more than welcome.
Other Articles by Steven:
The Most Important Step for the Cubs
Four Reasons Yu Darvish is the Real Deal