MLB Free Agents 2012: Four Reasons Yu Darvish Is the Real Deal
November 3, 2011
Stephen Dunn/Getty Images
While sluggers Albert Pujols and Prince Fielder highlight this winter's free agent class, there are also plenty of pitchers available. CC Sabathia is now locked up long-term by the New York Yankees and most of the attention will be placed towards guys like C.J. Wilson, Mark Buehrle, and Jonathan Papelbon.
Enter Yu Darvish. Darvish will get a lot of attention this winter, but not nearly as much as the proven Major League guys. He can thank Daisuke Matsuzaka and Kei Igawa for that.
Red Sox and Yankee fans just cringed. I'm bringing people together here.
Although Darvish will get the inevitable doubt from Major League squads due to those disappointments mentioned, this guy is still going to be pursued and he could get paid. A lot.
In 2006, Boston paid $51.1 million to negotiate a deal with Matsuzaka. Eventually, the Red Sox then signed the Japanese right-hander to a six year deal worth $52 million.
The same winter, New York's winning bid for Igawa was $26 million. The five year deal worth $20 million was considerably less, but Igawa wasn't expected to be as good as Dice-K. Expect a Yu Darvish deal to be right in between there.
However, Yu Darvish deserves more money than either of those busts. This time, it will be worth it. Don't believe me? Here are the reasons why.
The Yu Darvish Fastball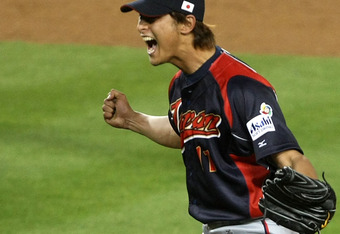 Stephen Dunn/Getty Images
The 25 year-old hurler has a fastball that is untouched by Matsuzaka's or Igawa's. Darvish hits 95-96 mph on a consistent basis and once hit 100. Igawa rarely hits 91 with his and Dice-K never averaged above 92.The past few seasons have shown us that a dominating fastball is still the best pitch in baseball.
Darvish has it.
Darvish Was Simply Better in Japan
In fact, the 2.15 ERA over Yu's seven years in Japan is considerably better than Matsuzaka's 2.95. If that doesn't seem like a big deal, take this into account:
Matsuzaka never had a season ERA under 2.00.Darvish just completed his fifth-straight season with an ERA under 2.00. Darvish's career record of 93-38 is also better than Matsuzaka's 108-60 mark, given Dice-K played for a better ball club and has a one season advantage.
Kei Igawa doesn't even need be mentioned near these guys in this conversation.
The Complete Repertoire 
The arsenal of Yu Darvish is exceptional. He features a four-seam fastball, two-seam fastball, two different sliders, a 12-6 curveball, and now he has added a changeup and is working on a cutter. That is a ridiculous amount of options and he throws them on point.
Any of these can get the outs needed.
Kei Igawa really only has a solid changeup to throw along with his mediocre four-seam fastball.
Dice-K has many options like Darvish, but he really only had success with his splitter and the cutter he throws. The rest of his pitches were average major league options and have gotten him into trouble so far.
The Workload
One of the knocks on Matsuzaka when he came over from Japan was the heavy workload he endured. Heavy might be an understatement. Dice-K once had a 250-pitch, 17 inning start when he was 18.
Once the righty went pro with the Seibu Lions, he threw almost 348 innings in his first two seasons combined. It is no surprise Matsuzaka has had shoulder and elbow issues since.
Darvish, however, never came close to those numbers. In his first season he threw just 95 innings and then 149 in his second. Injuries have not been a concern at all with the 6-foot-5 ace.
The Conclusion
Overall, Yu Darvish may not be a superstar in Major League Baseball, but he will not be a bust like Daisuke Matsuzaka or Kei Igawa.
There is a long list of teams who have scouted or are interested in the young ace, such as Toronto, Texas, and Washington. The Yankees, who apparently forgot about Igawa, are also interested. If Yu Darvish comes over from Japan he will have success and he will annoy hitter after hitter with his arsenal.
Darvish is the real deal. Believe it.