Chicago Cubs: The Most Important Step for the Team and Its Fans
November 7, 2011
Denis Poroy/Getty Images
It would be quite difficult to find a baseball fan who was around for the 1908 World Series. Those lucky enough witnessed the Chicago Cubs overtake the Detroit Tigers in just five games. We all know what has happened since.
Each year, Cubs fans are shaking their heads by October with hopes of a better season to follow. After over a century of doing so, Cubs fans seem more bitter and frustrated than ever—and rightfully so.
However, with the recent front-office overhaul and the emergence of phenom Starlin Castro, most of those same fans believe there are brighter days to come.
Don't worry. There are.
The regime of Theo Epstein, Jed Hoyer, and Jason McLeod have proven themselves to be one of the best in baseball. They have many moves and a lot of progress to make in Chicago. Unfortunately, this takes time.
Let's understand that, Cubs fans. With the new changes in the organization, a lot of people seem to think Chicago can and will win the World Series in the near future.
I hate to be the one to say it, but that just won't happen.
The farm system needs a re-boot before the Cubs can sustain success year in and year out. Epstein, Hoyer, and McLeod do what they do best through the draft in June. Currently, the Cubs farm system is below average and needs a lot of new youngsters that can be developed into key players for the Cubs.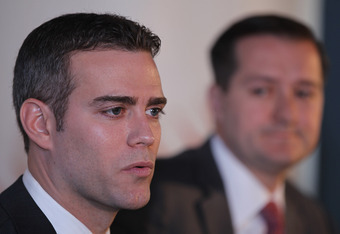 Jonathan Daniel/Getty Images
Brett Jackson and Trey McNutt top the list of Chicago's best prospects, but in most other organizations, Jackson and McNutt wouldn't be in the same situation.
As the new regime works tirelessly to build a system of good prospects, they will also have to change the major league club. In fact, it needs an almost-complete alteration.
Starlin Castro and Matt Garza must be the building blocks of this franchise. At just 21 years of age, Castro is without a doubt Chicago's best player and Garza should have more success than what he did in 2011. The front office now needs to build a winning team around them and it won't happen overnight.
Ridding themselves of guys like Alfonso Soriano and Carlos Zambrano, along with the horrendous contracts they carry, will be no easy task. Replacing the average players who now occupy the lineup will also take time and an exquisite strategy.
As a result, the most important thing the fans, ownership, and new regime can do is wait. Tom Ricketts must wait for his new front office to succeed. Theo Epstein, Jed Hoyer and Jason McLeod must wait for the right time to strike on players and wait for the farm system's top prospects to develop. And, as Cubs fans, we must be patient and trust the job will get done.
If any organization deserves to stop waiting, it is the Chicago Cubs. But, they have to. Don't expect a World Series title anytime soon. Just look forward to the progress made each year and there will be brighter days and eventually a championship trophy at Wrigley Field.
Steven Conklin is a contributing writer for the Bleacher Report and a student at the University of Central Missouri. He joined the B/R in October 2011. Any comments, questions, or suggestions are more than welcome.
Other Articles by Steven:
Four Reason Yu Darvish is the Real Deal
The Possible Replacements for Albert Pujols
Top Contenders for Prince Fielder