Revisiting the Eli Manning vs. Philip Rivers Debate
November 8, 2011
Donald Miralle/Getty Images
Eli Manning and Philip Rivers have been compared with one another since the conclusion of the 2004 NFL Draft.
With the first pick in the 2004 NFL Draft, the San Diego Chargers selected Eli Manning out of Ole Miss, despite the 2003 Maxwell Award winner's insistence on not playing for the San Diego franchise. A trade ensued just a few picks later, sending Manning to the New York Giants for NC State's Philip Rivers, whom the Giants drafted with the fourth pick, and two other draft picks.
Since that time—along with fellow 2004 first-round draft pick Ben Roethlisberger—these men have been compared to no end.
"Philip Rivers, along with 2004 picks Shawne Merriman and Nate Kaeding, was a steal steal."
"Eli Manning is overrated."
"Eli Manning plays best in the big games."
"Philip Rivers wilts under pressure."
"Philip Rivers is one of the elite quarterbacks in the league."
"Eli Manning is nothing more than average."
One person will tell you something different from another, usually depending on that person's preferences with either player.
To be honest, having either man on a team's roster automatically makes that team better. Both Manning and Rivers are amongst the league's best and have led their team to successful seasons in nearly every campaign since they have taken over as the starter of their respective team.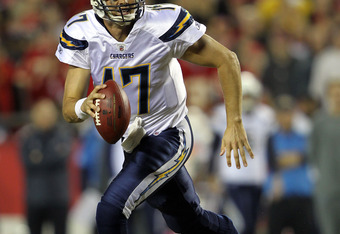 Jamie Squire/Getty Images
Since Rivers became a starter for San Diego in 2006, the popular choice has been Rivers over Manning. While Manning did enough to win, Rivers posted numbers Manning could only dream of—at least that's how it seemed a few years ago.
Manning captured a Super Bowl ring the next season, though, an accomplishment the highly regarded Rivers has yet to attain himself. Manning's success quieted critics, if only for a moment. He earned himself a Super Bowl MVP award in dramatic fashion and appeared as if he was finally coming into the player the Giants hoped he would be when they drafted him.
But the hate kept coming.
While Manning basked in his Super Bowl victory, Rivers came out the next season in 2008 and had his best season yet, passing for more than 4,000 yards and 34 touchdowns.
Regardless, both the Giants and Chargers finished the season as division champions. They both fell short in the divisional playoff round, and the Chargers lost to eventual Super Bowl champion Pittsburgh Steelers, led by Ben Roethlisberger.
In 2009 and 2010, both Rivers and Manning had spectacular seasons, though Manning's 2010 season was hurt by silly mistakes and drops that resulted in interceptions. Despite finishing with usually good enough records, the Chargers and Giants both missed the playoffs in 2010.
Still, Rivers continued to be ranked higher than Manning on just about everyone's quarterback rankings. And not just higher—much higher.
While Rivers gets ranked with the cream of the crop—Tom Brady, Peyton Manning and Aaron Rodgers—Eli is lucky to crack the top 10.
Until now.
With the uproar of Eli Manning classifying himself as "elite" this past season and many people questioning just how elite his counterpart in San Diego is, it's interesting to see the sudden shift in these two men's careers. Three months ago, Philip Rivers was considered to be head and shoulders above Manning. That's changed.
NFL fans are witnessing the Eli Manning who has been coming into his own since the epic upset of the New England Patriots in Super Bowl XLII and believers have been birthed in the reenactment of that very game in the New York Giants' astounding come-from-behind, 24-20 victory over the Patriots in Week 9.
Manning is amongst the league leaders in all quarterback categories through eight games. He has passed 2,377 yards (seventh in the NFL), 15 touchdowns (fifth) and just six interceptions while completing 62.9 percent of his passes—a career best. That great start to the 2011 season has guided the Giants to an NFC East-leading 6-2 record.
Meanwhile, the Philip Rivers of 2011 has given headway for the doubters to come out, questioning just how "elite" Rivers ever truly was. And maybe, just maybe, Rivers was never truly that much better than Manning after all.
Rivers has posted great passing yards numbers and has kept his completion percentage high through quick dumps to his running backs and screens to his receivers, like always, but his other numbers are significantly concerning.
Rivers has thrown an NFL-worst 14 interceptions in just eight games and has his worst passer rating since his second year as a starter in 2007, 81.4. He has also fumbled seven times, losing three of them.
Rivers, who had a knack for looking out of place in big games in the past, now appears out of place in nearly every game. He is ineffective and inconsistent for the Chargers, and has been the most negative impact on the team this season.
It's a long season and there is no telling how it will end, but while Manning appears headed towards that elite status he labeled himself with in the offseason, Rivers looks like a sinking ship dipping straight into the mediocrity Manning has been tagged with since he entered the league.
Philip Rivers may have had the better start to his career, but it appears as though Eli Manning and the New York Giants will soon have the last laugh.