MLB Trade Speculation: Logan Morrison Could Be Cleveland Indians' Answer at 1B
November 7, 2011
Mike Ehrmann/Getty Images
With the Florida (Miami) Marlins and Logan Morrison seemingly headed for Splitsville, the Cleveland Indians should swoop in and fix their first base problem at a relatively cheap cost.
The 2011 campaign was probably the hardest year Morrison has ever had to endure. His father—the person who'd coached and helped him since he was young—died in December 2010. 2011 was the first season Morrison has played baseball without his dad there to guide and help him. It was obviously a rough transition for the young player.
The problems 2011 contained continued into the season when Morrison was seemingly demoted as punishment, something he filed a grievance for. Morrison also called the Marlins out on his popular Twitter page (@LoMoMorrison), something the Marlins are admittedly sick of.
Considering the bad blood between him and the Marlins at this point, the general sense around baseball is that Morrison will be available in a trade this offseason. This is where the Indians should take advantage of the Marlins' misfortune.
Morrison has played some terrible defense in left field during his young career (he currently hold a -14.4 UZR/150), but that is because he is playing out of position. He is naturally a first baseman, and is one of Keith Law's first basemen he would target in a trade this offseason.
While his defense has been suspect in the majors, there is no denying Morrison's bat. He was (obviously) better in the minors, but he has gained some power since being called up (all stats averaged to a full season):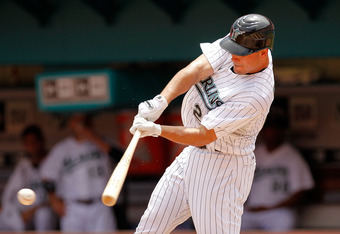 Mike Ehrmann/Getty Images
Minors (471 games): .290/.381/.464 slash line, .845 OPS, .380 wOBA, 18 HR, 93 RBI, 7 SB, 11.9 BB%, 15.2 K%
2010 (62 games): .283/.390/.447 slash line, .837 OPS (123 OPS+), .369 wOBA, 5 HR, 45 RBI, 0 SB, 14.3 BB%, 17.8 K%
2011 (123 games): .247/.330/.468 slash line, .798 OPS (116 OPS+), .344 wOBA, 29 HR, 91 RBI, 3 SB, 10.3 BB%, 18.9 K%
Considering that Morrison has only played 185 games so far in his career, it is natural to see some inconsistency. But knowing how hard 2011 was on Morrison mentally, his rise in strikeouts can be explained. In fact, it is encouraging to see his power spike even during a difficult time in his life.
Also, the lack of homers in 2010 can be explained by the small amount of time Morrison played and it being his first taste of the big leagues.
Put together, it doesn't seem unreasonable to expect a .260/.375/.470 slash line, .845 OPS, .360 wOBA, 25 HR, 90 RBI, 11.5 BB%, and 18.0 K% out of Morrison in 2012. 
That seems a lot better than what Matt LaPorta promises.
Trading for Morrison might not be the flashiest move the Indians could make, but it might be the smartest. The Marlins themselves have hurt Morrison's stock, meaning he wouldn't command as much back in a trade. It is feasible they could settle for two players like Jeanmar Gomez and Cord Phelps, decent players that won't cause problems.
I doubt the Indians would have a problem with Morrison's Twitter account since they've encouraged their players to embrace the social medium. In fact, they've embraced it themselves. President Mark Shapiro (@MarkShapiro), GM Chris Antonetti (@IndiansGM) and manager Manny Acta (@mactriber_11) are all on Twitter.
Most importantly, Morrison is under team control until 2017 and not arbitration-eligible yet. Acquiring him to be their first baseman next year would allow the team to allocate resources to filling the hole in center field (maybe B.J. Upton?) and in the rotation (I'd like Wandy Rodriguez). Adding Wandy, Upton and Morrison, along with trading Carmona would leave the Tribe's payroll around $66 million, within their budget for 2012.
Adding Morrison to the Tribe would give the team a firm, cheap basis for the future (Jason Kipnis, Lonnie Chisenhall and Morrison are all under team control through 2017) and help them contend now. If the price is right, I'd love to see @LoMoMarlins become @LoMoIndians.