MLB Trade Rumors: Indians Should Acquire B.J. Upton to Replace Grady Sizemore
November 2, 2011
Al Messerschmidt/Getty Images
B.J. Upton would solidify the center field position for the Cleveland Indians after three years of sporadic play from Grady Sizemore. 
Now that the Indians have announced that they have not picked up Sizemore's option, the Tribe has a hole in center field. While Grady could still return, it seems unlikely at this point. 
With Sizemore moving on, there is an unexpected hole in center field for the Tribe. The Tribe could move Michael Brantley into that spot, but I'm not convinced he's an everyday player at any position.
Check out these stats:
2011: .266/.318/.384 slash line, .702 OPS (96 OPS+), .309 wOBA, 7 HR, 63 RBI, 13 SB, 15.3 K%, 6.9 BB%, -1.6 UZR/150
Career (Averaged to a full season): .265/.316/.359 slash line, .675 OPS (88 OPS+), .301 wOBA, 7 HR, 57 RBI, 20 SB, 14.1 K%, 6.8 BB%, -9.9 UZR/150
Career (Vs. Lefties, averaged to a full season): .230/.294/.278 slash line, .572 OPS, .261 wOBA, 1 HR, 21 RBI, 19.3 K%, 7.7 BB%
It seems like what we have seen from Brantley is what we're going to get: an at-best average hitter who cannot play center field. His almost even UZR/150 this year was a byproduct of playing left field. For his career, Brantley has a decent 3.3 UZR/150 in left field and an atrocious -22.8 UZR/150 in center field.
Brantley's sample size for the fielding is still small, but how much better is that -22.8 figure going to get? It would take a lot to even get that to average.
This, combined with his disappointing stolen base count (20 for a full season in the majors, 44 for a full season in the minors) makes it hard to endorse Brantley as the Tribe's full-time center fielder.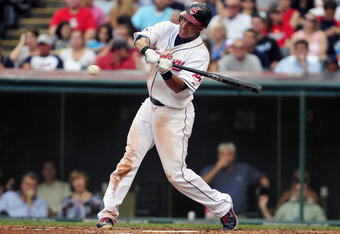 Jason Miller/Getty Images
Ezequiel Carrera can probably supply the defense necessary, but his batting leaves plenty to be desired:
2011 (Averaged to a full season): .243/.301/.312 slash line, .613 OPS (72 OPS+), .276 wOBA, 0 HR, 32 RBI, 23 SB, 15.5 K%, 7.1 BB%
With no clear options internally, trading for B.J. Upton would make sense for the Cleveland Indians.
Upton has gotten a lot of heat for not hitting as well as he should in the past few years, but looking at his stats, it's not as bad as it seems:
2011: .243/.331/.429 slash line, .759 OPS (115 OPS+), .337 wOBA, 23 HR, 81 RBI, 36 SB, 25.2 K%, 11.1 BB%, 4.1 fWAR, 1.6 UZR/150
Career (Averaged to a full season): .257/.342/.416 slash line, .759 OPS (105 OPS+), .339 wOBA, 17 HR, 70 RBI, 38 SB, 24.8 K%, 11.2 BB%, 3.7 fWAR, 5.2 UZR/150
Upton isn't the star he was supposed to be, but he is still a serviceable hitter. His defense wasn't elite by UZR in 2011, but fielding statistics are still inconsistent. For his career, he's added plenty of value in the field and should continue as he hits his prime at age 27. 
Upton is only going to make around $7 million through arbitration next year—cheap for a player who has averaged $17.3 million in value according to Fangraphs over the past five seasons. If the Indians could lock him up for 2012 and 2013 at around $12 million per season, then they would have a very solid core in place through 2013.
The Rays won't give up Upton cheaply, but he will be well worth the cost. The Indians could center a package around OF LeVon Washington, who the Rays drafted in the first round in 2009 and were unable to sign.
Washington had a down year in 2011, but is still the high-upside athlete the Rays and Indians saw when they drafted him.
Throw in a player with rising stock like 1B Jesus Aguilar, a power bullpen arm like RP Cory Burns and a major-league-ready starter like Jeanmar Gomez and I think the Rays might bite. That package isn't all that bad in return for a player sure to be leaving Tampa at the end of the season anyway.
The Indians are in win-now mode. With so few good center fielders out there, the Tribe would be very well-served acquiring one of the best available.