Oakland Raiders Week 9: Pressures, Hurries and Knockdowns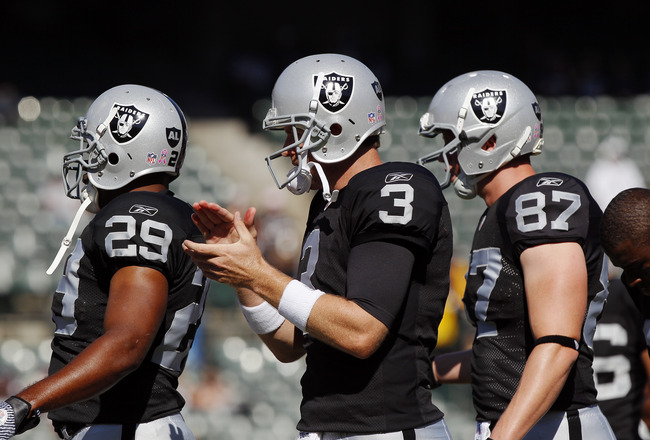 It's new; but Palmer has had success in this league with Jackson before, and this team is still very, very talented. This could work out well.
Brian Bahr/Getty Images
Week 9 brings a three way tie at the top of the AFC West with the Raiders, Chiefs and Chargers all sitting with a 4-3 mark.
The Chargers have beat the Chiefs. The Chiefs have beaten the Raiders; the Raiders play the Chargers next Thursday.
In other words, yes there is a three-way tie for first but, no, nothing has been settled. Far from it.
The Raiders have made some serious and drastic roster changes in recent times, making the now famous King's Ransom trade for Carson Palmer, and then bringing in his best football friend, TJ Houshmandzadeh at receiver.
A lesser known signing that flew under the radar but that could have equal importance is the signing of former Pro Bowl cornerback Lito Sheppard. Sheppard had a lot of success with the Eagles throughout his career, but had slowed somewhat recently due to injury.
The Raiders had him in during training camp, but with Chimdi Chekwa, DeMarcus Van Dyke, Jeremy Ware, Sterling Moore and other young players who looked good on the roster, he was expendable.
Well Ware and Moore are no longer on the roster and Chekwa, Chris Johnson and DVD have been banged up more often than not this season. There is a serious lack of depth on the back end; and Sheppard addresses that.
But it's Palmer-Housh-Jackson that really needs this team to show well. Hue Jackson made it known he'd have his hands on all personnel decisions after Al passed; and he certainly has.
Palmer had a brutal debut, and then was torched for his explanation of why—which I personally didn't have a problem with— and he needs to show that he's close to his old self again this weekend.
Will Hue Jackson's moves pay off? Will Palmer face the enormous pressure he's under with savvy and grace? Will Darrius Heyward-Bey continue his excellent play? All that and more in the upcoming slides.
Pressures: Hue Jackson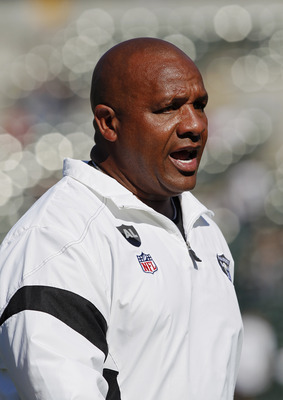 Hue Jackson has certainly made his mark on the personnel side since the passing of Al Davis
Brian Bahr/Getty Images
This is simple: Hue has become Al Davis, and despite some recent failings, Al Davis set a pretty high bar when it comes to running a franchise.
The recent signings of Palmer and Housmadzadeh—both of whom Hue coached with the Bengals and had much success with—have Hue's fingerprints all over them. As I've mentioned, along with many others, Hue was never completely sold on Jason Campbell despite Campbell's performance, and it seemed that Campbell's injury was just the opportunity he needed to complete building his bully.
Palmer was an elite QB that Hue thinks can be one again, which is part of pounding your opponent into submission. Teams that play the Patriots or the Packers already enter with a sense of intimidation due to the abilities of Brady and Rogers—and Brees and both Mannings, Big Ben, etc—and Hue never got that feeling with Campbell at the helm. He's hoping Palmer can rediscover some magic and give them that bite at the game's most important position.
He's also seen that the receiving corps, although having some nice moments, have been wildly inconsistent outside of Heyward-Bey, and he probably felt they needed some juice. TJ's familiarity with Palmer—the two of them have worked out in the offseason together for nearly a decade now—certainly helps.
Hue's mismanaged the clock at times, and he was woefully under prepared for the loss of Campbell, but for the most part, he's been a very good coach this season. I don't think he's under a lot of pressure to coach the game properly, because he's shown he can and he's shown he's very creative and innovative on offense. However, can he incorporate the new toys into the offense effectively?
The pressure lies in the moves he's made, because what he paid for Palmer was a very hefty price for a QB who hasn't really been elite in about five years. Hue is gambling alot, but Palmer has also shown that he has a willingness to work very, very hard and he's talking like a guy with something to prove.
If Palmer doesn't look a lot better this weekend, and if the offense is still struggling, then Hue will have some questions to answer. It may not be fair; the sample size won't be that large. But that's the reality of today's media, and Hue's under enormous pressure because he's become Al Davis: a man that is willing to pay whatever it takes to realize his vision of what the football team needs.
Whether he's right or not remains to be seen; but there's no doubt that many, many people are watching.
Pressures: Carson Palmer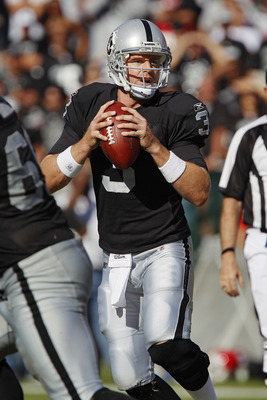 Palmer was unprepared and it showed against Kansas City. Will he be better after a bye week to prepare? Most assuredly yes.
Brian Bahr/Getty Images
Palmer hasn't played much meaningful football the last few years, and though he put up some nice numbers last year, he didn't really look like the take-charge, ram it down your throat QB he was for years before knee and elbow injuries took their toll.
He just got off the couch—though that's kind of a misnomer because there's no way he was just sitting around all day—a few weeks ago, and was already thrust into game action that he admitted he wasn't ready for.
He was ripped for that. Many people felt his honesty regarding his being unprepared and not ready to play was something to be derided, but the reality is that he DID just get off the couch and to Oakland five days before the game.
He practice three days before with guys he was unfamiliar with. No excuses; his pick six throw was horrible under any circumstances. But it at least explains why timing was off, why he looked a little lost.
He didn't expect to play.
Well, he certainly does this weekend, and he couldn't be getting a nicer welcome. He'll be at home against the dreadful Broncos, a defense that looked like they quit last weekend in a 45-10 shellacking by Detroit that may have been even more lopsided than the ridiculous score.
He'll also have a familiar target in Housh, who's signing Palmer said he had nothing to do with but nonetheless he must be very happy about.
Unfortunately, it looks like Darren McFadden is going to miss this game with a sprained foot—more on that later—but Michael Bush and Taiwan Jones are more than capable backs and the Broncos run defense currently couldn't stop ME going for over 100 yards on the ground, even if I had a torn MCL.
All things are lining up for Palmer, and he simply must deliver a decent performance. But after nearly a year off and some serious rust and confidence shaking two weeks ago, it's no guarantee. He's under a lot of pressure to show he can still perform in the NFL, because this game is very winnable, and for the Raiders to lose, they'll probably have to beat themselves.
Pressures: Raiders Defense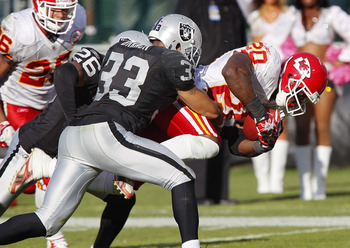 The Raiders defense were playing very well in the three weeks leading up to the bye; let's hope they continue that against the Tebow-led Broncos on Sunday
Brian Bahr/Getty Images
The Raiders defense is playing at a very high level over the last few games. Even the Chiefs debacle, which the Raiders lost 28-0, saw the defense play well. With Boller and Palmer combining for six interceptions, it could've been much uglier. The defense only gave up 14 points despite repeated short fields and hamstringing by the offense; they did their part.
The team planned to come into this season gearing up to stop the run, but after five games, they still found themselves near the bottom of the league in rush defense, and giving up the most yards per carry (5.8!) in the league. The newfound focus on run defense was doing nothing.
Then came the Houston game, a game in which the Texans all-world receiver, Andre Johnson, was out and which the Texans would surely run the ball hard with Arian Foster and Ben Tate, a lethal combination.
Well, the Raiders, having just lost team owner and NFL icon Al Davis the previous morning and still in grieving, gave an inspired performance in which they held Foster to 68 yards on 22 carries (3.2 ypc) and gave up only two more yards, for a total of 70.
They followed that up by giving up only 65 total yards on 21 carries to Cleveland the next week, another sub four yard per carry performance.
In the aforementioned KC game, despite being repeatedly put into negative field position and the Chiefs having a stranglehold on the game and the ability to run and kill the clock, which allowed KC to gain 139 yards on the ground, the Raiders defense still only yielded 3.5 yards per carry and the majority of the rush yards came on one drive from Jackie Battle.
Suffice it to say, the Raiders have improved significantly on run defense. That is huge this weekend, because we all know Tim Tebow doesn't throw the ball well. His strength is running; and even that's been sniffed out in recent weeks.
With Willis McGahee shelved, Knowshon Moreno is the back. The Raiders defense is under pressure to stifle the Broncos and ease the pressure on the offense, still in it's infancy with Carson Palmer and themselves under significant pressure to show they can do something without Campbell and McFadden.
The defense simply needs to continue what it's doing, and everything will be fine.
Hurries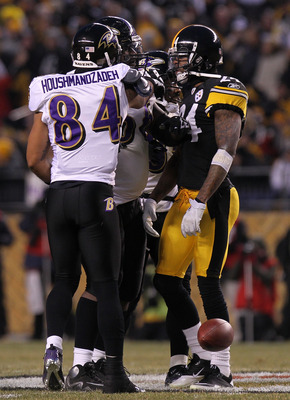 I've never been a fan of TJ's attidue; I always found him overly cocky and proud of himself. However, he's in Silver & Black now, so welcome!
Nick Laham/Getty Images
Thus far I've been unable to get really excited about the Palmer move. It may be that I just really liked Campbell, but there's just something nagging me that we jumped the gun and could've done something different and less costly. I hope I'm wrong; and Palmer certainly has the ability to be great. This weekend will go a long way to pushing me one way or another, Broncos or no. It's all about feel and the way he runs the offense.
I do like his command, and he made some really nice throws against KC. I just hope it's all rust and he's got that ol' zip on the fastball again because our guys have the speed to make one cut or one guy miss and go to the house.
I expect DHB to have a big game this weekend. Palmer already looked for him a lot against KC and with added reps and familiarity, it's only going to get better
Unless Housh steals catches, which I doubt. They play totally different positions, and Housh still needs to get up to speed. It's obvious Hue doesn't trust Louis Murphy right now, or he wouldn't have made this move

Murph has looked tentative and scared, as I've said before. He needs to rediscover his swag or he's in for a long stint on the bench. There's too many guys here.
It's unfortunate that Hagan has to be the one. I understand the rest of the guys are young and talented, but Hagan was valuable at times. He really seemed to want to be a part of this team.
I expect Kevin Boss to become more involved as time goes on. For some reason Campbell didn't look for him often even when healthy, but I think Palmer will, at least at first. He needs to establish rhythm and underneath tosses are good for that.
Although I love D-Mac, I'm confident in Bush and Jones this weekend. Thunder and Lighting will have no problem running over the Broncos, mark my words.
Jared Veldheer has been a beast this season, but he has played a little spotty the past two games. He shut down Von Miller in the first meeting; he needs to do it again this weekend
Knockdowns: Jason Campbell Is Easily Replaceable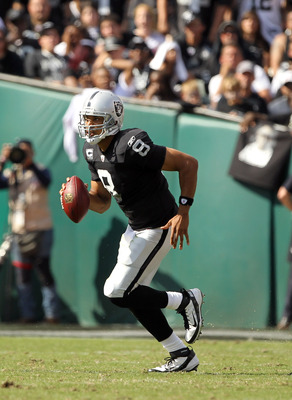 The Raiders' offensive ineptitude since Campbell's injury speaks to just how well he was playing and how important his leadership is to this team
Ezra Shaw/Getty Images
After Campbell went down with his collarbone break against Cleveland, the Raiders offense was so inept that it took a Shane Lechler TD toss on a fake field goal to put the game winning touchdown on the board.
The following week, things sunk to an even deeper sense of ugliness when Kyle Boller—he of the aforementioned inept offense against Cleveland the previous week—and newly acquired Carson Palmer—he who did not expect to play in the game and knew little of the team or plays—threw a combined six interceptions, two of them for Chiefs scores, in an ugly 28-0 loss to KC that took a previously mentioned herculean effort from the Raider defense to keep even that close.
Those two facts alone show me how valuable Jason Campbell really was to this team, and how underappreciated he's been by many.
He struggled early last season, and righted the ship. He had a winning record as starter for the Raiders, something no-one can say since Rich Gannon back in the day. He was playing at a high level this season, managing the offense when needed, manufacturing some when needed, and throwing the ball away or playing smart when needed.
He had a mini-meltdown that cost the team against the Patriots, but other than that, he'd been one of the main reasons the offense was humming along.
Yet in spite of all that, he was often questioned by Raider fans, the media and pundits as to whether he could play at a high level and lead the team against elite squads.
He beat the Jets, the Texans (on the road) and should've beaten the Bills but the defense tired down the stretch. He did everything he could to lead this team, and got little credit.
Now, people realize how valuable he was, but it's too little too late. He's gone as Raiders starter—Palmer's price saw to that—and that's too bad. He was finally starting to get it, and it kills me that he'll probably go somewhere else next season and be successful.
I embrace Palmer as our leader and quarterback, and know he can lead this team as well as Campbell. But I lament Campbell's fate, as he worked too hard and came too far to deserve this.
Knockdowns: Al Davis Was Holding This Team Back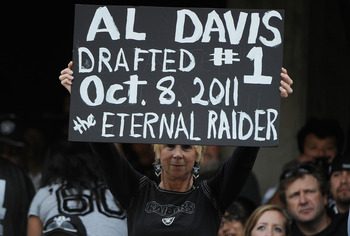 We will all miss Al; and in giving up two high draft picks for Carson Palmer, might we miss him already?
Thearon W. Henderson/Getty Images
Now that he's gone, some respect has been paid to the acumen Davis showed for evaluating talent. Although he failed with some recent picks—Russell obviously comes to mind—he also hit on a lot of late-round gems that are turning the Raiders into a young and dynamic team geared for success this season and beyond.
The fruits of Al's digging and signing players and drafting players others wouldn't where he did is beginning to show on the field. Al also brought in Jason Campbell, traded for Richard Seymour and in one of his last moves, traded for Aaron Curry, who has played stellar and been instrumental in the Raiders turnaround on run defense.
Yes, Al made some crazy moves in his time, and the atmosphere around the Raiders got so toxic in recent times that he had to overpay mediocre players just to get them to come to Oakland. But, after he realized he couldn't simply reload the AFC champions of the early 2000's, that he had to build the team in a more pragmatic way, he began to invest draft picks in lineman and defensive players that have made immediate impacts.
This team is poised to contend for the AFC West championship again this year, and it's largely due to homegrown or traded talent.
We miss you Al, and many of us scratched our heads at some moves you made but felt you always had the best interests of the team at heart, even if sometimes it seemed misplaced. But now it shows that even in the last days of your life, you were savvy, clever and football smart, and you got your Raiders and their ship sailing on the Autumn Wind, back on the right track.
Conclusion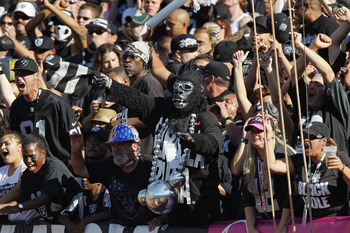 The Black Hole will help the Raiders fry up some nice, tasty Bronco stew this weekend; heavy on the Tebow
Brian Bahr/Getty Images
This weekend is extremely intriguing. Carson Palmer, Housh, Bush and Jones, and, of course, the Tebow factor.
The Black Hole will be rocking, the Raiders will be rolling and the Broncos will be holding their heads in shame as they walk out of Oakland with another loss.
I think Palmer plays well in this game, but maybe has one or two shaky moments. All I hope for is progress and that he looks comfortable and ready to play—now that, of course, he knows he's going to play—and that he takes a shot or two.
I think Hue will let him grip it and rip it a couple of times, and I don't think the Broncos corners, even Bailey at this point, can stay with Bey, Ford or even Moore. It should be fun.
The run game should have no problem finding lanes, and Bush has always slashed the Broncos. Expect Jones to get a couple nice runs as well.
It should be fun; I'm looking forward to seeing what the new guys can do. Hopefully it's encouraging. A poor performance against the Broncos will not bode well at all, and will do damage to the confidence of the offense and Raider Nation.
I fully expect the team to look good, to move the ball and to stifle Tebow and the Broncos on offense. Like I said, it should be fun to watch.
Thank you as always for reading. Comments are appreciated and encouraged. Go Raiders!
Keep Reading

Oakland Raiders: Like this team?