Fantasy Football 2011: 10 NFL Players Not to Give Up on in Your Dynasty League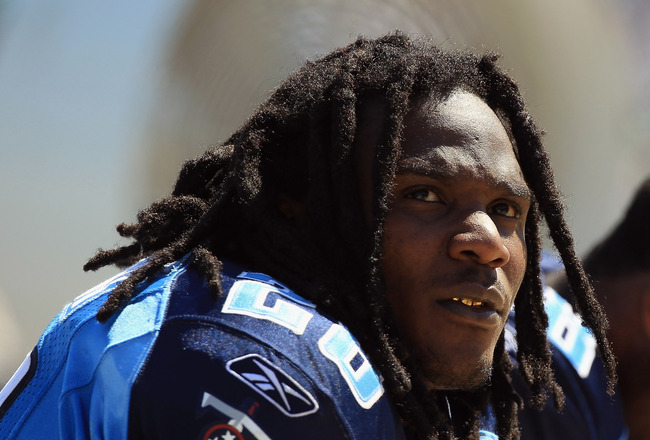 Streeter Lecka/Getty Images
I'm going to show you why you have to keep Chris Johnson on your fantasy football dynasty roster even though he's been struggling.
A rough NFL season has plagued Johnson and his fantasy football owners. He's not performing anywhere close to what we thought he would produce—definitely not what he says he's capable of either.
If you own CJ2K in a dynasty league, chances are you seriously considered trading him away, or even possibly dropping him. Stop! Don't make that mistake.
What you want to do is hold onto him—I'll explain why.
Chris Johnson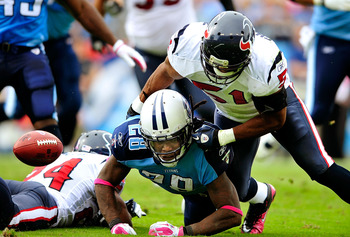 Grant Halverson/Getty Images
Chris Johnson is worth keeping. His paltry season is simply a product of his contract holdout and then missing preseason as a result.
His 2.8 yards per carry is cause for concern, but this is sure to change over the next two or three weeks.
The future of your fantasy squad looks bleak right now without him in your starting lineup, but remain patient. Because if he doesn't turn it around this season he definitely will next year, or he'll risk getting cut and not banking all of that big contract.
I only recommend trading him away if you were to get some high-caliber player in return.
Philip Rivers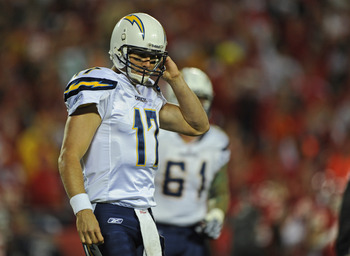 Peter Aiken/Getty Images
Is Philip Rivers still an elite quarterback? Yes. Is he still an elite fantasy football QB? Yes.
He is having a horrible season right now compared to what we have seen from him in the past, however, there are stats that suggest a big turnaround in the near future.
Right now he's struggling with turnovers, having thrown four more picks (11) than touchdowns (seven), but he's currently ninth in the NFL with 2,084 passing yards, and his 64.5 completion percentage ranks sixth among QBs.
He did just get Antonio Gates back, and that's a huge part of Rivers' game. Once Gates gets his legs back, things will start trending upwards for dynasty owners now and for next season.
Jamaal Charles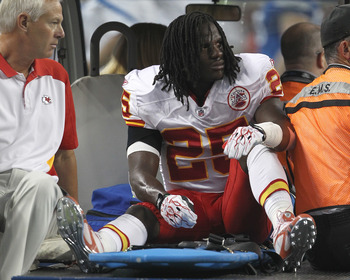 Dave Reginek/Getty Images
It's quite simple when it comes to Jamaal Charles, keep him on IR or on the bench (if you don't have an IR spot), and wait until next year.
That's the best you can do at this point. It does you no good dropping him right now—hold on, and just hope he comes back 100 percent.
Mike Williams (T.B.)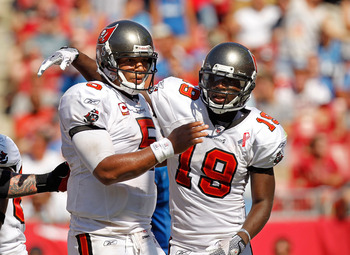 Josh Freeman (left) and Mike Williams (right) have a bright future together.
Mike Ehrmann/Getty Images
There's only one word that describes Mike Williams's season up to this point—disappointing.
After scoring 11 touchdowns last year as a rookie, Williams has fallen into what some like to call a sophomore slump.
The slump is real with only one touchdown and 317 yards through seven games. What's hidden underneath all this is that he is tied with Dwayne Bowe and Antonio Brown (leads the Pittsburgh Steelers) for 11th in the league with 63 targets—nine targets a game. That's good.
The Tampa Bay Buccaneers have teams like the New Orleans Saints, Green Bay Packers and Carolina Panthers—all teams that love to let QBs throw the football—coming up in the near future.
Josh Freeman is a rising superstar in the NFL, and that alone makes Williams worth holding onto for next year.
Peyton Hillis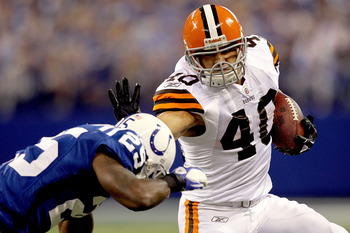 Matthew Stockman/Getty Images
Mary Kay Cabot of the Cleveland Plain Dealer is reporting that the Cleveland Browns expect Peyton Hillis to be back this week, but his return is still not certain.
First he pulls a hamstring—now he's not playing because his agent advised him not to—then he's injured again. I don't know what to make of it.
What does this mean? It means nothing to you right now, because you haven't been able to use him for a while anyway. If he is ready to go on Sunday, plug him in and hope for the best.
I don't want to say Hillis was a one-year wonder, so I'm telling you dynasty league goers to hold onto him, but he may be just that.
Go ahead and keep him with the mindset that you're drafting one of the big-time rookie running backs that are coming out of college. This way you will have yourself covered for seasons to come.
Marshawn Lynch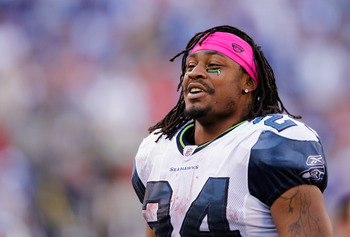 Mike Stobe/Getty Images
The Seattle Seahawks have the league's 31st-ranked run game, and Marshawn Lynch currently sits on 263 yards and a 3.6 yards-per-carry average.
One reason you keep him is because he is still a starting running back in the NFL, and as long as he's the starter, he's a viable option at least during bye weeks.
The other reason is that he is on a little three-game touchdown streak and is averaging 4.2 yards per carry over that stretch.
What I said about Peyton Hillis applies here too—you can always keep him on your roster and draft a rookie to potentially replace him next season.
Sidney Rice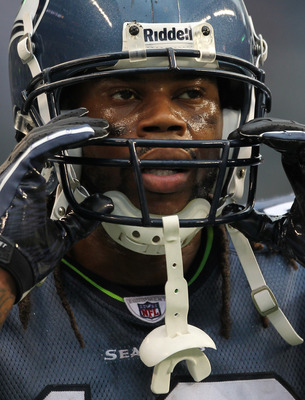 Otto Greule Jr/Getty Images
Hopefully you have better options at the WR position, and you're not having to use Rice every week. If you are then times must be tough.
Don't let him go just yet though. A better option might be holding onto him and seeing what the Seattle Seahawks do in the offseason to improve the quarterback position.
In his defense, he has Tarvaris Jackson and Charlie Whitehurst as QBs. I know he only has one touchdown, but he's managed two 100-yard games in the five he's played in and 40 targets over that span.
Tim Tebow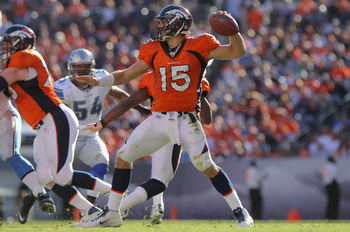 Doug Pensinger/Getty Images
The polarizing figure that is Tim Tebow—what to do, what to do?
You have to at least have him on your roster because, although he's not a good quarterback, he's a pretty darn good fantasy quarterback.
In that Miami Dolphins game, a game in which he and the Denver Broncos played horrible football, he still managed to put up 21 fantasy points in a standard-scoring league—a game where the Broncos had zero points until a little over three minutes left in the game.
Last week against the Detroit Lions, he somehow found a way to sling 12 points up for fantasy owners.
He's an absolute must keep until he's not the starter anymore, and as bad as he is, he's still a top 10 or 15 option most weeks.
Joe Flacco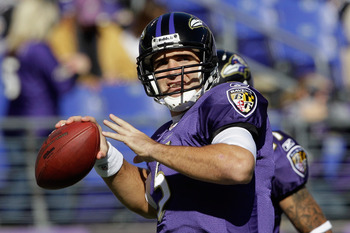 Rob Carr/Getty Images
Joe Flacco has managed to pile up 14 turnovers through seven games this season—not good.
He hasn't been able to put together back-to-back double-digit fantasy games yet either.
So why keep the "Flac Daddy" around? He's averaging 250 yards per game and is 12th in the league with 1,751 passing yards.
These are numbers that fantasy players can feel hopeful about.
If he happens to be your best QB option right now, and you happen to be in the cellar of your dynasty league, take that No. 1 overall pick and draft Andrew Luck next year.
Luck could end up being your starter right away, and Flacco is much better as a QB2 option.
Peyton Manning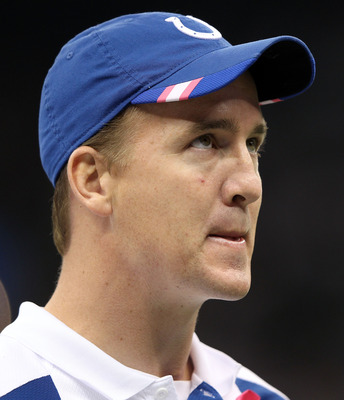 Jamie Squire/Getty Images
There's not really much to say here that people don't already know.
Peyton Manning is still one of the top four or five quarterbacks in the NFL, and he will be next year as well.
Look at it this way, he will be as refreshed as ever and out to make a HUGE statement when he takes the field in 2012.
Don't let the Andrew Luck situation throw you off. If the Indianapolis Colts draft Luck, Manning will still be the starter for the 2012 season and maybe the 2013 season—he isn't going anywhere.
Why would the Colts want to get rid of possibly the greatest QB to ever play the game and not give Luck all the chance in the world to learn from him?
Don't give up on No. 18—this guy is your starting QB next year.
Check out more of Brian Dezelske's articles.
Brian can also be found at Out of My League, where he compiles fantasy football rankings each week.
Follow Brian on

Keep Reading