5 Things the Detroit Lions Must Correct During the Bye Week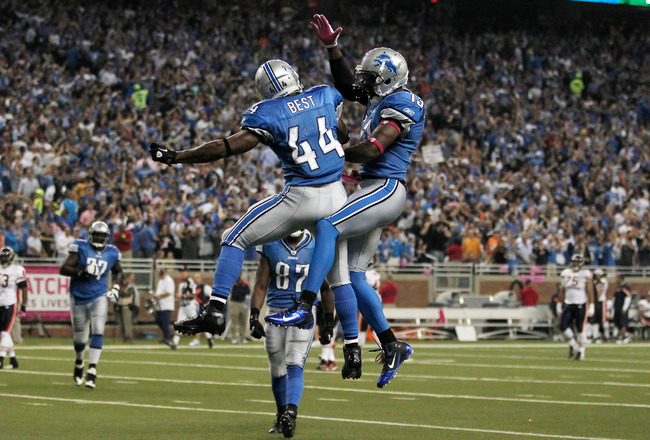 Gregory Shamus/Getty Images
Even the 7-0 Green Bay Packers have things to correct.
So it stands to reason that the Detroit Lions, at 6-2, also have some things to clean up. Not all of these things can be taken care of with just a week off—but those that can will certainly require attention before the Lions start the second half of the season.
The Lions have a brutal schedule, featuring teams with a combined record of 35-24. And that includes the Minnesota Vikings and Carolina Panthers, who, despite their 2-6 records, have played tough so far.
The Lions will also play the undefeated Packers twice, as well as the dangerous Saints, the talented-but-inconsistent Raiders and the Chargers in the second-to-last game of the season (read: when San Diego will be at its peak).
And starting off all the madness is a road game at Chicago—where Matthew Stafford has yet to walk out under his own power.
Yes—there are some things the Lions need to address in the bye week.
Nate Burleson's Role in the Passing Game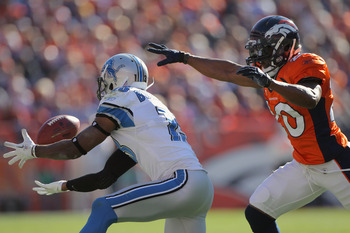 Doug Pensinger/Getty Images
Nate Burleson undoubtedly brings more than just receptions to the passing game. He's a vocal leader, a mentor and a tenacious blocker.
But at some point he also needs to be a catcher of passes. He hasn't caught more than four passes in a game since Week 2—and has only one touchdown in that span.
At this point, rookie Titus Young appears poised to surpass Burleson.
With Jahvid Best out and Brandon Pettigrew quiet, Burleson should presumably be the primary complement to Calvin Johnson at receiver. But Burleson has been stagnant—at least in terms of production—all season.
I don't know if this is more a problem with Burleson or the way the Lions are using him, but his lack of production needs to get worked out in the next week-and-a-half. Burleson is only 30 and is too talented to sit idle in an otherwise high-octane offense.
The Jahvid Best Problem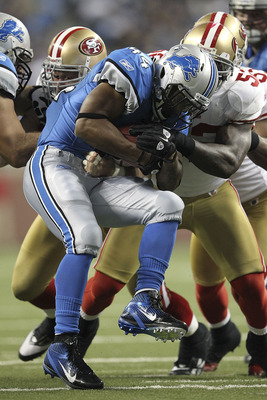 Leon Halip/Getty Images
So Jahvid Best goes down with a concussion, and everybody panics about the state of the Detroit Lions' running game.
How will they ever get by without him?
Considering that the Lions averaged 5.2 and 4.0 yards per carry in the two games since Best's injury, going over 100 yards both times, I'd say quite well.
Best is still a talented player and most certainly needs to play when he gets healthy. But, even before his injury, the Lions weren't exactly playing to Best's strengths.
Best is dangerous on the edge and as a receiver, but if the Lions pigeonhole him to a Reggie Bush-like scatback, he becomes predictable. Every time Best comes into the game, the opposing defense will know what to expect from him, putting the Lions' offense at a disadvantage.
So, do the Lions keep running Best ineffectively between the tackles—or will they allow him to do what he does best? And what happens to Maurice Morris and Keiland Williams—who've both been effective—when he does return?
Maybe Rein It in a Little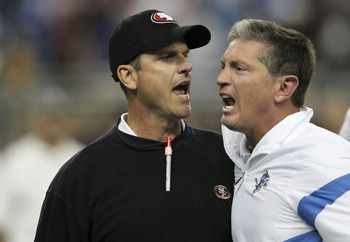 Leon Halip/Getty Images
The Detroit Lions have certainly faced their share of controversy this season, but I haven't thought too much of it so far.
But the Lions' transgressions are starting to accumulate, giving this team a pretty bad rep. Just once, I would like them to finish a game without their opponent complaining about being kicked in the shin and having their milk money taken.
It was one thing when Bart Scott brought up an isolated instance last year. Bart Scott has no credibility.
But, every week it seems, the big story isn't the Lions winning or losing—it's something someone did during or after the game.
Against Atlanta, the Lions were accused of taunting Matt Ryan. This week, Stephen Tulloch "Tebowed" Tebow.
It's irrelevant whether these things are being blown out of proportion (most of them are, with the possible exception of Handshake-Gate)—it's that there is something to blow out of proportion every week.
Now Jim Schwartz is a fiery guy, and something tells me he doesn't mind his Lions playing with an extra chip or two on their collective shoulders. But even Schwartz has to be sick and tired of responding to non-football inquiries every week.
Maybe this is the week Schwartz tells his guys to rein it in a little, to let people focus on the fact that the Lions are a good team capable of winning ball games.
Giving Up Huge Gains on the Ground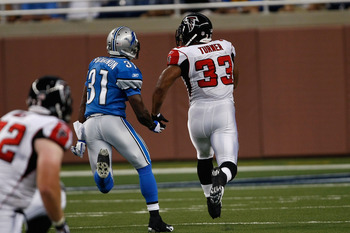 Scott Boehm/Getty Images
Even in games where the Lions have bottled up the opponents' rushing attack, they've allowed a long run or two.
Even in their dominant win against the Broncos, they allowed a 34-yard gain to Lance Ball.
Not Willis McGahee, not Knowshon Moreno. Lance Ball.
This after giving up a 50-yard gain to Michael Turner and a 55-yard rush to Frank Gore.
At least once per game, the Lions get gashed on the ground—that cannot continue moving forward. I have placed a lot of blame on the defensive line for this, but they line is really only responsible for the first four or five yards (if that).
The linebackers and safeties must step up as well.
Ultimately, this is everyone's problem. Aligning the Lions' defensive line in the wide-nine look for much of the game creates some giant gaps in the middle, sure. But the linebackers (Stephen Tulloch, in particular) are supposed to fill those gaps. In addition, the Lions are supposed to have a pair of instinctive safeties who love to hit.
None of this is taking shape on those big runs—it's probably time for a midseason adjustment.
Overall Health
Gregory Shamus/Getty Images
The good news is that the Lions finally have a late-season bye week, allowing them to rest injured and worn-down players. I used to think there was some rule stating that the Lions' bye had to come before Week 5, but here they are now with one in Week 9.
For the Lions, the timing is opportune. Jahvid Best is getting over a concussion, Matthew Stafford needs to rest his ankle, Nick Fairley (and, it seems, everyone else) is out with a foot injury and there are plenty of other bumps and bruises that could use the week off to heal.
Stafford didn't appear bothered by his ankle injury last Sunday, but I'm sure he doesn't mind getting it back to 100 percent before attempting any more 20-yard scrambles. Especially considering his next stop: Soldier Field.
Keep Reading

Detroit Lions: Like this team?