San Francisco 49ers New Prima Donna Assoluta Receivers Shock Cleveland Browns
October 31, 2011
Jonathan Daniel/Getty Images
The San Francisco 49ers have two brand new prima donna assoluta receivers—Joe Staley and Isaac Sopoaga. Each caught their first passes, both first downs, during the 20-10 win over the Cleveland Browns.
The two new receivers bring valuable talents to the 49ers.  Both are large receivers, making good targets for the quarterback who can shield off defenders with their bodies while they clutch at the ball.  Both have the ability to plow through lighter defensive backs and corners.  Both have experience playing along either offensive or defensive front lines, a prerequisite skill for slot receivers in the new NFL.
There is some fan dissension, however, over this recent addition. Fans are concerned because their previously favored prima donna is losing his status in their eyes. 
Michael Crabtree, once the reigning prima donna, (and sometimes mislabeled as a diva, even though his singing of arias is unknown to the general public), has been very sly at working overtime developing his skill instead of satisfying his fans by lazily laying about during practice sessions.
To top it off Mr. Crabtree has been insidiously catching the ball and traitorously running downfield afterward, leaving his detractors aghast at his efficiency.  Not to mention his dastardly downfield blocks to help Frank Gore make more yards. His reputation in the locker room has improved to the point that his disappointed fans find he is no longer a legitimate target for criticism.
But, having sadly lost Mr. Crabtree as a subject of scorn and ridicule, fans are again in fine fettle at the prospect of acquiring two more to complain about.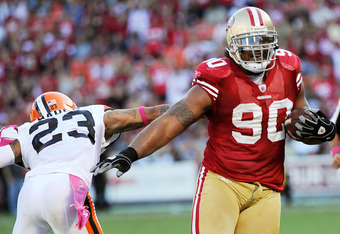 Thearon W. Henderson/Getty Images
It is already being said, for instance, that the two new receivers are a bit slower of movement, are less maneuverable than some in the league and lack a sense of seriousness about their profession.  It has been thought they have a penchant for criticizing their teammates.
Mr. Staley began the public taunts with, "He caught with his body, I caught with my hands, so I think I'm a more sure-handed guy."
"I want to point out that my catch was 18 yards, and Joe's was only 17," Mr. Sopoaga retorted.
Staley's peevish retort?  "The season's long." 
So the fan's long-desired receiver controversy for the 49ers was publicly joined.
In the meantime, their 100 percent receiving rate exceeds that of all other active receivers in the NFL. At the very least, therefore, these two have given future opposing defensive coaches something more to strategize over and agonize about. 
We will see just how well these two play it out during the rest of the season, and how the fans react to them.
P.S.—The term "prima donna assoluta"  is applied to those few of outstanding excellence, as well as those having a penchant for ordering servants about.