NFL Week 9 Picks: 2011 Season Provides Easy Mismatches for Your Wallet, 68-48
October 31, 2011
Rick Stewart/Getty Images
With a record of 8-5 last week, that gives us three plus weeks in a row and a record of 68-48 overall against the spread.
At plus 20 now, that is a nice profit of $13,200, betting $1000 per game.
Moving right along, this week we have some great matchups lined up as wins in Week 9.
The Jets travel to Buffalo in a key division game this week. New York simply can't match the quality of players that Buffalo has assembled this season.
Fred Jackson is quite outstanding this year and a big plus on any fantasy team as well.
I like Buffalo to basically outscore the Jets by 10 points at home.
Houston should get Andre Johnson back and dominate Cleveland at home this weekend. Houston is slowly gaining the upper hand in that division, and this is a moneymaker for bettors.
Houston by double digits.
The 49ers will have another good travel day, beating the Washington Redskins on the road. Take the 49ers, and give the points.
Tampa Bay had a bye week, but that is not the advantage it once was, with the CBA changing week to week, team behavior and whatnot.
New Orleans is coming off a bad loss to the Rams and will be sharper this week. Take Drew Brees to put up some big numbers as the Saints win this home game.
Miami will have a chance to beat a Kansas City team that just played on Monday night. I like the Dolphins to get off the winless side this week. You will get some points, I'm sure.
Dallas will be much sharper at home this week also, after suffering defeat at the hands of the Eagles last week.
Seattle is not given much of a chance in this game. Dallas should cover easily at home.
Atlanta goes to Indianapolis after a week of rest. Indianapolis will remain winless and may get the upper hand in the Andrew Luck sweepstakes, as the Dolphins may win this week.
Speaking of luck, the Bengals will need some this week against Chris Johnson and the Titans in Tennessee. Cincinnati will be a bit road weary and won't make it to 6-2.
The Raiders will control the pace against Denver and won't get "Tebowed" this weekend.
New England will not lose two in a row, playing the Giants at home. It might be close, but I doubt it.
The Rams will have a bit of a letdown after a big win versus New Orleans last week. Arizona will outduel the Rams in the desert.
The Rams winning two games in a row will be the highlight of their season if that happens, but I'm betting not.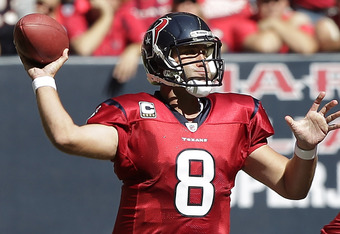 Bob Levey/Getty Images
The Packers will cruise into San Diego and go back home undefeated. What did you think I'd say?
Pittsburgh hosts Baltimore in the Sunday Night Football in America matchup.
Need I say more?
I like the Steelers in the revenge game at home. Pittsburgh could steal the division with a big win here. Remember this game, as these two teams will play again this season.
The Bears will have all kinds of trouble on Monday night dealing with Michael Vick and the 160 yards of rushing offense his team averages per game.
Chicago's defense will be severely taxed in this Eagles victory.
This week's continued success has been carefully plotted by Thomas [NFL Mikee] Moreland.