Cincinnati Bengals: 7 Reasons the Bengals' Start to the Season Is No Fluke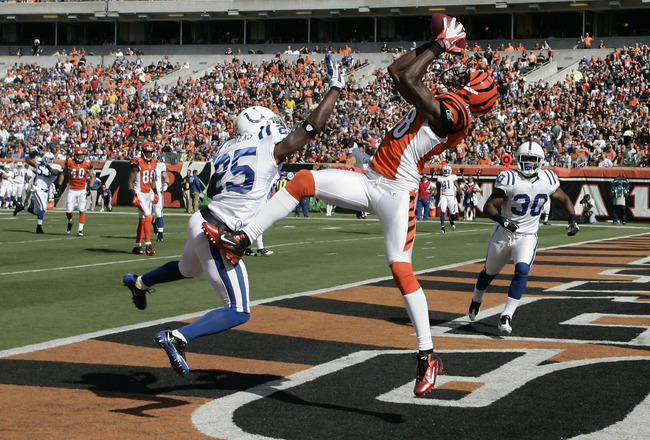 John Grieshop/Getty Images
My friends, in the words of Alan Cutler, "it's a great day to be a Bengals fan." Who would have thought we'd be sitting here today talking about a 5-2 record?
The offseason this year in Cincinnati was all about Carson Palmer. Would we trade him? Is he coming back?
Things didn't look good, and the recent failures of the Cincinnati Reds sure didn't make us feel any better. All the "experts" were saying the Bengals would be lucky to win three games this season. Andy Dalton was only a second-rounder, our defense had gaping holes and Marvin Lewis was lucky to still be the coach.
Yet, today, it's a great day to be a Bengals fan. Here are the seven biggest reasons why...
7. Marvin Lewis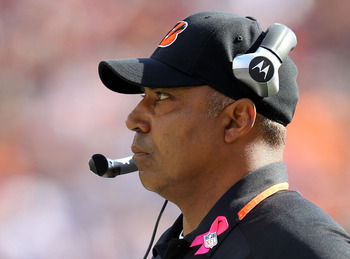 Andy Lyons/Getty Images
During the offseason, many questioned where Marvin Lewis would be come August. With a 60-67-1 regular-season record, along with an 0-2 mark in the postseason, it didn't seem like we'd see Marvin on the sidelines in Cincinnati this year. But, Mike Brown is the boss around here, so typical moves are few and far between.
You don't have to live in Cincinnati to know about the circus we've had here. How many arrests have the Bengals had in the last 10 years? It's a ridiculous number. How about this number? As of 2009, 17 players drafted by the Bengals no longer play in the NFL—notably, Chris Henry (may he rest in peace) and Odell Thurman.
People even had signs in their yards counting the days since the last Bengals arrest! You know, like those countdown-to-Christmas ones? Yeah, things got ugly.
On top of the seemingly endless and embarrassing legal drama, we also dealt with the infamous Chad Ochocinco. Need I say more? His bullfighting, horse racing, trash-talking, NASCAR driving and relentless "Chad-first" attitude were never beneficial, nor welcome here in Cincinnati.
Sure, the shenanigans were fun for a while, but it quickly became too much—especially when we started to see him on Twitter way more than in the end zone.
This year, however, the Bengals locker room is full of excitement (not because of Pepto-Bismol parcels, or Hall of Fame jackets). This year, the only things that come out of the locker room are "we" things. There's not any "he did this" or "they should have done this." It's seems like it's finally a positive place to play and I think that attitude reflects Marvin Lewis' teachings.
6. Mike Brown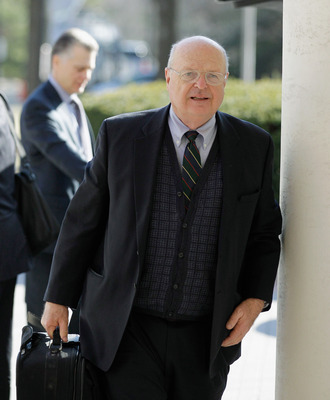 Mike Brown, Bengals owner and GM, sporting a sweater vest during lockout talks.
Rob Carr/Getty Images
Ah, Mike Brown. One could make thousands of arguments to why this man is the worst owner in sports history. Well, perhaps not owner, but certainly general manager.
Through years and years of disappointment, embarrassment, ruining careers and ignoring fans, Mike Brown has cemented himself as one of the most hated people to ever travel to this side of the Ohio River. None of these things have ever seemed to bother him, though. After all, he's still rich.
For years, Cincinnati has been the poster child for how a NFL team is not supposed to operate. Unhappy players, losing seasons, poor draft picks, apathetic fans and a laughable scouting department have always been the best ways to describe the Bengals...
I'm sorry, this is about the good in Mike Brown. Let's try again.
The past few years have seemed slightly different. 2010 and '11's draft especially, have found the Bengals some great talent, namely, in Jermaine Gresham, AJ Green and Andy Dalton.
But wait, there's more! Under Brown, we've never been a team to make many, if any, offseason transactions. We all know about T.O., but this year's additions have flown somewhat under the radar.
So, in 2009, we finally built a solid defense, which became the fourth-best in the NFL. Last year, however, we were plagued with injuries and sure enough, we faltered. The biggest questions this year were the pass rush, the depth and who would fill the void left by Jonathon Joseph. Bringing Nate Clements in was probably the best option other than Nnamdi Asomugha, and he's played well so far.
My favorite additions, however, are the two new linebackers in Manny Lawson and Thomas Howard. Howard is finally playing the way the Oakland Raiders always thought their second-rounder would, and Manny Lawson has done a great job filling the SAM position after Maualuga moved to his natural position at middle linebacker. The questions about Dhani Jones retiring and Keith Rivers being hurt were answered well.
Mike Brown also went very un-Bengal-like by locking up big names such as Leon Hall and Andrew Whitworth for the next few years. Brown typically lets players' contracts run out, releases them to free agency, then gives them an ultimatum deal near training camp.
I think re-signing these players finally sets a foundation for the coaches to build on. We finally have a great core of players that can build a contending team together.
I am in no way trying to argue that Mike Brown is suddenly good for the team. A few years of improvement doesn't make up for decades of apathy. Just saying, he's made some nice moves here lately, even if it was only handing over some power to Marvin Lewis.
5. Jay Gruden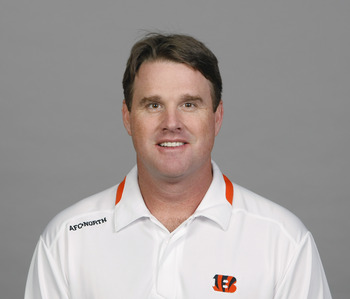 Handout/Getty Images
Younger brother of Super Bowl head coach Jon Gruden, Jay's first year as the Bengals offensive coordinator has been nothing short of spectacular. The success of both Andy Dalton and this offense are surely through the works of Gruden's play-calling.
Jay Gruden and Andy Dalton are building an offense together. The West Coast scheme seems to be working for the strengths of Dalton and the rest of the offense rather than putting some players together and saying, "Do it like this."
4. Defensive Line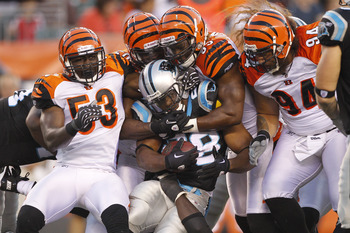 Joe Robbins/Getty Images
The biggest difference between 2010's defense and 2011's is the defensive line. Although, they're not putting up monstrous stats, they have shown great consistency.
This time last year, the Bengals D-Line had all of two sacks through seven games. This year, the line has already mustered, a solid, fourteen.
What makes this year's line so good?
This year is the first in a while where injuries aren't plaguing the line. Eight different players are getting extended play time through the rotation that Mike Zimmer and Jay Hayes have created. While the opponent's offensive line has fatigued, the pass rush stays fresh through four quarters. This is important as most of our players are very young.
The Bengals also parted ways with big name veterans like Antwan Odom and Tank Johnson, giving opportunities to young players like Geno Atkins, Pat Sims and Michael Johnson.
On top of the pass rush, the Bengals are the league's second-best team in yards per carry average, giving up only 3.3 yards each time. What that stat doesn't show, however, is that they've managed such against some of the premier running backs in the game like Fred Jackson, Maurice Jones-Drew, Peyton Hillis and Frank Gore.
3. Mike Zimmer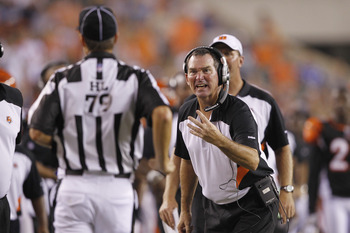 Joe Robbins/Getty Images
Mike Zimmer has always been a great coach. After arriving in Cincinnati in 2008, his presence was quickly known in building 2009's fourth-best defense in the NFL.
After a disappointing season last year, Zimmer's defense has quickly bounced back and is currently the No. 4 defense in the NFL.
Zimmer's greatest attribute is the intensity he brings to the locker room, practice and in the game. His "we can still be better" attitude is what has kept the defense on top throughout the season.
Many will argue that the only reason the Bengals have a top-rated defense is that we haven't played any good teams yet. Blah blah blah. Although we haven't played the Patriots or the Packers, we have played some of the best running backs in the game, yet we are still tied for second in the NFL, allowing only 3.3 yards per carry. The defense will certainly be tested this season, however, in games such as Pittsburgh and Houston
Zimmer's defense also put a stop to the then-highest-scoring Buffalo Bills. The Bills came into Cincinnati in Week 4, sporting a 3-0 record and coming off of an incredible comeback win over the New England Patriots. Cincinnati held the Bills to one offensive touchdown and just two field goals, then stopped them on their last drive in the fourth quarter in a tie game that led to the walk-off field goal by Mike Nugent.
Mike Zimmer does more than just call plays. He is an inspiration to be always be better, and never be satisfied with good.
Some may remember in Week 5 of 2009, during the brilliant start to the season, the shock in learning that Zimmer's wife of 27 years unexpectedly died in their home. In spite of this tragedy, Zimmer still coached in the following weekend in Baltimore, and his defense gave up only 14 points in a 17-14 Bengals win.
Mike Zimmer's devotion and undying will to be great have molded this very young defense into one of the best this season, and in Bengals history.
2. Andy Dalton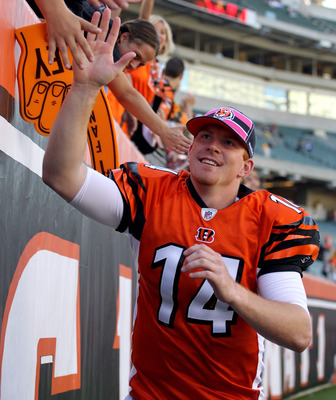 Andy Lyons/Getty Images
"The Red Rifle."
When you look for the magic this season, the first man you'll find is Andy Dalton. Nobody could have predicted his performance so far, and that's an understatement.
The differences between this year and years past can be looked at in two ways, as Carson Palmer would likely have more yards this season. However, being a rookie quarterback, it's hard to ignore the excitement. In seven starts this season, Andy Dalton has thrown for 1,479 yards, nine touchdowns and has a passer rating of 82.7.
But, as we all know, the quarterback position is more than just throwing the ball. The competitive nature and the leadership Andy Dalton brings to the team is far greater than anything we've seen in Cincinnati. On the sidelines, Dalton is in your face, firing up the team, keeping everyone's mind on the game. Veterans appreciate that.
Marvin Lewis keeps repeating, "This team is all in." The quarterback comes first, and this rookie's rallied the troops. Everyone in the locker room trusts him.
While Cam Newton grabs the headlines with his passing yards and everyone watches Christian Ponder take over in Minnesota, quietly, Andy Dalton has led three fourth-quarter comebacks and is proving he can be a great NFL quarterback.
The first thing the box score shows is who won and who lost. Andy Dalton is 5-2.
1. A.J. Green and Jermaine Gresham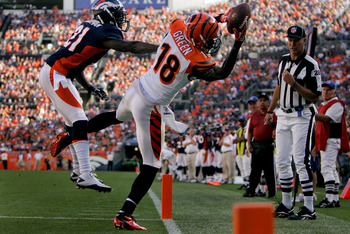 Justin Edmonds/Getty Images
Yep, that's right. Andy Dalton would not be having the season he is without these two.
One of the biggest problems last year was finishing drives. Andy Dalton's job is a lot easier when he has these top targets to look for. No matter how good a quarterback is, he needs someone to throw to (see: Sam Bradford).
A.J. Green backs up his top-five pick every game. He's a great route-runner, he catches almost every ball he can reach and he can change a game as a deep threat. At 6'4", with great speed, he reminds us a lot of All-Pro receiver Andre Johnson of the Houston Texans.
Jermaine Gresham, at 6'5", also has great hands and is a dependable target over the middle. He can break coverage and causes mismatches all over the field. As long as he can stay healthy, he'll become one of the best tight ends in the league.
The pair has accounted for seven of Dalton's nine touchdown passes so far this season.
Who Dey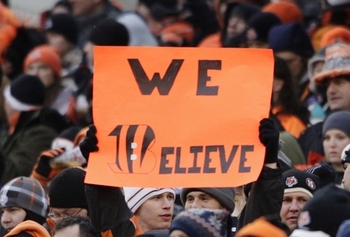 Everything's finally falling into place. With the team we have, and the slew of draft picks the next few years, watch out for the Cincinnati Bengals.
Who Dey.
Thanks for reading!
Keep Reading

Cincinnati Bengals: Like this team?