Todd Haley Is the Right Head Coach for the Kansas City Chiefs
October 24, 2011
John Sommers II/Getty Images
I had planned to write this even before the Chiefs smacked the Raiders into the Bay, and I would have even if they had lost.
In 2009 Scott Pioli was hired as general manager, who in turn hired Todd Haley as the team's head coach.  They were inheriting a team that Herm Edwards had run into the ground, culminating in a 2008 2-14 record.  The next step was bringing in quarterback Matt Cassel, along with that year's draft class.
The 2009 season didn't leave fans wanting to have a parade in downtown K.C., but they doubled their win total, all the way to four. 
That off-season, however, was the first real draft that Pioli had, alongside his head coach.  We know that draft including the following:  Eric Berry, Dexter McCluster, Javier Arenas, Jon Asamoah, Tony Moeaki, Kendrick Lewis and Cameron Sheffield.  All of these players are on the current Chiefs roster, a number of them legitimate stars.
The 2010 season brought the Chiefs the AFC title and a 10-6 record, matching their win total for the previous three seasons.  Scott Pioli and Todd Haley were mentioned, appropriately, as Executive and Coach of the Year candidates, respectively.
Now we fast forward to the start of the 2011 season.  The Chiefs start out 0-3, being outscored by something like 300-4.  To say they looked bad doing it would be an injustice to all that is bad.
Immediately, Todd Haley is on the "hot seat".  I read it in articles, I see fans clamoring to see him fired.  I even see blogs and articles about how Pioli should go!  I'm reading nothing but negative things about both of these gentlemen.
Kansas City Chiefs fans seem to have a man-crush on Bill Cowher.  I't ain't going to happen! That goes for this year or any other year.  First, he likes what he does, and more importantly, he wants complete control, Scott Pioli most definitely is not going anywhere.
The next one I always hear about is Jon Gruden.  Well, at least I won't have to hear that anymore, right?  He just signed with ESPN for five more years, so you'll have to wait a while.
Todd Haley is still a young coach, but a very good one.  So what if he yells at players?  They yell back at him. 
People talk about his arguments with wide receivers all the time, yet Steve Breaston couldn't wait to come to K.C.  All the ones I hear talk about him love the guy.  Why is that?  Maybe he's good at what he does.
I read the moronic comments that he played golf in college and not football.  Hey, here's a news flash for you.  Teaching and "doing" are two different professions. 
The truth is, his football resume is remarkable for a head coach. 
He's been around the game since he was a ball boy hanging around with arguably the greatest NFL team in history, the Steelers of the 1970's.  He worked for the Bears, Cowboys and Cardinals, all the while moving up in positions.  While doing that, he helped turn countless players into pro-bowlers and they will be the first to admit it.  Hell, he played an integral part in taking the Arizona Cardinals to the Super Bowl!  The Cardinals?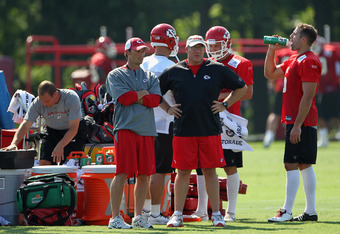 Jamie Squire/Getty Images
Scott Pioli did not help Bill Belichick turn the Patriots into one of the most consistent winners over the last decade by firing the coach because they lost three games in a row, especially after they lost two of their best players to injury.
Todd Haley is passionate, tireless, demanding and probably difficult to work for.  Good, that's the way I want my coach to be.  He still has things to learn, but I'm glad he's on the Chiefs, and he's going to be here for a while, as is Scott Pioli. I'm glad for both, and you should get used to both of them.