Paul Pierce Underrated by ESPN NBA Rank: Celtics Forward Easily Top-15 Player
October 20, 2011
Elsa/Getty Images
On what planet is Paul Pierce not a top-15 player in the NBA?
Pierce, who was ranked No. 21 in the league by ESPN's NBA Rank project, came out with an average rating of 8.12, sandwiched in between teammate Kevin Garnett (22, 8.01) and Zach Randolph (20, 8.12).
Sometimes, the perceived value of certain players is driven down because of a lack of flash or frills, and even more often it happens because the player makes the game look so easy.
In Pierce's case, it's a combination of both.
His game has never been marked by beauty or grace, and some have even drawn comparisons to his overarching attack being something that is more often seen in a YMCA pickup game than on an NBA hardwood, but that shouldn't detract from the value he provides to the club.
Pierce, who has made himself a face of the Boston Celtics and one of the most legendary figures of a franchise that has had its fair share of them.
It's embarrassing that he wasn't considered among the league's top 20.
For a player who just turned 34 years old earlier this month, Pierce's play has not fallen off, and he actually improved last season from where his production stood in 2010.
While his numbers on the stat sheet haven't broached where they previously stood, he simply hasn't had to be the sole source of offense he once was for the team since the arrival of Ray Allen and Kevin Garnett.
A true leader by example on the court, Pierce has only played fewer than 70 regular season games twice in his career.
The first was his rookie season in 1998-99 when there was a truncated campaign, and the other was during 2006-07 when he dealt with a myriad of injuries, most notably of which was a stress reaction in his left foot.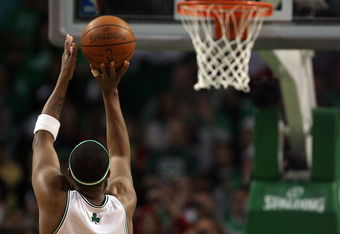 Elsa/Getty Images
In 2010-11, Pierce established career-high marks in field goal percentage (49.7) and free throw percentage (86.0), and a new career-low for turnovers per game with an average of just 2.1.
Pierce also averaged just 12.8 shots per game despite registering 18.9 points per game, and that type of efficiency is a strong illustration of why Pierce has continued to be successful.
The most underappreciated element of Pierce's game is his steadiness over the course of a season.
Here is a look at No. 34's split stats from last season.
| | | | | | | | | | | | |
| --- | --- | --- | --- | --- | --- | --- | --- | --- | --- | --- | --- |
|   | M | A | Pct | 3-Pct | FT-Pct | Reb | Ast | TO | Stl | Blk | PPG |
|  Pre-ASG | 6.5 | 13.1 | 49.8 | 38.5 | 84.5 | 5.0 | 3.2 | 1.9 | 1.0 | 0.6 | 18.8 |
|  Post-ASG | 6.0 | 12.2 | 49.4 | 35.3 | 88.6 | 6.2 | 3.3 | 2.6 | 1.0 | 0.7 | 19.0 |
Taking a look at those numbers, it's easy to see the remarkable similarities between his performance before and after the All-Star break last season, and that's what stars in this league do—consistently deliver.
With the criteria for judgment in the NBA Rank project being "current quality," I can't see the logic in his placement behind an aging Tim Duncan (19) or a player contemplating retirement in two years in Manu Ginobili (18), and he deserves to be ahead of several others as well.
Teammate Rajon Rondo (17) is an exciting young talent, but his current quality is not greater than Pierce's.
He may not stuff the stat sheet like Kevin Love (16) or provide as many exciting highlights as Blake Griffin (10), but he deserves to be ahead of both young forwards.
While some like Duncan and Ray Allen (35) clearly earned their spots in the rankings as lifetime achievement awards, Pierce got the short end of the stick, and there's no question he was gypped tremendously in where he should be placed.
Not only is Pierce a top-20 player in the NBA, but I'd have a hard time taking 15 others ahead of him.
Age clearly hasn't slowed down Pierce from spitting "The Truth."