NFL Trade Rumors: Peyton Hillis and Stars Teams Would Be Smart to Trade for
October 17, 2011
Matthew Stockman/Getty Images
The NFL trade dealine is quickly approaching and a ton of stars have been linked to trade rumors.
Here's a quick look at three available names that certain teams would be very smart to inquire about. 
Peyton Hillis, Cleveland Browns
Cleveland Browns beat writer Mary Kay Cabot has tweeted that coach Pat Shurmur has stated Peyton Hillis is not on the trading block. 
Hillis is also banged up after suffering a hamstring injury in Week 6, so the odds of him being traded appear to be shrinking.
Still though, Hillis is an ugly situation with his current contract and the Browns have a stud in Montario Hardesty to replace him. If the right offer comes along, you have to think Cleveland would bite.
A possible suitor might be the Detroit Lions. Jahvid Best just suffered his second concussion of the season and could possibly miss a ton of time. There aren't a lot of viable backups in Detroit and Hillis would make them an immediate Super Bowl contender if they weren't already.
Other teams such as the Seahawks or Colts would be smart to go after a Pro Bowl-caliber running back as well.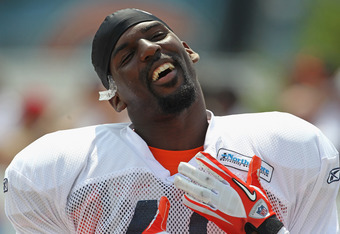 Jonathan Daniel/Getty Images
Chris Harris, Chicago Bears
Chris Harris isn't happy in Chicago and the Bears have granted his agent permission to seek a trade. 
According to Sean Jensen of the Chicago Times, no one has offered anything more than a seventh-round pick for Harris.
At that cheap of a price, many contenders would be smart to add secondary depth.
Teams such as the Green Bay Packers, New England Patriots and Philadelphia Eagles all come to mind.
If the Bears go for it, why not take a shot? There are worse risks around.
Robert Mathis, Indianapolis Colts
Defensive end Robert Mathis is available for the right price according to NFL Network's Mike Lombardi.
NFL Network's Mike Lombardi believes that both DE Robert Mathis and WR Reggie Wayne are available for trade at "the right price." Mathis and Wayne are both in contract years, and neither would be a reasonable candidate for the franchise tag in 2012 because Peyton Manning is holding captive so much salary cap space. Wayne turns 33 years old next month and is obviously in decline. Mathis is 29. He'd cost a pretty penny to re-sign.
Mathis would be a huge addition for any playoff team looking to add a pass-rusher. He's averaged about 10 sacks per season over his career and already has 3.5 this year.
One team that immediately comes to mind is the Houston Texans, who just lost uber pass-rusher Mario Williams and are looking to stay in playoff contention after losing two in a row.