Chris McGrath/Getty Images
October 15, 2011
The timing of this bye could not be better for the struggling Arizona Cardinals. At 1-4, they aren't scaring anybody in the division, let alone the NFL. 
So, this weekend, what do you watch while the Cardinals enjoy their much needed bye? Let's examine the games up for the weekend, and which ones you should watch and which ones you should ignore.
MUST WATCH
San Francisco at Detroit—This is a reversal of fortune. Here we have two teams that were 1-9 combined at this point last year and now stand at 9-1.  Detroit is coming off an emotional Monday victory against the Chicago Bears, and the 49ers destroyed Tampa Bay like they had stole something. This is probably going to be the toughest defense Detroit has faced, and maybe the most potent offense San Francisco has faced. Detroit wins this one—but barely. Detroit 23 San Fran 20.
Philadelphia at Washington—It's hard to put a 1-4 team in a must watch category but this may be more for the Redskins than the Eagles. We all remember that "game" where Michael Vick tortured that secondary of the Redskins on a Monday night. You better believe the Redskins remember.
It's hard to picture the Redskins in first place with Rex Grossman at the helm, but they are. They beat the Eagles then they have gone through the first round of divisional play with a 2-1 record, and control of the division for now. It's a long season, but I think the Skins marked this game since last year and used the bye week to prepare for it.
They aren't running into the same team they played last year, but that is still Michael Vick at quarterback. He's always dangerous. Can you imagine the Eagles 1-5? Me neither. Philadelphia 28 Washington 27.
GOOD GAMES
Buffalo at New York Giants—This would be a nice victory for Buffalo coming off a victory over the Eagles.  Even though they beat they Patriots, they can't take any days off because you don't expect that Pats to drop too many more.  
The Giants are really banged up, and the Bills are pretty good offensively. This could be a shoot out very quickly, but even if the Bills get up big, Eli is the number one quarterback in the fourth quarter.  I still say the Bills take this one. Buffalo 31 New York 28
Dallas at New England—This game is sexy only in name only. The Cowboys against the Patriots does sound great for Fox on a Sunday afternoon. Unfortunately, that's about where the intrigue ends, because Tom Brady and the Pats will have a field day on that secondary. Dallas does get Miles Austin back so that may keep it close. But I trust the Patriots more in late games then Romo and his Cowboys. Patriots 31 Cowboys 21.
Houston at Baltimore—Do you get the feeling that Houston is coming back down to their normal place in the league? Thank goodness Peyton's out because I wouldn't trust the Texans with a lead. And they play the Ravens this week, so they won't have a lead. Baltimore 28 Houston 12
New Orleans at Tampa Bay—These guys usually split during the year. The question is, how will the Bucs respond to that whipping the 49ers handed them last week? New Orleans has quietly been the second best team in the league, and a bad play call away from being 5-0. New Orleans will handle business and send Tampa to their second straight defeat. New Orleans 28 Tampa Bay 20.
Miami at New York Jets—These two know how to give us a good Monday night game. Neither are that good. The Jets are wildly overrated and call it a hunch but I think Miami gets their first win. HA. Just kidding, but it sounded good. NY Jets 35 Miami 17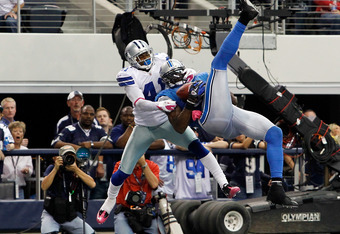 Tom Pennington/Getty Images
Carolina at Atlanta—I'm a believer in Cam Newton. I think he's gaining confidence by the week and they are so close to a breakthrough win.  This week is it. Carolina 27 Atlanta 24
ONLY IF YOU LEAVE IN THESE CITIES
Minnesota at Chicago—Eh. Give me the Bears because I'm not sold on Minnesota. Chicago 18 Minnesota 9
Cleveland at Oakland—Oakland keeps the Al Davis memorial running and beat up the Browns with some ground work. Oakland 24 Cleveland 17
Indianapolis at Cincinnati—I think I will catch up on Modern Family. Cincinnati 23 Indy 20
St. Louis at Green Bay—Is there a mercy rule in the NFL? I'm giddy because I have Aaron Rodgers on my fantasy team.  Green Bay 42 St. Louis 10
Jacksonville at Pittsburgh—I think I have a baby shower. Yeah. That's it. A baby shower. Pittsburgh 35 Jacksonville 6
Like the new article format? Send us feedback!