Fantasy Football Wide Receiver Rankings: Risers and Fallers for Week 6
October 13, 2011
Matt Ludtke/Getty Images
The 2011 season is all about high -octane passing offenses and receivers are going to play a bigger role in fantasy leagues across the board. Even some of the run-first offenses featuring elite running backs are shifting to a pass-heavy approach.
With our latest fantasy football wide receiver rankings, you can tell which receivers are going to be top scorers consistently each week. Nothing hurts more than missing out on that up-and-coming fantasy stud so here is a list of our latest risers and fallers.
 How it works: Each week, we analyze a player's production on the football field and rank them accordingly, and then we go one step further and analyze their competition. Just because someone had 200 yards receiving against the Patriots doesn't mean they were that week's best performer. You are going to want a wide receiver that continuously puts up big numbers, even when they take on one of the league's toughest defenses.
After we rank their weekly performances, we then look at player consistency. Having a player that can consistently be a top performer is what is going to get you a championship at year's end.
RISING
7. Dwayne Bowe, Kansas City Chiefs (LW: 17)
When the Chiefs lost Jamaal Charles for the year, they needed someone on the offense to step up. Bowe has been that guy to this point and that should continue. Bowe has seen an increase in catches, yards and touchdowns each week since Charles went down. The Chiefs had production on the ground and even Steve Breaston had some success as a receiver in last week's win against the Colts. Bowe still posted big numbers so it's obvious that Bowe will remain at the top of the pecking order.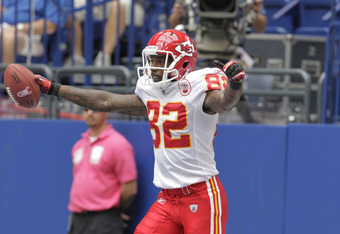 John Sommers II/Getty Images
9. AJ Green, Cincinnati Bengals (LW: 14)
Green has been very strong in PPR formats almost from the start of the season. In the Bengals' recent win over the Jaguars, Green found the end zone for the third time this season and should continue his path of success as the Bengals try to move away from Cedric Benson. The coaching staff said they would try and get Bernard Scott more involved in the offense, but he has only produced mediocre results. As the running game takes a step backward, you can expect Green's stats to improve.
16. Pierre Garcon, Indianapolis Colts (LW: 28)
It's obvious who Curtis Painter's favorite target is now that he is the starting QB in Indy. Painter and Garcon have hooked up for four touchdowns since Painter became the official starter. That being said, most of those touchdowns came on fluky plays where Garcon was either left uncovered or on the right side of poor tackling. There is no denying the increase in targets that Garcon has had lately, however.
17. Nate Washington, Tennessee Titans (LW: 21)
Washington went up against one of the stingiest defenses for fantasy receivers and still came away with fairly decent numbers. He would have had even better numbers, but he and Matt Hasselbeck weren't on the same page on two near-touchdown throws. Washington owners likely picked him up after Kenny Britt went on IR, but they may want to consider picking up Damian Williams too as the Titans are doing a good job of getting every receiver involved.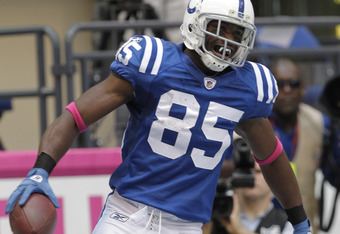 John Sommers II/Getty Images
FALLING
12. Eric Decker, Denver Broncos (LW: 6)
Decker isn't going to be a fantasy bust now that Tim Tebow is the starter in Denver, but he isn't going to stay near the top either. Decker had a very good PPR value with the stable Kyle Orton under center but will no doubt see fewer targets and catches with Tebow tucking and running the ball.
19. Jordy Nelson, Green Bay Packers (LW: 11)
Nelson is starting to get a little too inconsistent for our liking. The Packers have too many threats on offense and a quarterback too good to rely on one receiver. Nelson is starting to look like the third option behind Greg Jennings and Jermichael Finley. While that still represents some good upside for a big game here and there, we're thinking he is a better sell-high option.
24. Robert Meachem, New Orleans Saints (LW: 19)
If you aren't in a PPR league, you might as well cut Meachem now. His yardage isn't very good and now that Marques Colston and Lance Moore are healthy, you can expect it will be a while before he sees the end zone again. Meachem has decent value in PPR because it's almost a guarantee he will grab four or five catches per week, but expecting more than that isn't recommended.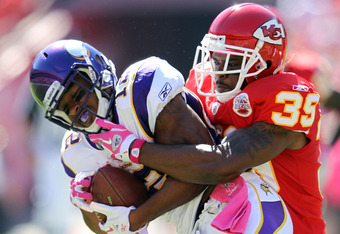 Jamie Squire/Getty Images
25. Percy Harvin, Minnesota Vikings (LW: 16)
Unless Harvin starts recording a special-teams touchdown per game, he should continue to plummet in the Vikings' underachieving passing game. It goes without saying that Donovan McNabb has severely underperformed at quarterback this season, but Harvin's only two targets in last week's win over the Chiefs is incredibly disheartening. Adrian Peterson will always be the main weapon in this offense, but the Vikings are going to need to get the ball in to Harvin's hands more often if they want any success.  
Every week TheSportsCannon.com updates their Fantasy Football Positional Rankings to keep up with the changing landscape of the football season.
The Sports Cannon is a fantasy football news website that offers free advice, rankings, waiver wire pickups and matchup rankings. You can follow TSC on Facebook or Twitter and can even email your questions to: advice@thesportscannon.com.