Fantasy Football Week 6: Best Available Waiver Wire Pickups
October 12, 2011
Bart Young/Getty Images
Once the bye weeks start happening in the NFL, fantasy football owners consider waiver pick day like Black Friday every time it comes around. 
The combination of bye weeks, injuries and offensive ineptitude causes every fantasy owner to make at least one pickup per week, if not two, during this stretch.
Not even the deepest bench in the world can save your fantasy squad in many cases. You have to continually stock your shelves until the bye weeks are history or else you will be stuck with invisible men or Jacksonville Jaguars in your fantasy lineup. 
So here are five players worth picking up in fantasy leagues heading into Week 6: 
ESPN commentator Skip Bayless must be happier than a geek at Comic-Con now that Tebow has been tabbed as Denver's starting signal caller. Sometimes watching Bayless gush about Tebow makes me wonder if he was really the one who decided against aborting Tebow and not Tebow's mother.  
For all the love Denver's coaches and players showered Kyle Orton with leading up to the season, they certainly did their best to make sure he was not the starting quarterback for too long. No average quarterback can turn the Broncos into a playoff team, or even an 8-8 team, and Orton is extremely average.  
Take a look at Tebow's numbers from last year when he started three games at the end of the season to gauge what he is capable of. He can throw for 200 yards, run for another 50 and score two touchdowns when he faces a below-average defense.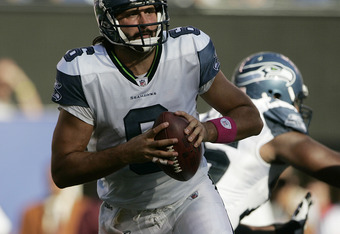 Rich Schultz/Getty Images
Tebow can also throw terrible interceptions a la Brett Favre, though, and if completion percentage is somehow a category in your league he will totally destroy you because he will only complete half of his passes. 
In one-QB fantasy leagues, Tebow should only be played sparingly against defenses he can handle, such as Week 10 against Kansas City. But in two-QB leagues he can be used a little more frequently thanks to his rushing yards and touchdowns.
Tebow's first start of the season should be interesting—at Miami against a winless team and in the state where he had all of his college success. That makes me think he will sprint out of the fantasy gate to a good start.      
Charlie Whitehurst, Seattle Seahawks
This has been a bad week for pectoral muscles.  Houston's Mario Williams' season is over due to tearing his, and now hard-luck, soft-bodied Tarvaris Jackson might miss a chunk of time himself thanks to his strained pec. Bad things happen in threes, so be careful, Fabio! 
"Don't Call Me Wally" Whitehurst would be Seattle's starting quarterback if Jackson cannot start after Seattle's bye week, and wow, are fantasy owners of Sidney Rice overjoyed about that (sarcasm alert!).
Whitehurst does not have much in terms of arm strength, scrambling ability or receivers. If used the most you can expect from him is 200-250 yards and a score or two, and only if Seattle is trailing from the second quarter on and he throws the ball 75 times.  
A starting quarterback is a starting quarterback in fantasy football, though. You can never have enough of them. At worst if you have an extra, below-par one like Whitehurst on your fantasy roster you can trade him for a tight end or a defense you may sorely need.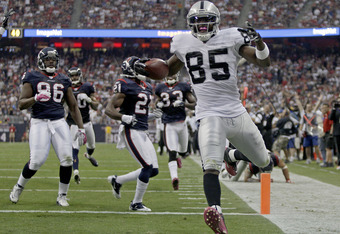 Thomas B. Shea/Getty Images

Darrius Heyward-Bey, Oakland Raiders
The late Al Davis loved the long bomb, and that is why Oakland drafted Heyward-Bey seventh overall in the 2009 draft in what was widely thought of as the worst draft choice since Kwame Brown was taken first overall in the 2001 NBA Draft.  
Heyward-Bey had done nothing to prove critics wrong since entering the league. He only had 490 receiving yards combined over his first two NFL seasons. He was perpetually injured and looked perpetually lost when he was healthy. Heyward-Bey had been surpassed by other receivers on the depth chart and was not being counted on for much entering 2011.    
But some receivers need a year or two to get down their route running and timing, and Heyward-Bey seems like one of them. After being silent the first three weeks, Heyward-Bey racked up 115 yards against the New England Patriots and followed that with 99 yards and a touchdown against the Houston Texans. 
Is Heyward-Bey turning a corner?  Looks like a strong possibility. There are probably not many receivers with his upside and speed available on fantasy waiver wires, so I would target him if I needed a pass catcher. 

Delone Carter, Indianapolis Colts
Indianapolis will never be known as a ground and pound team. The offensive line is more suited for slash and dash, or maybe stutter and flutter. Even with Peyton Manning sidelined the Colts do not have the personnel to become a run-first team, or even a run-at-all team for that matter.   
Indianapolis' laughable running game has actually gotten worse because Joseph Addai could be out a couple weeks thanks to a hamstring strain. So when Indy runs the ball those scant 15 times per game while Addai is away, Carter will likely be the one getting the bulk of the work. 
Carter is a powerful back who beat out former first-rounder Donald Brown for the backup tailback spot this season. Carter has not been the second-coming of Edgerrin James—41 carries for 125 yards and one TD—but he can barrel through tacklers better than the flimsy Brown can.
Carter should get 10-15 carries per game and especially the hand-offs near the goal line with Addai out of action. Brown will rear his horseshoe helmet in games as well, but Carter is the better fantasy bet out of the two.    

Dan Bailey, Dallas Cowboys
Dallas being on a bye week last week probably kept fantasy owners from claiming Bailey on waivers the week prior. Now with six teams off this week and millions of fantasy owners searching for one-week stopgaps at the kicker position, Bailey's name is popping up frequently on radars. 
The Cowboys have a knack for getting into scoring position a lot and then having their drives stall due to Tony Romo's incomplete passes, Jason Garrett's inept playcalling or the offensive line's idiotic penalties.
That works perfectly for Bailey, who has converted on 12-of-13 field goal tries. Kicking a dozen field goals in four games is a fantasy goldmine. And even though receiver Miles Austin is slated to return, that does not mean Dallas' offense will be any more proficient inside the 30-yard-line. If you need a kicker for one week or for several, Bailey is a solid choice.