Fantasy Football Week 6: 7 Studs That Have Proven to Be Duds
October 10, 2011
Al Messerschmidt/Getty Images
Five weeks into the football season is not too early to label the "studs" on your fantasy squad as duds.
Millions of fantasy football owners have been burned worse than Mike Jenkins on a fly route because of supposed fantasy studs who have turned out to be duds. These guys were touted before the season by most fantasy experts to be among the best at their positions yet have failed to deliver like an incompetent UPS man.  
Here are the seven guys that come to mind the most when it comes to fantasy duds this season: 

Josh Freeman, Tampa Bay Buccaneers
In 2010, Freeman had a 25-to-6 TD-to-INT ratio that made fantasy owners salivate at what he could do the following season with another year of experience under his belt. And now in 2011 he has a 3-to-6 TD-to-INT ratio. Dud deluxe!
Freeman has no 300-yard-games and only once has he accounted for multiple touchdowns— one rushing TD, one passing TD against 0-5 Indianapolis. He has not clicked at all with favorite target Mike Williams, so much so that you wonder if they had a falling out in the offseason because of a Madden '12 dispute or something.
Freeman is only 23 and has way too much talent to be terrible forever. But his two two-INT fiascos where he threw for under 200 yards over the last three weeks is disconcerting. In two-QB fantasy leagues he is still usable, but that is not the case in one-QB leagues.

DeAngelo Williams, Carolina Panthers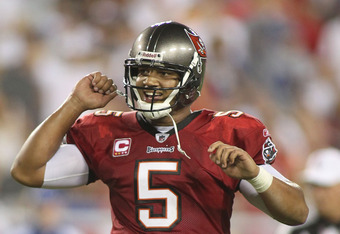 Marc Serota/Getty Images
When Williams signed a $43 million deal in the offseason, most logical-thinking fantasy owners thought that was a sign that Carolina was going to hand the ball off to Williams a lot more than to "backup" Jonathan Stewart. 
Wrong! Williams has 53 touches through five games, while Stewart has 55 touches. Since Stewart sees the field more often than Williams does on passing downs, and Carolina usually trails in its games, Stewart has been getting an advantage in the touch battle.     
Most logical-thinking fantasy owners also believed that Carolina would rely on its two-back running attack to take the pressure off of rookie quarterback Cam Newton.
Wrong again! Carolina's run-pass ratio has been about 10-90 as Newton has been throwing the ball more often than Bobby Hebert did with the Atlanta Falcons during their run-and-shoot days under Jerry Glanville. Newton ranks in the top five in the NFL in passing yards, so if the pass is working so well, why run the ball with Williams?
Williams did nothing over the first four weeks. This past weekend against New Orleans he actually ran for 115 yards and a touchdown, but that was only because of a 69-yard scoring scamper. He only had nine carries in the game. Yes, nine.
One thing is for sure—if Williams is worth $9 million per year when he only gets 10 touches per game, Minnesota's Adrian Peterson deserves $29 million per year.  

Rashard Mendenhall, Pittsburgh Steelers
Every season Mendenhall runs into the same two problems. The first is that Pittsburgh has this notion that it can wing the ball around like the Green Bay or New Orleans and thus forgets all about Mendenhall and any semblance of a running game at times.
Wesley Hitt/Getty Images
The second problem Mendenhall barrels into is that Pittsburgh seemingly has the most injury-prone offensive line in the NFL. The Steelers always play two to three starters short up front. Mendenhall has a harder time finding room than Vince Wilfork does when he puts on a pair of pants.
In the four games Mendenhall has suited up for (he missed Pittsburgh's last game with a hamstring injury), he failed to rush for 70 yards every time and averaged a pathetic three yards per carry.
Mendenhall was a second or third-round pick in most fantasy drafts and was coming off a 1,273-yard, 13-TD campaign. And now people who drafted him are being laughed at by those who took San Diego's Ryan Matthews or Arizona's Beanie Wells in the later rounds. Fantasy football is a strange, unforgiving hobby.       

Shonn Greene, New York Jets
Ground and pound! What happened to the ground and pound?  Jets fans are not the only ones asking why the erratic Mark Sanchez is throwing the ball much more than Greene is running it.  Greene's fantasy owners are asking the same thing.
With Hall-of-Famer-to-be LaDainian Tomlinson another year older, this was supposed to be the season where Greene blew up for 1,000 yards and made people forget about Freeman McNeil. But here are Greene's rushing yards totals in his five contests: 26, 49, 59, 23 and 83. Forget about McNeil. This will make Jets fans and fantasy owners long for Johnny Hector.  
The Jets offense does not know what it wants to be, Sanchez's completion percentage is still too low and the offensive line is not as dominant as it once was. On top of that Greene is just not a dynamic back. He is a downhill runner without many moves who gets five yards when a play is well-blocked and two when it isn't. He does not elicit much excitement right now. 

Brandon Lloyd, Denver Broncos
Lloyd easily won the Most Shocking Fantasy Comeback of the Year award in 2010 when he piled up 1,448 receiving yards after never having more than 733 yards in his first seven seasons. Most receivers do not have career years at age 29.
This season Lloyd is not playing like the journeyman he did early in his career, but he is not playing like the Pro Bowler he was last season, either. He has 19 receptions for 283 yards and zero touchdowns. He is no longer surprising defenses anymore and is getting blanketed by double coverages and lockdown corners more often than not. 
Things will not get better for Lloyd's fantasy numbers if Tim Tebow takes over at quarterback after Denver's bye week. Say what you want about Kyle Orton. The one thing you cannot say is that Tebow throws a better ball than Orton does. Lloyd may need some time before he notches another 100-yard-game.

Mike Williams, Tampa Bay Buccaneers
2010 was the Year of the Mike Williams as this one and his samely-named counterpart in Seattle worked wonders for fantasy owners looking for receiving yards.
2011 has been a different story, though. While the Seattle Mike Williams is currently concussed, fantasy owners wish Tampa's version had a similar excuse for being as unproductive as Chad Ochocinco.  
Williams has 19 receptions for 183 yards and one touchdown. Some of his highlights include a one catch for minus four yards disaster against those bastions for pass defense, the Minnesota Vikings, no 70-yard-games (let alone 100-yard-games), no touchdown trips since Week 1 and a yards per catch average of under 10 yards. 
Williams was likely taken among the top 15 wideouts in the majority of fantasy drafts. Those are draft picks fantasy owners would love to have back right now. That said, Williams is definitely a buy-low candidate I would try to acquire before he has a breakout game. 

Dallas Clark, Indianapolis Colts
If your fantasy draft took place after it was revealed that Peyton Manning was going to miss most of the season with his neck injury, then you probably slotted Clark down a couple spots accordingly. But many drafts happened before this news and Clark was still thought of as the top-five tight end he annually is. 
Well, Kerry Collins and Curtis Painter are no Manning. And although Painter has been much better than we all assumed he would be since taking over, he has been zoning in on Pierre Garcon more and Clark less.
Clark has 14 catches for 136 yards and one lone touchdown. Let me save you the calculations—Clark is not even averaging 30 yards per game. This is the same guy who had over 1,100 yards in 2009. Oh, how his fantasy value has changed. 
Unlike others on this list, Clark is not money in the bank that he will rebound. Until and unless Manning returns, which is more unlikely with every Colts loss, Clark will have trouble getting the ball from the mediocre signal callers tossing passes for Indy these days.