Pinpointing Problems: Jets Through Week 5
October 10, 2011
Jim Rogash/Getty Images
Putting aside the Baltimore game (because that was just a complete abomination), but looking at the OAK and NE games, there are three issues (offense/defense) that have plagued this team and have kept it from being 4-1 instead of 2-3.
1. While the Jets defense was one of the top units in '09 and '10, I remember it being more a bend-but-don't break unit, then a complete shutdown group. And that worked. Instead of allowing touchdowns, the other team would get in the red zone and the Jets would generally hold them to a FG. I think the numbers would back me up on that.
This season...
Against Oakland: Three TOUCHDOWNS from the 23-yard line or closer.
Against NE: Three red-zone TOUCHDOWNS
Lose by 10 to OAK, lose by nine to NE. Change two of those TDs to FGs and you may have different results.
2. The safeties and LBs are just too slow. They cannot contain the edges and it's not a matter of if Eric Smith gets burned each week but how badly. It's a given. The Jets need to try Brodney Pool or someone else (is there anyone?) in that spot because Smith just isn't working AT ALL.
3. Time to move to the offense. While there have been issues that you do hold the players accountable to, like Burress' dropped balls and the O-line breakdowns, the overwhelming problem is Brian Schottenheimer. I just have no doubt about this. This is the sixth season of this nonsense and nothing has changed.
Maybe it's because for more than a decade (outside of Al Groh, who wasn't even the first choice) the Jets have had head coaches with defensive backgrounds. From Parcells to Edwards to Mangini to Ryan, it just seems like the offenses have been plagued by incredible conservatism.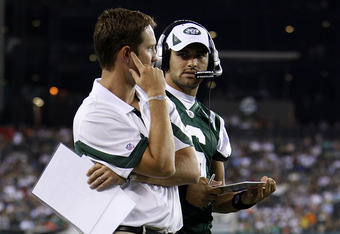 Jeff Zelevansky/Getty Images
In my lifetime of really watching the Jets (starting in '98), Dan Henning has been the ONLY offensive coordinator that has given me any promise of spark or explosiveness in the Jets' offense. Paul Hackett was the worst, Mike Heimerdinger didn't work out and here we are with Schottenheimer, who is plagued by inconsistency and predictability.
I sometimes believe Schottenheimer has created a good game plan. The offense works well in the first half (as it did in Oakland and in spurts of this NE game), but then the other team's defense adjusts and Schottenheimer misses that memo. Today for instance, he pounded the Ground and Pound into the ground so much so that it became ineffective.
The predictability of this offense is astounding. I'm not a coach but watching every Jets game it's amazing how often I know what's coming. I don't watch game film but from what I see each week there seems to be fundamental issues in the design of routes.
I watch other teams who are able to hit 15-20 yard pass plays or (gasp) even longer ones. It appears these do not exist in the Jets' playbook. They're running six-yard curls on 3rd and 8. Seriously?
There's just no imagination. I'm not asking for imagination as in reverses or RB passes or some kind of extravagant trickery. I just want some variety. The Jets rarely work the middle of the field and I don't think they've even taken ONE shot down the field this season....ONE.  It's curls, sideline outs and two-step drops that require perfect timing.
Yes, there are problems with pass blocking and the offensive line but something has to be done to open up the offense.
I know the Jets offense and Schottenheimer so well that I'm willing to put money on us running a play-action deep bomb to Santonio Holmes on our first offensive play next week. I'd go to Vegas and bet on it if it's a proposition.
These problems are not impossible to fix. The Baltimore loss was a blowout but the Jets were in both of these last two games. They're 2-3 and while there are problems, it's not time for doom and gloom...yet. It will be if there are not steps taken to try and solve them.