NFL Predictions: Could the Minnesota Vikings Get Shipped to L.A.?
October 6, 2011
Rob Carr/Getty Images
It's never too early to start thinking.
We all know about Minnesota's revenue problems, their outdated Metrodome, the state's budget deficit and the overwhelming opposition to local taxes being raised in order to fund Zygi Wilf's "playground," as opponents to the idea like to call it. Thus, with their lease up on February 1, 2012, relocation must be considered and addressed.
One of the stipulations for any relocation in the NFL is that 3/4, or 23 of the league's 31 other owners (besides Wilf, obviously), would have to sign off on such a deal. In a very preliminary estimate with absolutely no research, let's consider how many votes they could have.
Can the Vikings find eight allies who's votes could keep them in Minnesota?
Owners Who Would Likely Approve a Move:
*Note: the year the team was acquired by said owner is in parenthesis.

1. Jerry Jones, Dallas Cowboys (1989), Age 68; Native of Los Angeles, CA. Despite his obtained southern accent, Jones (I just found out via Wikipedia) is, ironically, a Los Angeles native who moved to Arkansas as a very young child.
Jones would likely be the ringleader for any motion to move the lowly Vikings to the bright lights of LA. due to the money it would bring to the league and the owners. His has to be considered a 100 percent 'yay' vote, with so much "new money" at stake, right?. After all, it's all about the money in "Jerry's World".
2. Daniel Snyder, Washington Redskins (1999) Age 45; Silver Spring, Maryland.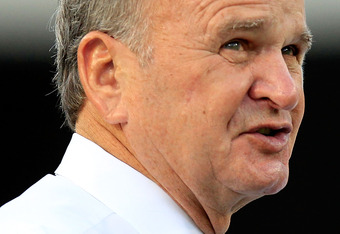 Sam Greenwood/Getty Images
Why include the ages and birth locations of each owner? It's an attempt to find a parallel in the way they might vote and what would influence that vote. Snyder, being younger than most owners, probably wouldn't care about tradition the same way a Bud Adams [owner of the Tennessee Titans] might and thus would be all about making more money. Besides, he is the owner of major market team. Synder is know as being a fans-owner, like a younger Jones, so I'd expect him to vote like Jerry too and do what's best for the league in terms of revenue.
Owners Who Would Probably Approve a Move:

3. Ralph Wilson, Buffalo Bills, (1960) Age 92; Columbus, Ohio
Wilson, even though he's a throwback type from the AFL-NFL merger, would at first glance probably want to stick with tradition and cast a 'no' vote. However, when you consider that many teams already write the Bills off as moving to Toronto or L.A once Wilson is no longer the owner, it's easy to see why he'd want to protect his beloved Bills and the city of Buffalo. And what better way to ensure his team doesn't someday end up in L.A. themselves then by putting another team there to slow down the demand (its been rumored that LA may actually want two teams).
4. Al Davis, Oakland Raiders (1976) Age 82; Brockton, Massachusetts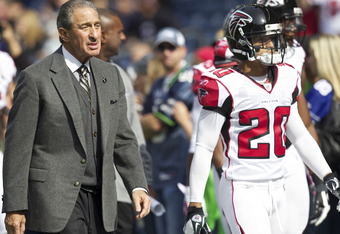 Stephen Brashear/Getty Images
Like Wilson, Davis was an AFL founder and one of the more respected owners of his day. Now, it's quite the opposite, but I still think he carries a lot of pull simply because he's been around so long. I'd love nothing more than Davis, Wilson and co. banding together with the Vikings NFC North rival owners and preventing a move, but I just don't see it. Especially when they can protect their current teams from suffering a similar fate by voting off Minnesota instead.
5. Wayne Weaver, Jacksonville Jaguars (1993) Age 76; Columbus, Georgia
If you can't tell by now, this second category contains all the owners of teams who could find themselves in L.A. if they don't allow another team to relocate there first. I see each of them approving a move that would save them face with their fans and also give them more time to work things out in their respective cities. Weaver is no different, as he's remained adamant the team is not moving and repeatedly cites the 19 years left on their lease as proof. Even though the Jaguars make the most sense for relocation, they likely won't be the first to go thanks to Weaver's stubborness.
6. Stan Kroenke, St. Louis Rams, (2010) Age 64; Columbia, Missouri
Since this list is nothing but speculation, please don't think for a second that these owners are being listed in a particular order. The reason I neglected to make a slideshow for this article is because that would be indicate preference or ranking, which isn't entirely what I am trying to do. While the first category's owners may be more likely to vote 'yay' than the second category's, members within each separate category are not differentiated. Confused yet? Good. As a Vikings fan preparing the for the worst, I'd love nothing more than to be surprised by several of these fine gentlemen and watch them block any such move. I don't care who they are, what market they are from or what their reasons are. In fact, if the time comes, any unexpected 'nay' votes would be a welcome sight in my eyes.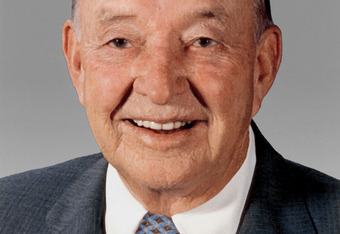 NFL Photos/Getty Images /Getty Images
Since Kroenke is good friends with Phillip Anschultz of the AEG group, it's more likely his would be the second team moving to L.A. in 2016 (as they have a lease provision expiring in 2015). That may be too late to save my Vikes.
7. Jed York, San Francisco 49ers (2009) Age 30; Youngstown, Ohio
Easily the youngest acting owner in the league (for all intents and purposes, he is the owner), York could be a wildcard since not much is known about him due to the fact that he hasn't been on the job for long. However, being the owner of a California team, logic seems to say that adding another NFL team to the state would only boost the economy and be good for business. In the end, I expect the California owners to stick together for the good of their state.
8. Alex Spanos, San Diego Chargers (1984) Age 87; Stockton, CA
The last of the teams who could possibly relocate to L.A. themselves. Again I expect the California teams to have each other's backs and allow an out-of-state team to move in, rather than sacrifice one of their own.
However, the Chargers are Minnesota Vikings' fans best bet, as they too are having stadium issues and any referendum similar to Minnesota is expected to fail if it even gets that far. There are so many parallels to Minnesota's situation in San Diego it's uncanny.
9. Arthur Blank, Atlanta Falcons, (2004) Age 67; Sunnyside, NY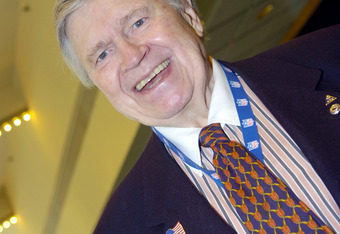 A. Messerschmidt/Getty Images
Blank, with his trench coat attire, comes across as Jerry Jones minus the arrogant attitude and on-field success. I think he could be the next Jerry Jones if, and when, the Falcons ever take that next step. The founder of Home Depot, one would assume he's all about making the most money. And the most money is an NFL with L.A. involved.
10. Jim Irsay, Indianapolis Colts, (1997) Age 52; Lincolnwood, IL
After what his father Robert Irsay did to the Baltimore Colts in the dead of night, I have no doubt Jim would have no problem with the Vikings' relocation to L.A. Small miracles are possible and sometimes a generation or two can change a person. But in this case, I doubt it.
11. Paul Allen, Seattle Seahawks, (1997) Age 53; Seattle, WA
Hard to see a billionaire opposing a move that would mean more money for him and his franchise in a league which is worth more with L.A. in it.
12. Malcolm Glazer, Tampa Bay Bucs, (1995) Age 83; Rochester, NY
Although I could see him go either way, being the owner of Manchester United FC likely means that Glazer likes making money, and what better way to make more of it than by letting L.A. back in the league as soon as possible? 
13, Robert "Woody" Johnson, New York Jets, (2000) Age 64; New Brunswick, NJ
Big market teams are usually all about making money with little heart for the little guy. I expect Johnson to be no different.
14. John Mara/Steve Tisch, New York Giants (2005) Ages 54 & 60; New York and Lakewood Township, NJ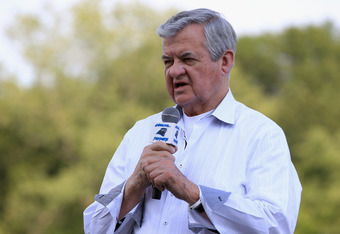 Streeter Lecka/Getty Images
If Wellington T. Mara was still alive and running the team, I have no doubt he'd vote against a move. Despite his big market size, Mara was a known advocate of a salary cap and competative balance (unusual, I know), so I think he'd want tradition to stay right where it is. With his son, and business partner Steve Tisch, now running the Giants, however, I have no idea what move they'll make. Although, money seems to trump all (no pun intended) when it comes to New York.
Owners Who Are Wildcards, But Who Would Probably Vote "Yes":

15. Stephen Ross, Miami Dolphins, (2008) Age 70; Hammtrammck, MI
Why yes? Well, give me a reason why not? It's good for business, isn't it? And moving from Michigan so long ago likely means he lost his Midwest (and NFC North) roots.
16. Robert Kraft, New England Patriots (1994) Age 70; Brookline, MA
Kraft seems like one of the NFL owner "Good Guys," so why place him here? The NFL's most successful team the past decade also knows how to make money and an NFL with L.A. in it is good for business. I could see him vote against a move, however, just as easily because he seems so traditional.
17. Randy Lerner, Cleveland Browns, (2002) Age 49; Brooklyn, NY
Lerner wasn't in Cleveland when the orignal Browns left, so he likely wouldn't be emotionally attached to breaking up a traditional market like Minnesota.
18. Steve Bisciotti, Baltimore Ravens, (2004) Age 51; Philadephia, PA
Like Ross, Bisciotti would likely ask, "why not?" before he asked "why should I?"
19. Jeffrey Laurie, Philadelphia Eagles, (1994) Age 60; Boston, MA
Despite the fact that he's owned the team for years, Philly has really only emerged as an NFL contender recently. Still, he's got all the makings of an Arthur Blank of the North, a quiet but powerful guy that simply wants to win and make money doing it. Making money means L.A.
Owners Minnesota Fans Would Have in Their Corner:
1. Green Bay Packers, Inc. Green Bay Packers (1923)
Do you really think they would approve the relocation of their No. 1 rival? I don't. They know that as much as they "hate" the Vikes, it's good for business to have such a rich storied rivalry.
2. Virginia Halas-McCaskey, Chicago Bears, (1983) Age 88; Chicago, IL
Obviously, another of the Minnesota Vikings' NFC North rival owners. A Chicago native, she'd have no reason to want to break up the tradition and marketing such a rivalry brings to her division. Remember when Steelers' fans and Browns' fans protested the 1995 Browns moving together? That's what I'd expect here.
3. William Clay Ford, Sr. Detroit Lions, (1964) Age 86; Detroit, MI?
Obviously Ford is a Michigan man, and old enough to appreciate a good rivalry. Even if he wasn't in this division, I think he'd block a move for the sake of tradition, which is what I expect from fellow senior owners around the league.
Owners Minnesota Fans Could Possibly Swing Into Their Corner:
4. Bud Adams, Tennessee Titans (1960) Age 88; Bartlesville, OK
Why so high on Bud Adams? Not only did he go through relocation himself with the Houston Oilers—so he knows the pain it brings to a community and state but, more importantly, I see him as a classic throwback owner who likely (and hopefully) favors tradition. It didn't work for him in Texas but his case was different, as they all are. Why would he facilititate a move here?
5. Dan Rooney, Pittsburgh Steelers, (2009) Age 79; Pittsburgh, PA
Everything about the Rooneys, much like their team itself, screams blue collar/tradition. The Rooneys have been associated with the NFL for so long, I'd like to think they'd want to keep it as is. Of course, they would have approved the Colts' move to Indianapolis or the Oilers' move to Nashville, but that was with a different owner (Art Rooney II) and at some point enough is enough. We'll see.
6. Tom Benson, New Orleans Saints, (1985) Age 84; New Orleans, LA
Before Katrina, it was once thought his team might move to L.A. themselves. Now NFL darlings, this team is going nowhere. Long-time friend of former Vikings' owner Red McCombs, Benson likely will do whatever is best for McCombs' team. Like the Rooneys and Bud Adams, I hold out hope he'd want to see a traditional market stay where they've been for the last 51 years. Again, we'll see.
7. Bill Bidwell, Arizona Cardinals (1972) Age 80 Chicago, IL
Another old school owner. It could possibly work to Vikings' fans favor that so many of these older owners are still around. Keep in mind I am banking on their love of tradition and looking at this from the Vikings' fans standpoint when I write this.
8. Mike Brown, Cincinnati Bengals, (franchise inception) Age 74; Cincinnati, Ohio

One of the final old school owners, Brown, an NFL stalwart owner, owns a small market team. He gets a lot of respect from me for that, but of course big market owners probably don't respect him as much as they should. I think the small market is key since small market could equal tradition in a sense.
9. Jerry Richardson, Carolina Panthers (1993) Age 75; Spring Hope, NC
Why Jerry Richardson here? Old school guy, seems pretty traditional. With that, the Vikings wouldn't have the votes to be able to move, but let's continue to analyze a bit more and see if there are any "extras" just in case a Richardson or Bidwell were to surprise us.
Total "Wild card" Owners I Could See Opposing a Vikings Move:
10. Pat Bowlen, Denver Broncos, (1984) Age 67; Prairie Du Chien, WI
Do Bowlen's Midwest roots come into play here and tug at his heart-strings? By 1965, when he went off to Oklahoma for college, the Vikings were already in the league. Did Bowlen, as such a young man, appreciate the regional rivalry? Likely not.
11. Clark Hunt, Kansas City Chiefs, (2006) Age 46; Dallas, TX
If the younger Hunt ever listened to his daddy, one of the founding members of the AFL, he likely heard all about tradition. Lamar Hunt was a giant in the NFL back in the day and easily one of the most powerful and influential owners.
12. Robert McNair, Houston Texans (2002) Age 75; Tampa, FL
Despite his age, McNair has only been an NFL owner for nine years. Still, my guess is he appreciates a good rivalry and tradition. Also, his ability to become an owner back in 2002 meant L.A. did not get an expansion team. Does he continue to stick it to them and a market that he should hold nothing against? Or, does he return the favor this time now that Houston already has a team?
Conclusion:
Now, please keep in mind this is all 100 percent speculation. This is my opinion and my opinion alone. While I am in the camp that no longer believes a stadium will get built in Minnesota after thinking something would get done at the 11th hour, I'd be more than happy to be wrong about this and I hope I am.
I would love nothing more than a few of these names that I assume would favor a move to actually block it, just like I am sure there are a few names I consider "swingable" to the Vikings fans' side that ultimately will favor a move. Also, you can never judge a person's heart nor read their minds so, again, this is just speculation to the broadest degree. It is not intended to signal anyone out or show favortism or scorn, just to get people thinking.
I'd also like to add that nothing is set in stone, but with a referendum likely to be approved by the Ramsey County Charter Commission which, once passed, will fail in 2012 as a ballot initiative, we have to at least be prepared and start thinking about life without the Minnesota Vikings.
Those that continue to deny this very real possibility, with the progress being made in L.A. for Farmer's Field, as well as the inept Minnesota legislature and economic recession, are only setting themselves up for more emotional heartbreak if and when an announcement comes.
Finally, if the NFL is anything like the NBA (Commissioner David Stern blocked the Minnesota Timberwovles from moving to New Orleans after the 1994 season), anything in possible. We know Commissioner Roger Goodell likes the Minneapolis market and wants to see it work in the Midwest, but at what point is enough enough, and the gravitation towards L.A. too great to ignore?
Information from Wikipedia's List of NFL franchise owners directly contributed to the content of this article.http://en.wikipedia.org/wiki/List_of_NFL_franchise_owners