Oakland Raiders: Pass Rush Is Key in Slowing Tom Brady and Wes Welker
September 29, 2011
Rick Stewart/Getty Images
The most dangerous active dual in the NFL at the moment hails from the East Coast, and it surely is not Darrelle Revis and Antonio Cromartie.
Tom Brady and Wes Welker, two men on a mission to seemingly shatter every single season passing and catching record imaginable, and are on track to do so, but they face a huge obstacle in Alameda October 2nd, 2011.
That obstacle weighs 1,185 pounds of pure intensity. No nickname has been adopted for this specific obstacle, but a safe route to go would be to call them "The Black Wall."
What is this obstacle you ask? Oakland's starting defensive line of course!
It is led by the Oakland culture-changer himself, the one and only  Richard Seymour. With savvy veteran Seymour comes Tommy Kelly and two second-year players nothing short of incredible in Lamarr Houston and Matt Shaughnessy.
After he is hit a few times, Tom Brady has a knack of letting pressure get to his head. The best reference? Look no further than the preseason game against the Detroit Lions this year; the Lions put intense pressure on Brady, more so than he is usually accustomed to, and caused a whole different game to erupt.
Oakland's front four is just as good, just as strong and just as physical as Detroit's.
The interesting aspect of Oakland's defensive line is the depth. The secondary defensive line of Jarvis Moss, "Dez" Desmond Bryant, John Henderson and Trevor Scott could very well be the front four elsewhere in the league.
By having this amazing depth, the Patriots will have to constantly keep tabs on the Raiders D-line, making sure they know who is checked in and how to handle the pressure that will be coming accordingly.
Richard Seymour alone demands extra attention, as a single blocker will not suffice. He has the power and experience to shed blocks and leave Tom Brady eating grass. That calls for the Patriots staff to scheme against him, but that simply gives Shaughnessy, Kelly orr Houston the ability to break through and wreack havoc.
The fact of the matter is, Tom Brady is a machine. No one can doubt Brady's career—he has the conference championships, the rings and the highlight reel to vouch for everything he has, and can still, accomplish. But this time, Brady will be facing a defensive line hungry and striving for success, and he may in for the ride of his life.
Oh...oh.
What about Wes Welker, you ask?
Expecting to completely neutralize Welker is ridiculous. Somehow, someway, the most lethal quarterback-wideout tandem in the NFL is going to make plays, but making sure to rock Welker early on will let him know where he's at.
Welker loves to run slants—short slants. This is going to be the chance for Rolando McClain to put a hurting on Welker, just like he's done to other wideouts or halfbacks intruding on his territory. No, this is not an attempt to glorify hurting Welker; this is an attempt to make something clear:
This is Raiders football.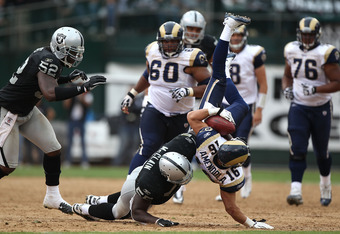 Jed Jacobsohn/Getty Images
If you come across the middle, essentially daring McClain to crack you, he will. When Welker catches that ball and turns around, McClain should serve him his last meal on death.row to show Welker that O.Co is the Raiders' house—definitely not the Patriots'.
The big thing to remember about the upcoming game between the Raiders and Patriots is Oakland's defense is lethal. Statistically? Sure, they may look weak—as does New England's—but Coach Jackson said it best, "stats aren't everything."
Both defenses are perfectly capable of changing the flow of the game, but Oakland has the advantage, simply because when compared head-to head, Oakland is meaner. The Raiders have so many weapons on defense which further benefit their D-line that New England will never see it coming.
If Bill Belichick puts a lot of emphasis on ensuring Brady's protection by focusing on stopping the defensive line, ferocious (just ask Sanchez about his nose) pass-rushing linebacker Kamerion Wimbley will have no qualms about putting his facemask directly into the No. 12 portion of Brady's jersey for a lasting impression.
One should not count out Quentin Groves and Rolando McClain shooting into the backfield to also get in Brady's face on a few occasions. Both men can put down a hurting if needed.
Further, it is crucial not to forget about the blitzing ability of Michael Huff and Tyvon Branch. Both men look to put a world of hurt on those they chase.
After Sunday, the future Hall of Famer Tom Brady will be a victim of his own success; as he has grown so accustomed to doing, not being, Brady will be made to be just another victim this time.
After the Oakland Raiders subdue the Patriots, they will be just another statistic—all the hands of that vicious pass rush that will put the rest of the league on notice.