Fantasy Football Week 4 Quarterbacks: Who to Pick-Up, Drop and Ignore
September 28, 2011
Rob Carr/Getty Images
Down in the dumps because you spent a high draft pick on a quarterback currently held together by duct tape and twine?
Keep on playing. There are some guys out there who can fill in and continue to help your team going forward.
Pick-Ups (worth an add)
Matt Hasselbeck (Tennessee Titans) - I can't believe it, either, but in three games Hasselbeck has 932 yards passing and a 102.2 quarterback rating.  He's also sitting on 69 percent of Yahoo! Fantasy Football waiver wires.  
Ryan Fitzpatrick (Buffalo Bills) - Fitz is a must own from here on out, as the Bills look to be for real and are passing a lot. 17 percent of Yahoo! leagues still have this guy sitting around.
Matthew Stafford (Detroit Lions) - What a year 2011 is looking to be when the three pick-ups at quarterback are from the Titans, Bills and Lions. Stafford is putting up stats and the Lions are looking like possible contenders so far. Still five percent of Yahoo! leagues where he's out there, so check to see if you are in one of them.
Ignores (don't fret.. yet)
Josh Freeman (Tampa Bay Buccaneers) - Not an impressive 2011 start for Freeman.  At this point start shopping for other quarterbacks but don't give up on him yet, either.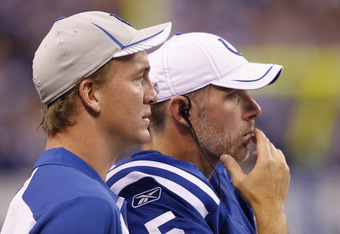 Joe Robbins/Getty Images
Jay Cutler (Chicago Bears) - Yeah, he's already been sacked more times than a grocery store special this year, but he's also still putting up stats.  In a fantasy football world where key quarterbacks are hurt and bye weeks are coming up you could do worse.
Drops (dump 'em)
Peyton Manning (Indianapolis Colts) - Word is he's done for the year and being familiar with neck injuries myself I believe it. I'd honestly be surprised to even see him make a full recovery beyond this season. Respect the man, but use his bench spot on someone who will play.
Kerry Collins (Indianapolis Colts) - Collins got his bell rung last week and may not play this week. Even if he does, you shouldn't expect fantasy numbers much better than what Peyton is putting up right now from the coaches box.
Alex Smith (San Francisco 49ers) - Pedestrian offensive stats across the board has me feeling like San Fran is about to make some changes. Smith is no stranger to being asked to take a seat and it might be coming again.