Texans vs. Saints: Keys to the Game for a Houston Victory
September 25, 2011
Bob Levey/Getty Images
Texans vs. Saints: Six Keys to the Game
One of the most important games of the weekend is the Houston Texans visiting the New Orleans Saints. For one of the few times in the Texans' short history, though, it's seen as a big game by people outside of Houston.
For the Saints, playing in the tough NFC South where there are three teams with playoff expectations, every game is a must-win this year. Meanwhile, this is the first true test of Wade Phillip's 3-4, and winning a game against the powerful New Orleans' offense would go a long way towards proving Houston is for real.
Here are the keys to the game as I see it:
1. Texans' Run Defense Has to be Better

If I'm Sean Payton, I'm looking at the Dolphins and Colts games and salivating. The thought of his three-headed monster at running back, combined with perennial Pro Bowlers Jhari Evans, Carl Nicks and Olin Kreutz manning the inside of the offensive line, would keep me running the ball until the Texans prove they could stop it.
So far, opponents are averaging almost five yards (4.93) per carry against Houston, with most of that coming between the guards. Simply put, Shaun Cody hasn't been able to tie up blockers, which has allowed interior linemen to get to the second level and negate DeMeco Ryans and Brian Cushing.
Consequently, they are having a difficult time getting to opposing backs before they're five yards down the field. Most people are saying that the Saints could have a huge day passing, but in my game plan, Drew Brees wouldn't have to throw the ball as much as usual. As a matter of fact, in an ideal situation, New Orleans wouldn't call more than 25 pass plays.
Now if I'm the Texans, I reverse my philosophy from last weekend and concentrate on stopping the run. Yes, I know that sounds crazy against the pass-happy Saints, but this defense is now built to stop the passing game and they have to play to their strengths.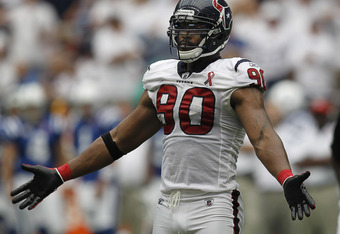 Bob Levey/Getty Images
2. They Have to Get to Drew Brees

Now, when the Saints do throw, it's absolutely imperative that Brees doesn't get comfortable in the pocket. While the interior line is awesome, their tackles leave much to be desired. For those of you who watched the preseason game (not that it means that much), you saw how he can be frustrated when not given enough time. If you consistently see Drew Brees looking around for J.J. Watt, Antonio Smith, Mario Williams and Connor Barwin, it will be a great sign for Texans' fans.
3. Wade Phillips Must be Aggressive

The only way the Texans can win this game is if they get turnovers and sacks, and with an offense as potent as New Orleans, that's not easy. Phillips will have to pull every trick out of his bag in order to get the Saints off balance.
I wouldn't be surprised to see a variety of blitzes coming from every angle to get Brees to get rid of the ball before he wants to. I think the emphasis should be up the middle from either middle linebacker or safety. As I said in the previous point, I think the outside rush will be effective, but they have to make sure Brees can't step up into the pocket, which is when he's at his best.
4. Eric Winston Will Need Help

A lot of tackles look bad against the likes of Robert Mathis, Dwight Freeney, Jason Taylor and Cameron Wake, but Winston's performance this year has been abysmal. For the most part, he's simply getting beat by speed— just about everyone is running around him. Of course, it's made worse because of his short arms and his punch, which isn't what it used to be. As a result, along with the lack of confidence that comes with these factors, he's been flagged for holding at an alarming rate (four of them in the Miami game alone).
Granted, the Saints rely more on power-edge rushers, but Will Smith and Cameron Jordan are very quick for their size. If the Texans have to chip with a back or keep a tight end in to help, it could really minimize much of the effectiveness and creativity of the Texans' passing game.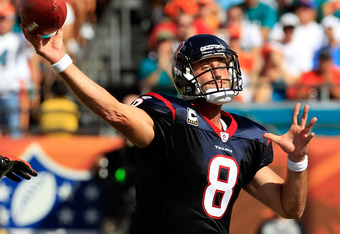 Sam Greenwood/Getty Images
5. Gary Kubiak Needs Matt Schaub at His Best

I'm not saying that Schaub has been playing poorly this year, but he certainly hasn't been at the top of his game, regardless of what the numbers say. Maybe it's because they're stressing the run game so much, but he's not playing with the same rhythm that we've seen in the past. Yes, his accuracy numbers are high, but he's lacking confidence in his protection, and that cannot happen on Sunday. Houston will need every yard and every point they can scrape up in order to win. This leads me to my final point…
6. The Texans Cannot Substitute Field Goals for Touchdowns
One of the biggest concerns for Gary Kubiak last week has to be the resurfacing of the Texans' inability to put the ball in the end zone. Hopefully, it was a temporary occurrence or the Dolphins were doing something that the Texans weren't prepared for, but it simply cannot happen this weekend.
My Prediction: Saints 31, Texans 27 – when it comes down to it, I think Drew Brees has one more play in him than Matt Schaub.