New York Knicks: Chris Paul Can Wait; Chauncey Billups Already Completes Big 3
September 22, 2011
Mike Ehrmann/Getty Images
Is it just me, or are we all beginning to get a little sick and tired of the Chris Paul to New York talk?
Ever since Paul's alleged toast at Carmelo Anthony's wedding two summers ago, the whispers regarding the unification of Paul, Anthony and Amar'e Stoudemire cannot be hushed.
With the recent talk of owner James Dolan's puppet, Isiah Thomas, getting involved in persuasive discussions with Paul, the rumor has definitely picked up steam.
To make matters worse, lockout meetings are far from approaching resolution. As long as this remains the case, expect Paul to dominate Knicks headlines much like LeBron James did upon entering free agency in 2010.
Aligning Paul with Anthony and Stoudemire would give New York a trio rivaled only by the Miami Heat's James, Dwyane Wade and Chris Bosh. But, the likelihood of this happening once a new collective bargaining agreement has been reached is slim.
To sign Paul outright at maximum salary will be difficult given the current contracts of Anthony and Stoudemire. Unless all parties involved agree to take pay cuts, it'll never work.
Even still, it may not be feasible to acquire a third superstar under the salary cap of the future.
Going the Carmelo Anthony route is not an option. That is, if the Knicks have aspirations of adding Paul via midseason trade, it will be impossible because they don't have the pieces to entice the New Orleans Hornets.
Unless New York plans on gutting its lineup and taking another step backwards—certainly a move Dolan could make—the Hornets will show no interest.
Which brings us back to the current roster. When did Chauncey Billups become the NBA's doormat?
This is a man, albeit a 35-year-old man, who is a five-time All-Star and Finals MVP. Simply put, he's a champion that just plain knows how to win.
Nevertheless, ever since his truncated introductory season in New York ended on such a sour note, no one is willing to give Billups the benefit of the doubt.
An injury sidelined Billups for six consecutive regular season contests, a mere four games beyond his Knicks debut. Later, a bum knee caused him to miss three quarters of the first-round series versus the Boston Celtics, further polarizing the public's opinion.
People say, "Oh, he's too old," or "We're already witnessing his decline." But, who defends Billups and says, "Wait until next season when he's 100 percent healthy," or "He's got plenty left in the tank?"
Few are willing to admit the negativity surrounding Billups during his tenure in the Big Apple can be chalked up to bad luck.
Thirty-two games in a Knicks uniform are too small of a sample size to have already written Billups off.
Besides, his 2010-11 stat line of 16.8 points, 5.4 assists, 2.6 rebounds and a steal practically mirrors his career averages. Knicks fans will tell you his shooting was awful, but he finished the year at 43 percent—slightly better than his career mark of 42 percent.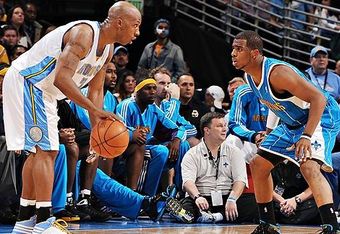 Based on pure numbers, Billups is generally as productive now as he was seven years ago, when he led the Detroit Pistons to a title.
Billups may not be the playmaker that Paul is, but his leadership skills are invaluable. He also possesses the kind of postseason experience that most players envy. Both of these traits are significant on a young team with the potential to make a serious playoff run.
Despite his youth, Paul has struggled to stay healthy, and there's no telling what the future holds for someone who constantly puts his body on the line.
On the other hand, Billups may be getting up in age, but he prides himself on maintaining his physique; he doesn't look a day older than he did as a 21-year-old rookie in 1997.
The proof is in the pudding. Since becoming a full-time starter in 2002, Billups has appeared in no less than 70 games per season. Contrary to popular belief, his body continues to stand the test of time.
Following that dreadful sweep in April, Billups nursed his knee back to full strength. And, as evidenced by his commitment to the Las Vegas Impact League—a glorified training session featuring five-on-five matchups comprised of approximately 60 NBA participants—Billups is in game shape.
When players are allowed to reconvene at team facilities, Billups will have the opportunity to take part in his inaugural Knicks training camp. While he may have been out of sync with his new teammates last season, preseason practices will result in him looking like the Billups we remember—a player who exudes confidence against all odds—once the regular season commences.
There's no telling what 2012 will bring, but New York signed Billups to a contract extension in 2011 for a reason.
Billups still has a place in this league over the next three to four years, and he's more than worthy of assuming the starting point guard position for the New York Knicks.
In fact, he's entirely capable of guiding the Knicks to their first Larry O'Brien Trophy and putting an end to this championship famine that's starting to feel like a curse.
Mr. Dolan, if you'd only realize the missing component of your dream team is right beneath your nose. His name is Chauncey Billups, he's got a big shot or two up his sleeve, and he's the guy you're paying $14.2 million to round out your "big three."