Chris Paul to New York Knicks: Are Amar'e and Melo Better off with Old Faces?
September 23, 2011
Mike Ehrmann/Getty Images
Chris Paul gave an infamous wedding toast last summer, which even amidst the current lockout, the New York Knicks and their fans just cannot shake off. Yet as we obsess over his addition, we have to wonder if New York is better off exploring a road or two they have already been down before instead.
If Paul lands with the Knicks, his ability to direct the offense is believed to propel New York to instant championship contention. He is elusive, has great ball handling skills and is a stud on both ends of the floor. More importantly though, he seems to be just the prolific veteran to run an offense that has two of the game's best scorers in Carmelo Anthony and Amar'e Stoudemire in it.
There is no denying the positive impact that Paul would have on the Knicks, and despite potential cap restrictions and lack of trade assets, the general consensus around New York is that the point guard will don orange and blue one way or the other.
However, when considering such a trio forming in New York, we must look to the Miami Heat to try and gain some valuable insight. LeBron James, Dwyane Wade and Chris Bosh made it to the NBA Finals in only their first season together, yet the team's lack of depth was exploited, and cost them a championship.
A finals appearance is downright incredible in an overhauled team's first year together, but what if that's the best they can do? What if Miami is destined to be a championship contender without becoming a championship victor?
Some may dismiss it and say that the "big three" is enough to win a title, but Miami's depth was used against them once, and who's to say it doesn't happen again and again and again?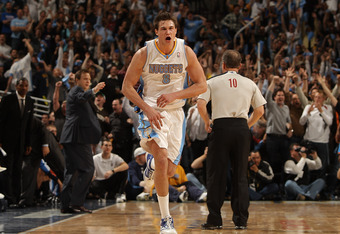 Justin Edmonds/Getty Images
This is what the Knicks need to consider at this point. If they land Paul, they will be possess the same lack of depth Miami does, and it begs the question as to whether or not assembling a "big three" is the answer.
What other answer is there besides Paul though? This has been the goal for years now, to bring numerous superstar talents to the Big Apple, so why turn back now?
Because the Knicks may have already traded away a core that could have won a title.
The Anthony trade cost New York key players Raymond Felton, Wilson Chandler, and Danilo Gallinari. They, combined with Stoudemire, did not seemed poised to contend for any titles, but add Anthony into the fold and the Knicks still have a surplus of superstar talent, but with depth to back it up.
Now that Chandler has agreed to play in China next season, all of the aforementioned three will be free agents next summer, and it is in the Knicks best interest to consider bringing each of them back.
The Knicks have about $44 million on the payroll for the 2012-2013 campaign, and if the proposed hard cap is instituted, the team's salary cap would be around $62 million with a possible ceiling of $70 million. This gives New York at the very least between $18 million to work with. Paul would command most of that, while the Knicks could get at least two out of these familiar faces at that price.
What about the third? Well, if they can sign them straight out, great, but a sign-and-trade would be a legitimate option, and would allow them to stay beneath the ceiling.
Are the Knicks really better off with Paul over Chandler, Felton and Gallinari? None are heralded as All-Stars, but Chandler and Gallinari could still develop into ones, and Felton was a borderline All-Star last season. Take the Knicks current roster and throw them on it, and you have a serious threat.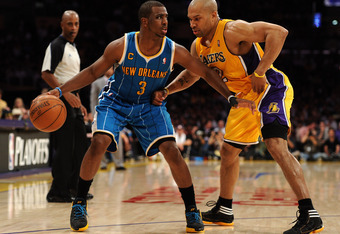 Harry How/Getty Images
Paul adds fuel to the Knicks star induced fire, and while he makes them championship contenders, we do not know if he's the best route to attaining said goal. 
Is merely championship contention enough to satisfy New York's appetite though? Contention and actualization are two different sensations. A "big three" does not guarantee the Larry O'Brien Trophy is prepared to settle in at Madison Square Garden, it just ensures that it remains a possibility.
Bringing back some  familiar faces in no way guarantees a title either, but such an occurrence does allow the Knicks to boast an abundance of star power and depth.
And as we saw with the Heat this past June, the latter could be the difference between championship fulfillment and affliction.