Jose Calderon Could Turn into a Top Point Guard for Raptors Under Dwayne Casey
September 16, 2011
Mike Ehrmann/Getty Images
Jose Calderon is very skilled in many aspects of the game; unfortunately though, he has a bunch of glaring weaknesses. His main weak points are his defensive aggressiveness and one-on-one defense. New Toronto Raptors head coach Dwayne Casey is the man to turn it around and get the most out of a player who has been overlooked by many.
Offensively, Calderon is vastly underrated. He can get to the rim despite his lack of quickness and burst in the lane. He's a decent finisher around the rim too and rarely takes unnecessary risks.
His passing is incredible; he is among the best in the league. He averaged 8.9 assists per game, and at fifth in the league he can clearly dish it out. This is also considering that he has probably the weakest starting cast of all of the players above him.
The real number that I find to be the most impressive about his assist game, though, is his assist to turnover ratio. He averaged 4.09 assists to every turnover he committed. He only committed an average of 2.2 turnovers per game.
The only player above Calderon in that metric is Chris Paul, a player who is considered the best point guard in the NBA and is heralded for his court vision. This is even more impressive considering that Paul keeps defenders off-guard with his top-notch scoring ability.
Passing is not Calderon's only top skill, he is a great free-throw shooter and can stroke it from behind the three-point line with good effectiveness.
This season he will have many young players who are developing and getting better to work with. DeMar DeRozan and Ed Davis are blossoming into very solid guys and will for sure make Jose's job easier.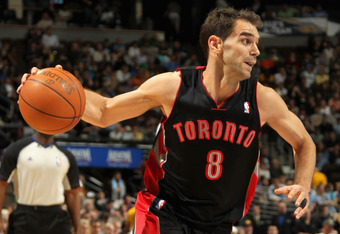 Doug Pensinger/Getty Images
Now to Calderon's weakness. He's a very weak defender and has struggled his whole career at the defensive end of the floor.
He isn't terrible at stealing the ball, though; he managed to rack up 1.2 per game last season.
I'm extremely excited for Dwayne Casey to be the head coach of the Raptors, and I hope he will be able to turn this team's defense around. If he can, Raptor fans certainly have something to look forward to.
If he can get Jose a little more aggressive and help him limit penetration, the overlooked point guard may be able to flourish. After all, Casey has been brought in specifically because of his defensive prowess.
Jose has the scoring and passing ability to be able to average 15 points and 10 assists a game, putting him among the best point guards in the league. If he could become at least an average defender, he could have a drastic impact on the success of the Toronto Raptors next season.