Tedy Bruschi & Rodney Harrison Violate the "Patriots Way" Criticizing Ochocinco
September 15, 2011
Jim Rogash/Getty Images
Athletes tweet, media rips. That is just how the circle of life has been maintaining its course ever since the social network became more popular in use than Facebook. There are moments where athletes even those deeper in the spotlight than others take the freedom of speech the network presents a little too far.
However, Chad Ochocinco tweeting about how awe-striking a performance from his own quarterback was does not seem to fall onto that list of unmentionables that should have remained unmentioned. Ocho has been ripped by not only Tedy Bruschi, the first man to step forth and take an issue with Ocho's mild-mannered tweet, but also by other former Patriots that sided with Bruschi as well.
If you are not familiar with the comments Bruschi made about Ocho's tweet, they are as follows:
"Drop the awe factor, OK, Ocho, Chad, drop the awe factor . . . You're not a fan, all right? You're not someone who's on another team or watching TV. You're not an analyst. You're a part of it. They want you to be a part of it. So get with the program because obviously you're not getting it and you're tweeting because you're saying, 'It's amazing to see'? It's amazing to see because you don't understand it! You still don't understand it and it's amazing to you because you can't get it. Stop tweeting and get in your playbook Wake up! If you're just waking up now - I don't know when this was, six minutes ago? - get out your bed and get to the stadium and watch some film if you still think it's amazing. If you're in it and you know what you're doing and you execute out there you don't think it's amazing."
He goes on to rip Chad for being in awe of being a part of the Patriots offense and former Patriot Rodney Harrison jumped right on the bandwagon for the ride.
"He's been out in Cincinnati and he doesn't understand the Patriot Way, and it's been months and months and months now that he's had the opportunity to jump on board," Harrison added. "I just think that Ochocinco needs to focus on less tweeting and more production."
There were a few other rips in his statements, but I figured you would get the point of their quotes after a paragraph and a half of them. Now, this "Patriots Way" that everyone seems to be referring to may have something to do with refusing to be an avid distraction to the team and continuing to be a commodity or at least a useful option. If that is a bullet point on Belichick's to-do list for former, current and future New England players, then Bruschi and Harrison are failing miserably at the task, Tedy especially.
Not only is this firestorm and barrage of questions for the current Patriots players distasteful, but it is moving in the opposite direction of production that Belichick always enforces. Instead of worrying about their next game against the San Diego Chargers, the media is dawning upon criticism of a piece of Ocho's career that has remained steady throughout his years in the league.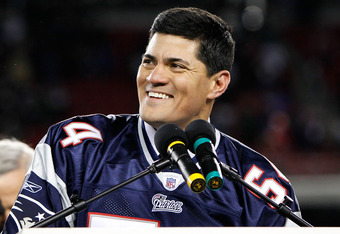 Jim Rogash/Getty Images
Chad's morality may have been questioned and so might his duration as an entertainer rather than keeping his mouth shut and being a good teammate; however, his work ethic has never been put under a microscope. I would expect Cincinnati's most productive receiver would have to endure strenuous moments of training, conditioning and studying to be molded into the type of player that Belichick would want to bring into the Patriots offense in the first place.
If he was not preparing as the head coach and starting QB felt he should have been, he would have been cut as most people expected before the start of the regular season. Obviously it is speculated within the current members of the New England Patriots that he can be more of an asset than the old school members felt he would be when he was initially brought on board.
Stomping all over Ocho for a complimentary tweet is a bit brash especially when there have been other men in the organization that were not as vividly criticized for things that were outside of the "Patriots Way."
Before playing against the New York Jets in the postseason earlier this year, Wes Welker stepped onto the scene after Rex Ryan took a few shots at Tom Brady and the Patriots organization and made a few personal blasts of his own. Welker "inadvertently" made countless mentions of feet in reference to Ryan's wife and her ongoing foot fetish scandal that had been brewing not too long before the press conference was held.
Patriots fans that were used to the eerie silence that New England's players usually displayed were disappointed with Welker's actions and he apologized soon after making the statements. The Patriots went on to lose that game and Welker only accumulated 57 yards during the contest. Yes, the Jets have a reasonably hard-to-handle secondary with Antonio Cromartie and Darrelle Revis, but after so much talk you would expect the old heads of the organization to jump down his throat for biting off more than he could chew. How many actually did?
When Randy Moss was playing with the Patriots and pulling his usual tricks such as being outspoken, refusing interviews and just simply being the way he has refused to change throughout his years in the league, how many veterans of the team stepped forth to speak against the possible distraction that he was being? None. There was no one there to yank his chain or tell him that he was doing his team a disservice.
Isn't one of the greatest characteristics of the "Patriots Way" winning? If any of Ochocinco's mistakes would have cost the squad a "W", things may be a bit different. But as FORMER members of the playbook, neither Bruschi nor Harrison are aware of the offensive scheme Belichick has formed for Chad to partake in to contribute to the Patriots being victorious. Drawing defenses is sometimes just as important as catching the ball off of a block. Sometimes the blocker is just as important as the primary man making the play.
The New England Patriots are an organization that functions as a team and Ochocinco's actions in the game were a result of the grand scheme. No one man stands stronger than the franchise, or maybe Bruschi and Harrison forgot about that as they have become primarily analysts instead of embracing their roles as former players.
Follow Klaibourne on Twitter @nyhlaablack