Fantasy Football 2011: 6 Gems Casual Fans Still Don't Know About
September 12, 2011
Peter Aiken/Getty Images
Not every fantasy football owner is an NFL expert who stays home every Sunday and watches every game over a 10-hour period. Some people think of fantasy football as a hobby, not as life and death. If you fit this profile, then this column is for you.   
The well-schooled fantasy owners who read through box scores during their lunch breaks at work and ignore their significant others when SportsCenter is on know who the following six players are. But the people who play fantasy football for fun in free leagues, or those who play for money, but are not familiar with Carolina's second tight end or Arizona's starting fullback, likely have no idea who these dudes are. 
The first couple players mentioned below were probably drafted in most leagues, although in basic, bare bones, eight-team leagues they may still be available and should be scooped up quicker than a blocked punt. The other four players' fantasy stocks might not have been high heading into the season, but they are rising after their Week 1 performances.  
So here are a half-dozen gems the casual fantasy football fans still don't know about. If some or all of these names don't ring a bell for you, then consider yourself a casual fantasy fan. 

Ryan Fitzpatrick, Buffalo Bills (QB)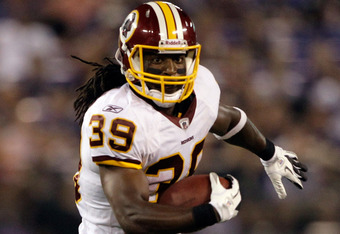 Rob Carr/Getty Images
Last season he threw more touchdown passes than Ben Roethlisberger and Mark Sanchez, averaged more passing yards per game than Jay Cutler and Joe Flacco and had a better quarterback rating than Donovan McNabb and Sam Bradford, yet most would be hard-pressed to pick Fitzpatrick out of a police lineup.    
Fitzpatrick stepped into a starting role early last year for the woefully incompetent Trent Edwards and threw for 3,000 yards and 23 touchdowns. But Fitzy's numbers went under the radar like a low-flying plane because he played in Buffalo and he was not plastered on the cover of GQ, so many casual fantasy fans probably ignored him on Draft Day. 
Big mistake. Fitzpatrick is proving last year was no A.J. Feeley-like fluke. He tossed four touchdown passes against a solid Kansas City Chiefs defense in Kansas City to kick off the new season. All fantasy owners will know about him really soon.     

Tim Hightower, Washington Redskins (RB)
At first glance of the stats on the back of his football card, you may not think Hightower is anybody to remember.  No 1,000-yard rushing seasons, no Pro Bowl appearances, no numbers that make you think he should be selected within the first seven rounds of a fantasy draft.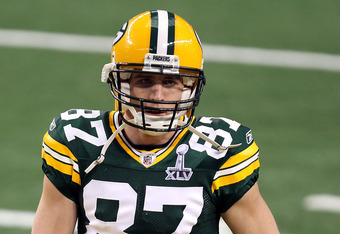 Mike Ehrmann/Getty Images
But if you delve deeper you will see why Hightower is a member of the hidden gem family. 23 touchdowns in three seasons, 63 receptions out of the backfield in 2009 and a 4.8 ypc average running the ball in 2010. He is a multi-dimensional masher who can help fantasy owners in several categories if just given 20 touches per game.    
That is exactly what will happen in Washington. Clinton Portis and all of his characters, costumes and injuries are gone, and head coach Mike Shanahan loves Hightower more than Deion Sanders loves Armani suits. Hightower will not get subbed out near the goal line or on third downs thanks to his short-yardage and pass-catching talents. He will be a known quantity among even the least-knowledgeable fantasy owners by season's end after he racks up 1,500 combined yards.      

Jordy Nelson, Green Bay Packers (WR)
Lost in all of the fantasy hoopla surrounding Super Bowl hero Aaron Rodgers, the returning Ryan Grant and the uncoverable Jermichael Finley, is the fact that Nelson is quietly becoming Green Bay's second-best wide receiver. 
No disrespect to Donald Driver, but he is slowing down.  And no disrespect to James Jones, but the guy obviously graduated from the Braylon Edwards School of Dropped Passes. Meanwhile, all Nelson does is consistently make plays every game. He has turned into the Cheesehead version of Wes Welker.
Nelson might not be unheard of by casual fantasy owners much longer after the 77 yards and one score he had against New Orleans during the NFL opener. With Greg Jennings on the field, Nelson will never be Rodgers' top target, but a 900 yard year is not out of the question.  

Devery Henderson, New Orleans Saints (WR)
Face it, all of New Orleans' receivers look identical. They all have the size of NBA small forwards, the leaping ability and sprinter speed of Olympic athletes and can go deep at any time for long gains faster than you can say, "They were who we thought they were!"
Henderson has set himself apart from the rest of the receiving corps in the past by being the only one that drops one pass per game. He has no trouble running routes or getting open. But cradling the ball once Drew Brees throws it to him has been a problem, and when you drop a lot of passes on a team with a ton of talented receivers, you get targeted less than the blind kid in a neighborhood paintball game.  
If Henderson does not have hands, he has everything else. He can fly by any defensive back with his greyhound legs. And with Brees throwing him perfect passes and with being in one of the best offensive systems in football, Henderson is always dangerous.  
New Orleans' No. 1 receiver Marques Colston broke his collarbone in the closing seconds of the Green Bay game, and No. 2 receiver Lance Moore is also banged up. That means Brees' top two wideouts this weekend, and possibly the next month are Henderson and Robert Meachem.  If Henderson can just hold onto to the ball he can be a weekly 100-yard threat. He got into the triple digits in Week 1, and that was with Colston on the field. 

Ed Dickson, Baltimore Ravens (TE)
Baltimore did not really beg and plead for longtime tight end Todd Heap to stick around for another season. The Ravens knew they had a good thing in Dickson, a super sophomore who is slated to be Joe Flacco's safety valve and much more this season.
While he only had 11 receptions for 152 yards and one lone touchdown in an uninspiring rookie campaign, you know Dickson has big-play ability if you watched any of his college career with the Oregon Ducks. He has above-average speed for a tight end and can make 20-yard catches down the seams like he is a slot receiver.
Dickson had his coming-out party against the Pittsburgh Steelers this past Sunday, catching five passes for 59 yards and a touchdown, easily his best game as a pro. With defenses concentrating on Ray Rice, Anquan Boldin and Lee Evans, Dickson should have plenty of chances to make plays and make people forget about Heap. Fantasy owners should look to Dickson if they need tight end depth on their rosters.    

Alex Henery, Philadelphia Eagles (K)
The casual fantasy fan knows no kickers, except for maybe Scott Norwood or Adam Vinatieri. Even many hardened fantasy veterans had probably never heard of Henery when their draft days arrived. But we should be seeing this rookie kick truckloads of extra points in 2011. 
Henery is a Nebraska product who might be short on notoriety, but is long on leg. He steps in for David Akers, who was one of fantasy football's most valuable kickers in 2010, thanks mostly to all of the scoring opportunities Michael Vick and his track star friends afforded him. 
Henery connected on a 35-yard field goal and all four of his extra point attempts in Philly's first week victory over the St. Louis Rams. Unless he falters badly and gets replaced by Morten Andersen midway through the season, Henery should be a top-5 fantasy kicker when all is said and done.