Jon Jones, Anderson Silva and the 15 Most Difficult UFC Fighters To Prepare for
Anderson Silva defeated Yushin Okami at UFC 134, highlighting the fact that he is arguably the most difficult fighter on the planet to prepare for. Not only did Okami fail to do any sort of significant damage, he was knocked down numerous times himself before the referee finally stepped in and mercifully called a stop to the bout.

Silva's striking is just so perfect that it is practically impossible to be ready for him.

Likewise, fellow UFC champion Jon Jones is another fighter who must give his opponents and their coaches nightmares while they try to prepare for him. His strength and speed just add to the confusion that his UFC-record wingspan gives him in any fight.

But these two fighters are not the only ones who are crushing their opponents before the fights even happen. In this list of the top 15 most difficult fighters to prepare for, we will count down some of the unique, stylistic fighters and outrageous physical specimens in the sport today.
Begin Slideshow

»
Though he has dropped each of his past two fights in the division, Roy Nelson remains a borderline top-10 heavyweight in the UFC based on his ability to make it to a decision against both Junior dos Santos and Frank Mir.

Nelson has looked bad in both of the fights, but he had been frustrating his opponents prior to those losses, utilizing his large physique (if you can call it that) and deceivingly impressive top control to hold them down. Once they're down, few opponents are able to get back to their feet against Nelson.

The term "spare-tire-fat" doesn't even begin to describe this belly.
The No. 1 contender for the UFC heavyweight title has given his opponents fits with his dominant boxing. Dos Santos has stood toe to toe even against perceived high-level strikers such as Mirko Cro Cop, Gilbert Yvel and Shane Carwin. But the result has been the same every time—dominant, one-sided victories for the Brazilian.

But what makes dos Santos even more difficult to prepare for is that he is reportedly also a very talented jiu-jitsu practitioner. He is a brown belt in Brazilian jiu-jitsu under the Nogueira brothers, so his opponents can't just take him to the ground and lay on top of him.

He will get the truest test of his career at UFC on FOX when he battles Cain Velasquez for the UFC Heavyweight Championship.
They call him "Skyscraper" for a reason.

Stefan Struve stands an impressive 6'11" and is large enough to be the center on most NBA basketball teams, which makes him an extremely difficult fighter to find a replica training partner for.

Not only is he long and lanky, but Struve has shown that he knows how to use it. The 23-year-old utilizes his athletic mismatches to pick apart his opponents from a distance, avoiding most of his opponents' big punches.

There have been a few fighters who have worked inside on Struve and knocked him out, but even those fighters would likely admit that Struve was one of the most difficult fighters they have ever prepared for.
A hot up-and-comer in the UFC's lightweight division, Melvin Guillard has become one of the most complete fighters at 155 pounds.

In addition to having perhaps the best pure striking game in the division, Guillard adds both a brown belt in judo and an ever-improving jiu-jitsu game. Not to mention, he has one of the best coaches in the business in Greg Jackson who has taken his student's natural, physical ability and turned it into an absolutely terrifying, beast of a fighter.

Guillard may not be quite ready for a title shot yet, but if he is able to get a victory over Joe Lauzon at UFC 136, look for him to be competing for the lightweight title in 2012.
Given his dominance within the division, it should come as no surprise that the current UFC featherweight champion, Jose Aldo, makes this list. Aldo is the No. 1 featherweight fighter in the world and has been ranked as high as No. 3 in many pound-for-pound rankings.

The Black House team member holds a black belt in Brazilian jiu-jitsu, but has made a career of completely destroying his opponents when the fight is on the feet. His crazy striking style has given us numerous memorable flying knees which has to be extremely frustrating for his opponents, as there just doesn't seem to be any sort of hint that the knee is about to be delivered to the face.
Anyone who has seen Clay Guida fight should know why he is so difficult to prepare for.

Not only does Guida possess a wrestling skill set that is good enough to get just about anyone to the ground and a top game that keeps them there for as long as he so pleases, but his nonstop movement makes it almost impossible to know what is coming next.

Guida bounces around like a Jack Russell Terrier that has been snorting sugar all morning. No other lightweight looks anything like him when it comes to the pace he sets and the movements he makes.

Like Melvin Guillard before him on this list, Guida works with Greg Jackson and typically comes into his fights with a better game plan than his opponents can possibly create.
The UFC heavyweight champion has become one of the most difficult fighters to prepare for by simply outworking everyone else that he has ever fought.

There are legends of Velasquez preparing for fights with intense, marathon-like cardio sessions that often include 10-minute rounds of fighting as opposed to the usual five-minute rounds. By doing this, he has been able to avoid any sort of fatigue in the cage while inflicting maximum possible damage on his poor opponents with his surprisingly powerful striking.
Not only that, but he has unbelievable strength for a guy who is perceived to be a "small" heavyweight. After he hit Brock Lesnar a few times and got him off balance, he began throwing the 265-pounder around the cage like a small child.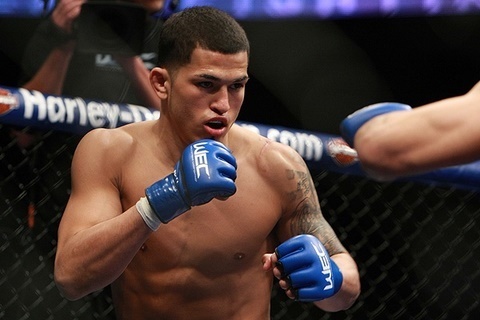 How can anyone see this stuff coming?

Anthony Pettis is like a real-life kung fu movie, throwing all kinds of kicks and punches with the intention of knocking his opponent out every time. He holds a third-degree black belt in taekwondo and has knocked out five opponents already in his young career.

Unfortunately, some may say that his weaknesses were exposed in his fight against Clay Guida at The Ultimate Fighter 13 Finale when Guida utilized a smothering wrestling style to control and punish the 24-year-old for 15 minutes. Pettis did land some shots, but was taken down numerous times and was unable to finish the fight from his back.
Critics have always speculated that Lesnar's overall game may be highly overrated, but who needs an overall game when you're a 280-pound former national champion wrestler with the athleticism of a welterweight?

Brock Lesnar is just a ridiculous freak of a fighter who looks like a genetics experiment gone terribly wrong (or terribly right). He has muscles in places that most people don't even have places.

How do you prepare, as a fighter, for a 280-pound gorilla in fight shorts?

Well, perhaps bringing in an actual gorilla would be a good start...
The UFC bantamweight champion is well known for having some of the best, most elusive striking of any fighter in any division.

Even though he is fighting opponents in the fastest division in the sport, Cruz has been able to avoid taking practically any damage in his WEC and UFC career. His one loss came by way of submission early in his WEC debut, to Urijah Faber, all the way back in 2007.

Since that date, Cruz has strung together an unbelievable nine-fight win streak that spans over two weight classes and includes wins over just about every top 135-pounder in America. He also recently avenged the only loss of his career by defeating Urijah Faber at UFC 132.
Love him or hate him, Nick Diaz is one of the most skilled fighters in the world today.

With arguably the best boxing skills in the entire welterweight division, Diaz confidently stands in front of his opponents, seemingly punching them at will and even toying with them to some extent. In fact, it has been so bad at times that he has literally dropped his hands like a classic boxer and allowed his opponents to punch him before simply knocking them out with relative ease.

There has been a lot of belief that the way to beat Diaz is to bring him to the ground and grind him out with wrestling, but Diaz has developed arguably the best offensive guard among any 170-pounder today. Even if he is on his back, he's going to be looking to finish whoever is laying on top of him.
UFC welterweight champion Georges St-Pierre is one of the most frustrating fighters in the world to fight because he is just so good that he almost seems to challenge himself by playing right into his opponents' strengths.

But it's not really that he is trying to taunt them. He is just so good at every aspect of the game that he has no problem trying to beat them at their own game.

We saw it when he completely out-wrestled Jon Fitch at UFC 87. We saw it again when stood right in front of a perceived-to-be-better striker in Josh Koscheck and literally closed his opponent's eye right up with a jab.

St-Pierre is just so skilled, so strong, so fast and so durable. He might not be the best at any one skill, but his overall abilities cannot be matched at 170 pounds.
What more is there to say about this guy than that he is perhaps the most physically imposing fighter this sport has ever seen?

Jon Jones fully utilizes his UFC-record 84.5" reach, smashing his opponents with violent punches and kicks in addition to flying knees, spinning back-kicks and even spinning elbows or back-fists. No one has even come close to doing damage against this guy on the feet.

But he doesn't just keep the fight standing. Jones' power has allowed him to throw his opponents around like rag dolls at times, suplexing and slamming them to the mat as if they were made of paper mache.

Preparing for Jon Jones is like preparing for a tornado: You can think that you're prepared for the situation, but until you're in the situation, you just don't know what is going to happen.
If you didn't think his violent clinchwork on Rich Franklin was bad enough, check out Anderson Silva's dance-into-knockout punch on Forrest Griffin. Then when you're done picking your jaw up off the ground, watch his leaping front-kick knockout on Vitor Belfort from UFC 127.

Yeah, he really is this good.

Silva is the most accurate striker in the history of the UFC and his head movement makes his opponents look like complete fools as they try to hit him, only to get smacked around like an annoying little brother.

Not only is his striking amazing, though, but Silva proved that he can also finish fights off of his back when he did so against Chael Sonnen at UFC 117.

At this point, the best advice that can be given to someone who is unlucky enough to have to fight Silva is, "good luck."
Though he lost two straight fights to Mauricio "Shogun" Rua and Quinton "Rampage" Jackson, Lyoto Machida has to be considered the single-most difficult-to-prepare-for fighter in the UFC.

Machida has received quite a bit of criticism from fans and experts alike for his "back-peddling" style in the standup game, but it has been that style which has frustrated his opponents and eventually given him the opportunity to land some big shots on the feet.

The standup style mostly comes from his experience as a point-fighter in karate, but he also has been known to utilize his skills from wrestling as well as sumo while in the cage.

Most would describe Machida's style as "elusive," which is fairly accurate, but it can also be very devastating when he gets his opponents off guard and begins landing big strikes of his own.

It doesn't always end in a finish, but Machida rarely takes damage in his fights and has inflicted some of the most brutal knockouts in recent memory. Unfortunately, he still takes a lot of criticism when he does not finish fights.

"If you don't like it, sorry. I always try to win," Machida has been quoted as saying regarding his style.

Time will tell if Machida can continue this style up or if he will eventually be figured out, but only one opponent so far has really seemed to figure him out. Even the great game-planner, Randy Couture, looked completely out of his element in the cage with "The Dragon."

Machida has easily earned his spot on top of this list as the most difficult-to-prepare-for fighter in the UFC today.