Track & Field World Championships: Winners and Losers from Day 9
September 4, 2011
Ian Walton/Getty Images
Relay day at the Track & Field World Championships was a reminder to the casual fan that it's not just about speed, strength and raw talent in this sport.
Nobody doubts that in terms of simply getting four people around a 400-meter track as fast as possible, the United States and Jamaica are the planet's current royal class.
But when technique, team chemistry and discipline work themselves into the equation—all the elements needed to successfully pass a baton between those four sprinters—we see the difference between one country (Jamaica) racking up gold medals while another (USA) racks up disqualifications and disappointments.
But before the men's and women's 4x100 relays closed out competition at the World Championships, there were some individual medals left to hand out, with high-profile stars Bernard Lagat, Caster Semenya and Phillips Idowu among those on display.
Here are the notables from Day 9:
WINNERS
Usain Bolt (Jamaica)
 Another major meet down, another all-time record for Usain Bolt. And all is right with the world.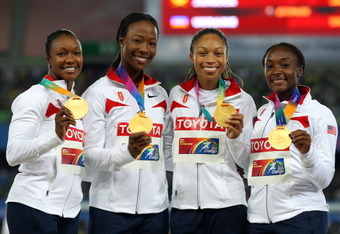 Mark Dadswell/Getty Images
In the men's 4x100 relay final, Bolt anchored the Jamaican quartet that smashed the rest of the field in 37.04 seconds, breaking their own world record from the '08 Olympics. With regular anchor Asafa Powell missing this meet with a groin injury, Jamaica was still the gold-medal favorite, but a world record seemed like a long shot for a group that included Nesta Carter, Michael Frater and Yohan Blake.
With the way Bolt ran the anchor leg, it didn't matter that the USA and Trinidad and Tobago were eliminated from contention during the final pass. He could have been running against The Flash, and it wouldn't have mattered. Bolt wasn't going to leave Daegu without owning center stage one more time.
Marshevet Myers (USA)
No member of the USA women's 4x100 squad had a tougher job than Myers. Running the third leg for both the semifinal and final group, she had to receive the baton from two different second-leg runners (Shalonda Solomon and Allyson Felix) and pass it to two different anchors (Alexandria Anderson and Carmelita Jeter).
To put it another way, ask an NFL quarterback if his job would get considerably tougher if he had to work with a different center and a different crop of receivers from one play to the next.
Myers not only executed the passes to form, but she also gave the USA the lead over Jamaica during her portion of the 4x100 final, allowing Jeter enough cushion to hold off Veronica Campbell-Brown and cross the finish line first.
Yohan Blake (Jamaica)
Under normal circumstances, a 21-year-old who picks up two gold medals in two of the sport's marquee events while making history in the process would be the story of the World Championships. But this year, thanks to the unusual circumstances surrounding teammate and "big brother" Bolt, Blake's star-making performance was relatively quiet.
Blake ran the third leg on Jamaica's record-setting 4x100 relay, giving him a second gold medal to go with the one he earned in the individual 100-meter dash last week. In that race, Blake became the youngest-ever world champ in the 100, but his moment was overshadowed by Bolt's false-start DQ.
This time, his contribution to the relay was not only overshadowed by Bolt, but also by the USA relay's tumble that happened while Blake was making his pass to Bolt.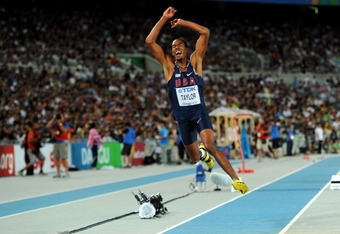 Stu Forster/Getty Images
Not that he's complaining. Blake has set himself up as Bolt's primary challenger at the London Olympics, and considering that the two train together daily, he can pick up as much insider intelligence on his rival/friend as possible.
Allyson Felix (USA)
The story of Felix's failed 200/400 double-gold attempt morphed into the story of Felix leaving these World Championships with so much jewelry that she'll need an escort through airport customs.
Felix ran the second leg on the USA's 4x100 relay team, collecting her second gold medal of the meet, her fourth total medal of the meet and the 10th World Championship medal of her career.
Add in her gold and two silvers from the Olympics and one gold from the World Indoor Championships and Felix has 14 major championship medals to her name at just 25 years old. By comparison, Jackie Joyner-Kersee retired with 10 major championship medals.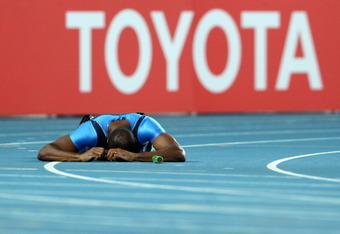 Ian Walton/Getty Images
Mo Farah (Great Britain)
The last time Farah was in front of the pack down the stretch of a WC medal race, he could only watch as Ethiopia's Ibrahim Jeilan passed him up for the gold medal in the men's 10,000 meters. That feeling of deja vu might have crept up on Farah today in the last stages of the 5000-meter final, but this time he outran the competition.
Farah won his first WC gold medal by winning a mad sprint to the finish against Bernard Lagat (USA) and Dejen Gebremeskel (Ethiopia). Farah leaves Daegu with two medals, more than any other British athlete, and he will be a hometown favorite to do the same at the London Olympics.
Christian Taylor (USA)
You never know what you're going to get when a college kid lands at a major event like the WC, and on the first day of the men's triple jump, reigning NCAA champion Taylor looked a bit nervous and overwhelmed by the big stage. He qualified ninth after fouling his first jump and actually failed to hit the automatic qualifying distance.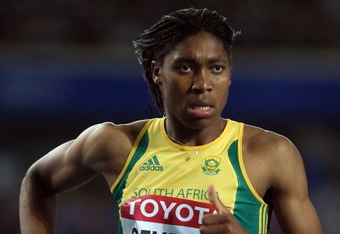 Chris McGrath/Getty Images
In the finals, however, the 20-year-old Taylor looked like a veteran. He broke out a 17.40-meter jump on his third attempt to keep himself in the medal hunt, and then he hit 17.96 meters—the fifth longest jump of all-time and a personal best by almost a foot—to claim the gold medal.
Abel Kirui (Kenya)
Of all the made-for-Hollywood stories that athletes bring to the World Championships, Kirui's is one of the most script-ready.
His running career began when the out-of-work teenager entered a race in which the winner would get a job with Kenya's government security force. In his first professional marathon, he was entered only as a pacemaker (a.k.a., not expected to finish) and hung on the whole way to finish ninth. Now, he's a two-time world champion marathoner.
Kirui defended his '09 gold medal with a 2:07:38 clocking this year, finishing almost two-and-a-half minutes ahead of runner-up Vincent Kipruto (Kenya). That gave Kirui the largest winning margin in WC history. After breaking away from the pack with about six miles remaining in the 26-miler, the rest of the way was like an extended victory lap.
Mariya Savinova (Russia)
 When the rest of the women's 800-meter field seemed resigned to another blowout loss at the hands of Caster Semenya (South Africa), Savinova found another gear and was able to pass Semenya at the line to win in a personal-best 1:55.87.
LOSERS
Doc Patton (USA)
As the elder statesmen of the United States sprint corps, the 33-year-old Patton has been either on the track or in the building for many of his country's recent 4x100 relay disasters. Now, he's been directly involved in two of them.
At the '09 World Championships, Patton was running the third leg when he and anchor Tyson Gay mistimed their pass and left the baton on the ground. This year, Patton was again running third in the relay final, and as he closed in on anchor Walter Dix, he collided with Great Britain's anchor Harry Aikines-Aryeetey and fell down before he could get the stick to Dix.
In both of his big-stage relay spills, you could argue it wasn't Patton's fault. And maybe it wasn't. But he's starting to look like Bad Luck Schleprock from "The Flintstones," and considering he'll be 34 next year, I doubt he'll be on another USA relay.
Bahamas
Maybe all of that negative relay mojo Team USA had collected on the women's side transferred one lane over to the Bahamas.
In the women's 4x100 relay semifinal, the defending '09 WC silver medalists lined up next to the USA, but while the Americans exercised their championship-meet demons in qualifying for the final, Bahamian teammates Nivea Smith and Anthonique Strachan collided during the second pass and fell down.
Caster Semenya (South Africa)
It's probably fitting that Semenya capped a weird two-year odyssey with a weird race.
At the beginning of the women's 800-meter final, Semenya fell comfortably into fifth place; even if she was just hanging back waiting for her move, she looked particularly flat-footed and clunky. In the second lap, she made her move and glided into first place, but then in the home straightaway she never picked up speed and allowed Mariya Savinova to pass her for the gold medal.
There's certainly nothing "loser" about winning a silver medal at the World Championships for a 20-year-old, but Semenya has set a standard as a fierce closer that she didn't meet in Daegu.
Me
Just about every sports fan has done it before: Going out on Thanksgiving to play football after watching the pros at work. An unplanned trip to the playground to shoot hoops after witnessing a March Madness thriller. Maybe rounding up your kids for backyard catch after an exciting baseball game.
One night earlier this week, the Track & Field World Championships provided that inspiration as I went out for a midnight run at the park. Jogging turned to sprinting, and just when my mind put me back in high school working on my long-jump approach, I felt a pop in my hamstring that I'd never felt before. 
So on the final day of the WC—when another dose of Usain Bolt and Carmelita Jeter and Christian Taylor would be more than enough to spark another workout—instead I'm walking around my apartment like Fred Sanford on a possibly torn hamstring.
But just like every other athlete who fell short of their goals and wound up on these "loser" lists at the World Championships, my next task is clear: Focus my training on the 2012 Olympics for a redeeming performance.
* Follow on Twitter @AustinBurton206
Day-by-day World Championships recap
Day 8: Sally Pearson, Usain Bolt, Germany's throwing dominance
Day 7: Allyson Felix, Dwight Phillips, Jamaica's return
Day 5/6: Oscar Pistorius, Lashinda Demus, high jump history
Day 4: David Rudisha, Yelena Isinbayeva, Daegu's cover curse
Day 3: Carmelita Jeter, Allyson Felix, hurdling controversy
Day 2: Usain Bolt, Trey Hardee, the new Fastest Man in the World