Track & Field World Championships: Winners, Losers from Day 7
September 2, 2011
Ian Walton/Getty Images
Following a few days where the other 2,000 or so athletes had their chance to borrow center stage, Day 7 of the Track & Field World Championships was back to Usain Bolt.
Running the opening heats and semifinals of the 200-meter dash, Bolt moved closer to erasing the sting of his most high-profile professional misstep—his disqualification via false start in the 100-meter medal race—and closer to stomping out any burgeoning theory that he's no longer the fastest man in the world.
Had he been humbled, maybe even frightened, by what happened last Sunday? Initially, Bolt seemed a little more reserved than usual, but after a while he had that unmistakable swagger back.
As far as events in which medals were decided, Team USA's Dwight Phillips (long jump), Allyson Felix (200 meters) and Christian Cantwell (shot put) went out to defend their world championship crowns, along with the men's 4x400-meter relay squad featuring LaShawn Merritt.
Here are the notables from Day 7:
WINNERS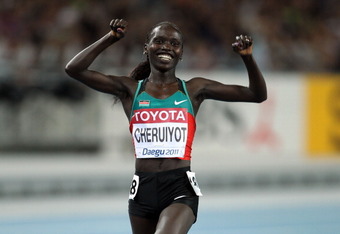 Ian Walton/Getty Images
Caster Semenya (South Africa)—She's back. Instead of enjoying the fruits of international stardom and focusing on becoming one of the greatest women's 800-meter runners of all time, Semenya spent the gap between the '09 WC and this year's event dealing with controversy and humiliation while simply trying to regain her once-dominant form.
The gender-testing saga was officially behind Semenya when the IAAF cleared her to compete against women last summer, but going into these world championships, Semenya still wasn't running like the woman who smoked the 800-meter field as an 18-year-old.
There was a school of thought that Semenya was intentionally holding back in order to avoid any more controversy, and that she'd unleash the beast when it mattered most. They might have been right. In her semifinal heat on Day 7, Semenya powered past the field and won easily in 1:58.07, a season best for her and the fastest time in the prelims.
After she crossed the finish line, Semenya broke out her trademark "brush the shoulder off" move—though she only did it halfway. Maybe she's saving the other half for the final.
Usain Bolt (Jamaica)—You can't really blame Bolt for playing it conservatively from start to finish. At least he has the talent to do so.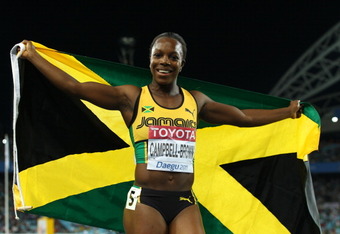 Mark Dadswell/Getty Images
In his first qualifying heat, Bolt's reaction time to the starter's gun was clocked at 0.31 seconds, the slowest of all but one of the 53 men who ran the 200-meter prelims. And yet he still took control of the race early and cruised to a win in 20.30 seconds. In his semifinal race, Bolt was back in full entertainer mode again, playing to the crowd before jogging across the finish line well in front again at 20.31 seconds.
Vivian Cheruiyot (Kenya)—When she kicked her legs into an extra gear and left the rest of the women's 5,000-meter field in her wake, Cheruiyot won her second gold medal of these world championships. With that, she joined Tirunesh Dibaba (Ethiopia) as the only women to pull the 5,000/10,000 double at a major international meet.
Dibaba did it at the '08 Olympics and the '05 Worlds. Cheruiyot can absolutely do it again at the 2012 Olympics. Waiting for her there should be Dibaba, who is just 25 years old and took most of this year off due to injury. Throw in the over-arching Kenya/Ethiopia rivalry to this new one-on-one battle, and it should make for compelling competition.
Will Claye (USA)—During the morning session, Claye posted the third best qualifying distance in the triple jump at 17.19 meters. That put him ahead of defending world champion Phillips Idowu (Great Britain) and University of Florida teammate Christian Taylor, who'd beaten Claye at the USA Championships. About nine hours later, Claye was back at the stadium for the finals of the long jump. He finished ninth, a respectable result for the 20-year-old whose best event isn't even the long jump.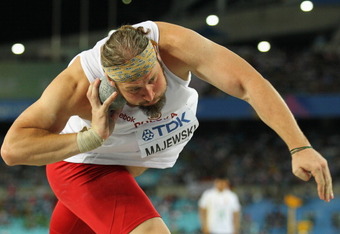 Andy Lyons/Getty Images
David Storl (Germany)—It's not like Storl made the world championship roster on accident, but still, protocol says the 21-year-old should still be at least a couple years away from truly contending with the big boys of the shot put.
So either nobody told Storl that, or he just didn't listen. On his way to making three career-best throws in one competition, Storl kind of owned a field full of veterans with plenty Olympic and WC experience. He had the longest throw in the qualifying round, then in the finals he hit 21.78 meters on his final turn to knock off world No. 1 Dylan Armstrong (Canada) for the gold medal.
Maria Abakumova (Russia)—Not only did she win the gold medal in the women's javelin, not only did she rip off the second-best throw of all time at 71.99 meters (also a world championship record), but she did it while looking less like a world-class athlete and more like a soccer mom. Abakumova beat the best in the world while wearing a back-support belt and capri pants.
LaShawn Merritt (USA)—The traditionally front-running USA men's 4x400 relay team was firmly in third place at the time Merritt took the baton for the anchor leg in the medal race. He eventually caught up with Jamaica's Leford Green and South Africa's L.J. Van Zyl, but when Merritt couldn't find an opening to pass inside, it looked like the guy who'd been out-kicked by an 18-year-old during the individual 400 final a few days before wouldn't be able to pull it off.
But then Merritt went outside and swallowed up the leaders over the last 30 meters or so, and even had time to step off the gas and celebrate before crossing the line and giving the USA another gold-medal win in the relay.
Jamaica—The idea that the superstar's performance affects the rest of the team was supposedly exclusive to sports like basketball and football, but apparently it can happen in track as well. Ever since Bolt's downer of a Day 2, the rest of the Jamaican team had also failed to live up to their recent standard of dominance as the planet's top sprint factory.
Yohan Blake took the men's 100-meter gold, but other than that, a number of Jamaican heavyweights had come up short. Nesta Carter finished last in the 100-meter race that Blake won; defending world champ Shelly-Ann Fraser-Pryce finished fourth in the women's 100, while defending WC silver medalist Kerron Stewart came in sixth (Veronica Campbell-Brown did win silver); Dwight Thomas pulled up early in the men's 110 hurdles and couldn't complete the race; defending WC silver medalist Shericka Williams finished sixth in the women's 400, while Novlene Williams-Mills was eighth; medal favorite Jermaine Gonzales was fourth in the men's 400; and defending world champion Melaine Walker came in second in the women's 400 hurdles, while pre-meet favorite Kaleise Spencer managed fourth.
But on Day 7, the Jamaicans looked like the Jamaicans again. Bolt set the tone by dusting everybody in his path in his 200-meter prelims. Nickel Ashmeade made it to the men's 200 final as well. Vonette Dixon, Indira Spence and Brigitte Foster-Hylton advance to the women's 100-meter hurdles semis. The men's 4x400 relay team won bronze. And then Campbell-Brown capped it by winning the gold medal in the 200 meters.
Dwight Phillips (USA)—Apparently he was just messing with everybody. So much was made about Phillips struggling with his form during the season and probably being too old at 33 to defend his long jump world title that many had already decided this was the year for Australian star Mitchell Watt to become world champion. Word was Phillips might not even make it to the finals in Daegu.
So about that...Phillips showed up to the world championships looking like he was 23 and hadn't missed a beat. He had the longest qualifying jump on the first day of the competition, and in the finals he put everybody in his rearview mirror with an 8.45-meter jump in the second round that held up for the gold medal.
Did he know he had a fourth world championship in him? Phillips did compete while wearing the number 1111 on his bib, which he ripped off and held up for the crowd after he'd secured the gold medal. That's four No. 1's, in case you missed it.
LOSERS
Allyson Felix (USA)—It sounds wrong to call somebody who collected silver and bronze medals at the same world championships at "loser," but Felix didn't come to Daegu to get second and third.
As far as an athlete of her level is concerned, the highly anticipated 200/400 double-gold attempt was pretty much a worst-case scenario for Felix. After finishing second by mere inches in the 400-meter final, Felix seemed to lack her usual burst in the 200-meter final and came in a non-threatening third place, costing her a shot at an unprecedented fourth straight 200-meter world title.
Felix can still claim a gold medal if she gets a spot on the USA 4x400 relay team, but at this point, I would imagine she's tired and would rather get home and set her eyes on the Olympics in 2012.
Jenny Meadows (Great Britain)—Any time a reigning Olympic of WC medalist fails to even make it to the finals of their event, it has to go down as an upset. Meadows won bronze in the women's 800 meters at the '09 WC, but this year she was eliminated in the semifinals.
Tomasz Majewski (Poland)—The reigning Olympic gold medalist and '09 WC silver medalist in the men's shot put was eliminated after the first half of the finals when he failed to crack the top eight. Even more painful is that Majewski was only about four inches shy of getting that chance to make three more throws. He finished ninth overall.
Christina Obergfoll (Germany)—She had come so close in the past to winning gold at the major meets, and this looked like Obergfoll's year to finally break through. But then she got caught up in the greatest women's javelin competition of all time. While her competition was setting national records and landing on the verge of world records left and right, Obergfoll was solid but could only manage fourth place.
South Africa—The fact they won silver in the men's 4x400 relay will likely be overshadowed by the decision to pull Oscar Pistorius off the quartet that got to run in the final.
Pistorius ran the first leg on the South African team that set a national record in the semifinals the previous day. But they had drawn Pistorius' preferred Lane 1 that time; in the final they had Lane 8. So from a strategic standpoint, it probably made sense to switch "Blade Runner" out for 400-meter hurdles star L.J. Van Zyl. And Pistorius will still get to take the medal stand and don the silver as a member of the relay team. But from a public-opinion standpoint, the South African decision-makers may be hearing from some upset fans who only know that Pistorius was denied a chance to run for a medal.