Chad Henne: Criticized Dolphins Quarterback Ready to Lead and Redeem Himself
September 2, 2011
Scott Cunningham/Getty Images
A good reputation is something that takes forever to build, can be lost in a flash and takes forever to build back up.
Chad Henne's reputation as a quarterback as of right now leaves much to be desired.
Last year many thought Henne's reputation at quarterback was generally positive as many felt he was poised to breakthrough.
In 2009 he went 7-6 as the Dolphins starter and had them in almost every game. With the Brandon Marshall acquisition last off-season, it was thought that Henne would reach that next level. Dolphins owner Stephen Ross even said that Henne had the potential to become the greatest quarterback in Miami Dolphins history, a history that already has two Hall of Fame quarterbacks within the 46 years of existence, including Dan Marino, considered one of the greatest passers of all time.
But 2010 turned into a disaster. Gone were any comparisons to Marino, even in his worst years. Instead came comparisons to more current failed Dolphins QB's like AJ Feeley and John Beck. Instead there was hope he'd be replaced.
Fans got angry over the Dolphins decision to not select Ryan Mallett, then got angrier when a potential Kyle Orton trade fell through because the Dolphins thought that he wasn't worth the money (he isn't.)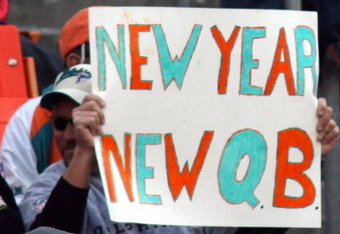 Marc Serota/Getty Images
So now you have the Miami Dolphins, a team many consider to be AFC doormats this season. Look around any sports website. The best record I've seen anyone other than myself (I picked them to go 11-5) give to Miami was 7-9. Peter King even has the Dolphins finishing behind the Bills, a team which doesn't have anywhere near as good a defense as the Dolphins do, in the AFC East with a 6-10 record.
All because of Henne's reputation. A reputation forged from last year.
The numbers aren't pretty. in 15 starts, Henne went 7-8. He finished 301 of 490 passing for 3301 yards and 15 touchdowns. That's not too bad, still a good completion percentage (61.4 percent) but his 19 interceptions, many of them very ill-timed, was the dagger.
So of course, he's the one on the field, meaning he'll get the blame. Never mind the fact that he had an offensive coordinator in Dan Henning who didn't trust him. Never mind that Henne has similar career numbers to Mark Sanchez (click on the links for their stats, and by the way, Henne is 3-1 all time against Sanchez too).
All we hear about though is how bad Henne is. Dolphins fans on Bleacher Report complain about Henne, check out the comments I'm going to get and you'll see. You see articles like this one wondering about a QB controversy between Henne and former Panthers quarterback Matt Moore (one that never existed in the first place), along with the calls during the first scrimmage at Sun Life stadium for Kyle Orton, which I even defended (not because I'm anti-Henne, but because I'm pro-first amendment and pro consumer.)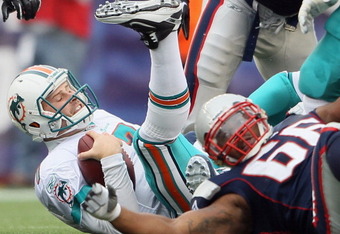 Elsa/Getty Images
This webpage even says it all: benchchadhenne.com
Henne's reputation as an NFL starting quarterback: from growing strong to dead on arrival going into his third year.
CHAD SHOWS LEADERSHIP DURING OFF-SEASON AND PRESEASON.
Redeeming your reputation is tougher than making it in the first place. In 2011 Henne has to do just that.
The redemption wasn't televised or reported, but already started. During the lockout it was Henne leading the team's workouts, especially working to try to develop the rapport with Brandon Marshall that we didn't see last year. Henne also proactively met with new Dolphins offensive coordinator Brian Daboll prior to the lockout.
Henne has actively taken a leadership position and it shows. Where as last year Henne would look scared and nervous when speaking with the media, this year we saw a different Henne: calm and confident. This same Henne has been in the pocket as well.
He got off to a terrible start against Atlanta, one that last season would've meant a meltdown. This time around he recovered and before being pulled from the game, then lead a great drive where he started by talking to Lydon Murtha after a false start penalty, then threw a perfect 44 yard bomb to Brian Hartline for a touchdown.
Since then the preseason belonged to Chad Henne. He followed up Atlanta with a performance against Carolina where he went 15 for 25 for 194 yards. Then against Tampa Bay, Henne really broke through going 10 for 13 for 175 yards and a beautiful 60 yard touchdown to Brandon Marshall that was perfectly thrown to the one place where Marshall could've caught it.
Sparano has given Henne a lot of praise this preseason, and based off of these two games, its understandable to see why.
But that praise from within hasn't left the team yet. Fans still think he's terrible. Critics still think he's terrible. And for good reason: you can't really say someone has changed based off of two great preseason performances and a preseason game that started off bad but ended with a great drive.
REDEMPTION IN 2011?
I was assigned this article, however the assignment was titled "Chad Henne: Will He Finally Step Up This Year?" An article you'd write when questioning one's reputation on the field at quarterback.
But based not off of preseason performances, but instead based on leadership based on and off the field, the way he's lead the team, and very importantly, the confidence that Brian Daboll has in Henne.
Daboll has trusted Henne to the point that he's allowed Henne to audible out of plays when he sees fit. That's an important part of football as you want to keep the opposing defense on their toes, something that the Dolphins haven't done since they unleashed the wildcat in 2008.
By making Henne unafraid to make mistakes, Henne will make less mistakes. Part of Henne's mistakes came from that fear, as well as the rigidness of having to run the play that's called. Defenses were ready for it and expecting the checkdown. 
But now the checkdown is Reggie Bush. Say what you will about Bush coming out of the backfield, but when Bush catches a pass in the open field, its a scary proposition.
Then there's the rapport with Marshall that has developed. In practice these two were a well oiled machine. It showed up in the preseason, now we're waiting for the regular season to really test this out. 
So will Chad Henne step it up? I already answered that question not once, but twice, but I'll let someone else answer it. Brandon, go ahead:
The talent is there, but the leadership he's shown from the offseason into this camp has been amazing, a huge difference. He's helping us out a lot and getting guys in the right places.

People forget that this is year four for him, and he's young and a quarterback. I sat in a few meetings with him this camp, and the information they throw at him, that he needs to know…they need to know every position, it's tough. Sometimes it takes a couple years at quarterback. I don't remember the last guy that came in and took a team right to the Super Bowl. I think just his presence in the huddle and his leadership is going to help this team a lot this year.



Words like that from his number one wide receiver tell me that Chad Henne is ready to step up.
And step up he most certainly will.
Thomas Galicia is a Miami Dolphins Featured Columnist. Follow him on twitter @thomasgalicia. For more of his opinions, visit www.thomasgalicia.com, nominated by CBSMiami.com for "Miami's Most Valuable Blogger" in the sports division.