New Norv Turner Will Result in Newly Minted Chargers Championship
August 29, 2011
Christian Petersen/Getty Images
While watching the San Diego Chargers pull out a last-second victory against Arizona on Saturday night, I was struck by the new-found intensity of their head coach, Norv Turner.
Turner, who is not known for his sideline prowess, was running onto the field to get a referee's attention during the waning moments of the game with the ferocity equal to that of Mike Ditka chewing out Jim Harbaugh. Well, maybe not that much. This was, after all, a preseason game. Still, Turner was on top of his game.
Couple Turner's new sense of urgency (he most certainly has it after an embarrassing playoff loss to the Jets two years ago and then last season's special teams implosion), and I think there is a Super Bowl-winning formula a-brew in Mission Valley. 
Turner indicated that the extra time off during the lockout has given he and his coaching staff added preparatory time, and been a real boon in developing the coaching repertoire needed for a champion.
Before I am inundated with "the Chargers will never get a ring under Norv" comments, I would humbly ask the readers to consider taking a look at recent Super Bowl champion coaches.  Tony Dungy comes to mind as most mild-mannered. Booted out of Tampa Bay for not getting the job done and a defensive guru, Dungy finally got his ring with the Colts alongside Peyton Manning, because Bill Pollian never gave up on the tandem.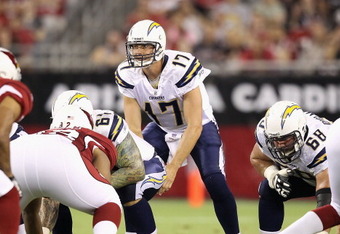 Christian Petersen/Getty Images
Another situation similar would be Brian Billick with the Baltimore Ravens. Billick, an offensive mastermind, got his ring with quarterback Trent Dilfer via an all-star defense. Billick and/or offensive masterminds never were "tough" enough to win a championship. Trent Dilfer was shown the door for his efforts during the offseason following the Ravens only Super Bowl win.
There is no one man, one attitude or one approach that guarantees a ring.  There is, however, a philosophy that will result in disaster, when there is no continuity at quarterback and head coach. Witness the Oakland Raiders.  
The game is changing so fast that a copy-cat, cookie-cutter approach is about as relevant as using a fax machine to sign your free agents in the ten minute window of free agency held early this month. It's what is between the lines and ears that counts most, and Norv's offensive acumen results in the most productive offense in the NFL for the past few years.
The Chargers have the continuity with Phillip Rivers and Norv Turner to turn the corner and win the big one. General manager A.J Smith will quietly be laughing all the way to the bank, and he should, given his resolve in keeping Turner around. Again, the critics will say that Norv tows the party line and is a yes man, unlike his predecessor Marty Schottenheimer. Turner, for his part, has a better playoff record than Marty did in San Diego.  Also, if you want to know who last coached the Washington Redskins to a postseason win, that would be Turner too.
Taking this much stock in a preseason game may be a little much, yet the planets are aligned and everyone is scrambling to get their team together.  To Turner and crew,  after an unusually relaxed offseason, one without the normal pundit polls naming Chargers instant Super Bowl champs, this will be the year they actually surprise and don't disappoint.