Tennesse Titans: 5 Players Who Need to Step Up in Preseason Week 3
August 27, 2011
So far in the 2011 NFL preseason, both the Titans' offense and defense has impressed me. The Titans starters have outscored their opponents' starters 27-10.
However there are a couple of players who have done well, but have not done everything they can to show the Titans are going to be a competitor this year. Here are five off the offensive players who just need to do a little bit more in Week 3 of the preseason.

1. Matt Hasselbeck needs to throw a touchdown.

Hasselbeck has been nearly perfect this preseason. He has completed 80 percent of his passes, he has zero interceptions and his quarterback rating is over 100. However, he has yet to throw a touchdown to anyone on the team.
A touchdown pass by Hasselbeck will put Tennesseans a little more at ease about our offense this year. Who he throws it to is really irrelevant.

2. Lavelle Hawkins needs to get yards after the catch.
Last year, Hawkins showcased his athletic ability by leaping over an Arizona Cardinals defender. However, he dropped the ball in crucial situations. This year, Hawkins has showed that his hands have improved, but he really has not made any defenders miss after catching the ball.
If Hawkins can show his yards after catch ability that we have seen in the past, he may have a shot of making the starting rotation this year.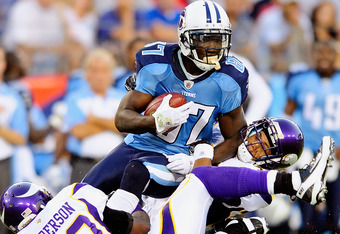 3. Jared Cook needs to prove to be a red zone threat.

Cook needs to become more of a target in the red zone, especially in the end zone. He has the size and athleticism to go up over anybody and the Titans need to take advantage of it. It would be nice to see Cook score a touchdown this week.

4. Nate Washington needs to get involved.

Washington is a starter on the Titans offense and yet he has only caught one ball the entire preseason. He needs to step it up and show Titans fans that Hasselbeck will have multiple weapons to throw to this season.

5. Jamie Harper needs to show last week was not a fluke.

Harper had a great week last week with 11 carries for 83 yards at 7.5 yards per carry. Now Harper needs to show Titans fans that it was not a fluke and that they can rely on him to be a valuable backup to Chris Johnson when he comes back.

Check out the 5 Defensive Players who need to Step up in Week 3