NBA Trade Speculation: 5 Reasons the Magic Should Consider Moving Dwight Howard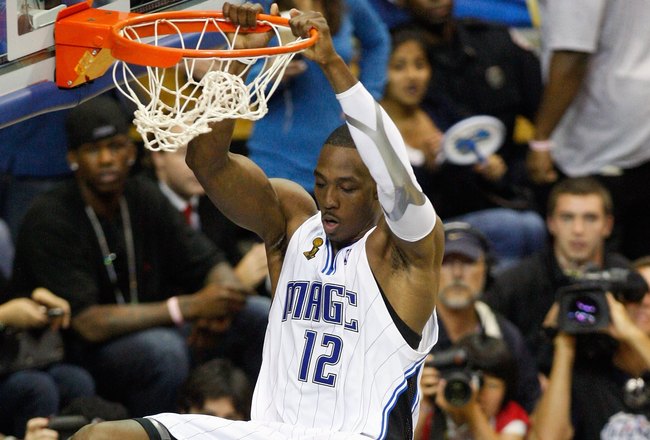 Ronald Martinez/Getty Images
Since coming into NBA in 2004, Dwight Howard has been one of the most dominant big men in the league. Unfortunately for the Orlando Magic, that might not be enough to keep him.
Howard is set to become a free agent in the summer of 2012. As we have seen in the past year, free agency in the NBA can change the entire landscape of the sport. On one hand, LeBron James and Chris Bosh turned the Miami Heat into a contender immediately. On the other, it can also devastate a team and its fan base as it did with the Cleveland Cavaliers.
In order to keep control of the situation, the best decision for the Orlando Magic might be to trade him now before it is too late.
Impending Free Agency
Kevin C. Cox/Getty Images
As previously noted, Dwight Howard is set to become a free agent next summer. Last year's free agency saw two teams left barren when their stars left. The Cleveland Cavaliers and Toronto Raptors finished with the worst two records in the Eastern Conference after they lost LeBron James and Chris Bosh, respectively.
The Orlando Magic do not want to see that happen.
The Denver Nuggets took a different approach last season. They decided to trade All-Star forward Carmelo Anthony to the New York Knicks because they knew he was not going to re-sign with the club. They received some talented players to help rebuild instead of getting no compensation when the season ended.
The Utah Jazz took the same approach when they traded Deron Williams to the New Jersey Nets.
If the Orlando Magic feel they cannot get an extension for Howard, they should trade him for anything they can get.
He Is at His Highest Value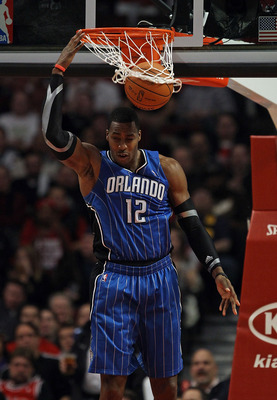 Jonathan Daniel/Getty Images
In the 2010-2011 season, Dwight Howard had the best year of his career. He finished with his highest point total, second highest rebound total and even raised his steal total. He established himself as one of the best in the league offensively and won his third straight Defensive Player of the Year award.
Unfortunately for Howard, the life of an NBA big man is not as long as that of an outside player. He has been fortunate so far to avoid injuries, but he has a lot of weight to put on those knees every game. Shaquille O'Neal started his decline when he turned 30, and knee problems forced to miss many games late in his career and eventually retire. The Orlando Magic might not want to sign Howard to too long of a contract for this reason.
If they do not see him as a long term solution, they should trade him now at his highest possible value. He is still young, healthy and a dominant player. The Magic should not wait until one of those is no longer true.
The Magic Need to Cut Costs
Marc Serota/Getty Images
Although Dwight Howard is a very productive player, re-signing him will come at an expensive price. He is already making more than $18 million and will likely receive more on his new contract. Unfortunately for the Orlando Magic, they are already spending a lot of money on a few overpriced players. The large contracts of Gilbert Arenas, Jason Richardson and Hedo Turkoglu might prevent the team from affording the player that it actually needs.
If the team decides to move Howard this season, it will likely look for cheaper players or draft picks. This will help it rebuild toward the future rather than end up with a losing team of high-priced players.
The Magic Need to Get Younger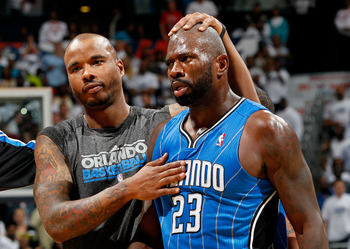 Kevin C. Cox/Getty Images
The Orlando Magic are only three seasons removed from being in the NBA Finals, but it seems as though they are no longer championship contenders. There is little room at the top in the NBA, and the Boston Celtics, Miami Heat and the Chicago Bulls have all passed the Magic by. Unless they make a new acquisition, it is unlikely the Magic will reach the championship round again.
Therefore, the Magic should start looking towards their future. The team has few impact players under the age of 25, and it is not set up to continue its success. The only way the Magic can continue to be in the playoffs every year is if they acquire some young talent through trades and drafting well.
Dwight Howard Cannot Win on His Own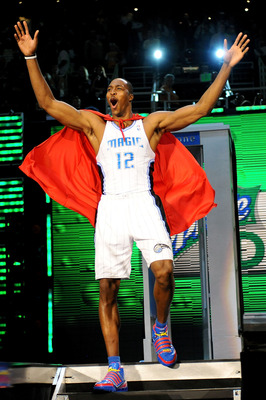 Ronald Martinez/Getty Images
Throughout his career Dwight Howard has been a dominant frontcourt player, but he cannot win a championship by himself. In the NBA, championship teams usually consist of a dominant backcourt player. At the very least, the teams need a go-to scorer who can take over a game in the fourth quarter if needed. As much as Howard has improved his game, he has never been the type of player who can get a basket when the game is on the line.
The Orlando Magic have tried acquiring that type of player over the past few years. Gilbert Arenas, Rashard Lewis and Vince Carter were all given a chance, but none of them have accomplished the task. The team needs to acquire a premier backcourt player in his prime to pair with Howard. Until it does this, a championship will remain out of its sight.
Since this is unlikely to happen, the best thing for the Magic to do is to get some very good young players for Howard and start over. Maybe that player will have what it takes to win a championship.
Keep Reading

Orlando Magic: Like this team?