Cleveland Browns Need an Upgrade at the Most Important Position To Win
December 7, 2011
Jason Miller/Getty Images
The Cleveland Browns are losing again, and the loyal Browns fans are asked yet again to be patient, while they watch their team lose to the Bengals who have two rookies at key positions and then get pounded by the Ravens and up next the Steelers.
"Wait till next year" is the Browns' mantra. That mantra is old, tired and no longer acceptable. The Cleveland Browns are loaded with draft picks next year, and for Browns fans, nothing should be acceptable but the playoffs. There's a new excuse every year for the Browns fans to have to digest for why they are losing.
The bottom line to why the team is losing is that it's not good enough at any position to compete. Browns fans let me tell you what they are trying to sell you. The Cleveland front office is saying, hey, be patient we have just started adding some key pieces, and we will be competitive in a few years.
Oh yeah, this year is a wash, but wait till next year. When next year comes, you will be treated to a brand new offense that Colt or whoever is the starter next year has to learn because it took a year for them to figure out they need an offensive coordinator. It amazes me that "Joe Fan" in the dawg pound knew they needed an offensive coordinator as soon as they hired a rookie coach, but it took them an entire wasted season to figure it out.  
There are some truths that Browns fans do not want to hear but cannot be ignored if they want to see a true contender on the field. Cleveland is going to have to make bold moves and not subtle, quiet, developmental moves to win. They cannot go into the upcoming draft wasting picks on tight ends that never see the field or fullbacks, when they had one already on the team that was better.
Owen Marecic was a wasted pick if he is only playing full back and not going to do double duty as a linebacker. What happened to all those catches out of the backfield that were supposed to go to the fullback?
Doug Pensinger/Getty Images
Bad draft picks destroy your franchise. To understand where the Browns are, it's best to look at where they have been. The Browns' No. 1 draft picks since 1999: Tim Couch (miss), 2000: Courtney Brown (miss), 2001: Gerard Warren (miss), 2002: William Green (miss),  2003: Jeff Faine (miss),  2004: Kellen Winslow II (miss), 2005: Braylon Edwards (miss), 2006: Kamerion Wimbley (miss).
Another notable miss was Brady Quinn, and in 2008 no first-round pick. Eight years of wasted first-round picks.
Most notably, look at successful teams with franchise quarterbacks in their own division, Ben Roethlisberger and Joe Flacco, both first-round picks and Andy Dalton a second-round pick. 
Cam Newton, Matt Ryan, Peyton Manning, Eli Manning, Sam Bradford, Matt Stafford, Carson Palmer,  and Michael Vick all first-round picks and all better than Colt McCoy.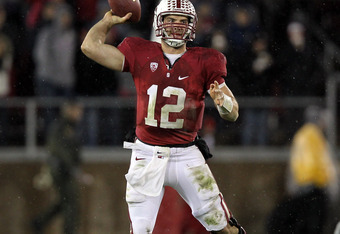 Ezra Shaw/Getty Images
This is not to say that Colt McCoy is the reason for Cleveland being mediocre, but looking at where the Browns claim to want to be it's time for them to step up. They are going to have to secure a franchise quarterback in the first round of the draft, even at the cost of both of their first-round picks. If there was a way to bundle both their first-round picks to the Colts, they should jump at the chance.
Andrew Luck would have been the No. 1 pick in the draft last year. He's the most sure thing at the quarterback position to come out in years.  Is there any two draft picks the Browns could secure that would be as valuable as a possible franchise quarterback? Is their any pass-rusher or running back that is more valuable than a franchise quarterback. The answer you are looking for is, no.
Let me illustrate the Colt McCoy factor. Would the Browns fans rather have Adrian Peterson, Larry Fitzgerald, or Clay Mathews?
Now ask yourself would you rather have Aaron Rogers or Adrian Peterson, Larry Fitzgerald or Clay Mathews?  The reason you would want Aaron Rogers over all those other players is because there's nobody on the Packers team as valuable as him. Is Colt McCoy the most important player on his team or could Seneca Wallace come in and be just as serviceable? Cleveland needs a franchise quarterback.
No left tackle, defensive end, cornerback, wide receiver would be as valuable as a franchise quarterback.  The gap between Colt McCoy and Ben Roethlisberger is immense, as immense as the gap between the Steelers and Browns. If the Browns hope to close that gap they will need a lot bolder moves than drafting a good receiver and running back next year. The Cleveland Browns have to get Andrew Luck and build around him. Even if it costs two first-round picks and Colt McCoy.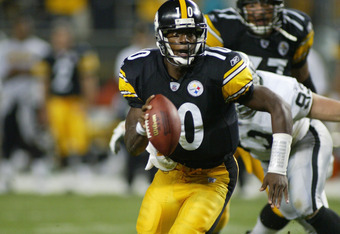 Rick Stewart/Getty Images
What's in it for the Indianapolis Colts? Two first-round picks that will allow them to address two glaring holes on their defense. Colt McCoy on a team with established wide receivers and the running game would thrive. He would also be able to sit behind Peyton Manning for three more years if he stays healthy.  In the worst case scenario for the Colts, Peyton's injuries are debilitating, and he cannot come back; Colt McCoy is worlds better than any quarterback on their roster.
Browns fans might think if Colt McCoy gets more talent around him he can be better for them, but the question for them would be would you rather have Kordell Stewart or Ben Roethlisberger? Kordell won and was a good quarterback, but he sure was not Big Ben. In Andrew Luck, the Browns are making the choice for Ben Roethlisberger and not Kordell (Slash) Stewart.
The Browns would get a true franchise quarterback that they would be able to build around. Additionally, in Stanford's current offense, they rely heavily on the tight ends, and that's the one thing the Browns have in surplus with Ben Watson, Evan Moore, Alex Smith and rookie Jordan Cameron.  The Browns' plan on bringing in an offense coordinator in 2012 so they can afford to get a new quarterback without setting back the franchise as done in years past. Colt McCoy would have to learn a new offense just like anyone else would have too.
With both of their No. 1 draft picks gone, Cleveland has plenty of picks to add playmakers and another pass-rusher. What Browns fans will undoubtedly be concerned about is the whole idea of trading two potential starters for one starter. That's a problem they need to get over because a franchise quarterback trumps any two starters on any team.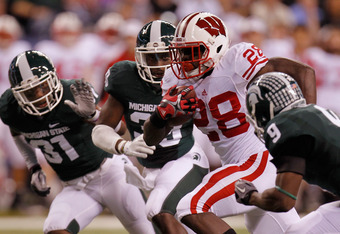 Gregory Shamus/Getty Images
The problem some of the Browns fans have is they are loyal to a fault. Colt McCoy is the worst quarterback in the AFC North, and that's a fact. He's a third-round pick, and sometimes, you do get what you pay for.   A rookie came in and is instantly better than him. Colt McCoy cannot win in the circumstances the Browns have put him in and is not equipped to make up for the gap in talent that prevails on their team.
The Browns may never have another opportunity to land a quarterback of Luck's caliber. They should do all they can to pull the trigger on that type of trade if they could. The team would not be giving up their draft for one player they would essentially be giving up their 2nd number one pick. Their second No. 1 pick would land them anywhere from 20-25. If they would not give up the 20th pick in the first round for a franchise quarterback, then clearly they do not want to win.
The Browns' draft needs are defensive end, wide receiver, running back and a strong side linebacker. They could get a running back in the second round with Montee Ball, who should be there when they pick, if not they can take Nick Toon at wide receiver. There are tons of options for Cleveland in the second through seventh round to add playmakers to surround Luck.
If Cleveland is truly tired of losing and mediocrity then they have to have a quarterback that makes fans not talk about the good old days of Bernie Kosar. Colt McCoy is not the single reason for the Browns being so average, but he's one of them and one of them at a key position. 
Ask yourselves this question: If Colt McCoy was in the 2012 draft where would he be drafted?
Are fans willing to hold onto a quarterback that after two years would still not be in the top five quarterbacks drafted in and upcoming draft?
The Colts probably are not going to give up Andrew Luck even for two No. 1 picks and Colt McCoy so then there's plan "B".  The Browns hold onto those picks and get Trent Richardson from Alabama with their first pick and keep Peyton Hillis.
Let Peyton Hillis set his price on the open market then bring him back in at the right price. Healthy Peyton Hillis is a lethal weapon, and Cleveland could have one of the best one-two punches in the AFC North. That will be a nice step, but until they get a true franchise quarterback, there's only so far they will ever be able to go.