Are Underrated NBA Stars Mitch Richmond and Tim Hardaway Hall of Fame Worthy?
August 18, 2011
Recently, former NBA star Chris Mullin was inducted into the Naismith Memorial Basketball Hall of Fame.
The five-time All-Star certainly deserved the honor. He wasn't one of the most athletic players we've ever seen, but he's without a doubt one of the greatest shooters in NBA history. 
Mullin played 16 seasons in the league, averaging roughly 18 points per game and shooting an impressive 50 percent from the field.
He won two Olympic gold medals, one in 1984 and another in 1992 with the Original Dream Team, possibly the greatest sports team ever assembled.
The best part of Mullin's NBA career came during his days with the Golden State Warriors, whom he spent 13 seasons with. Two of those seasons, he formed an exciting trio with guards Mitch Richmond and Tim Hardaway. 
During the 1990-91 season, each member of the high-scoring trio, nicknamed "Run TMC," averaged well over 20 PPG. Mullin led the way with 25.7 PPG, Richmond chipped in with 23.9 and Hardaway put up 22.9.
Mullin, the leader of the crew, would eventually reach the Hall of Fame. But what about his former Warrior teammates Richmond and Hardaway? Don't they both deserve to join Mully in the Hall?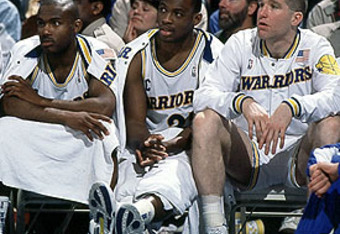 Drafted fifth overall in the 1988 NBA Draft, Richmond went on to have a spectacular pro career. The former Kansas State star would receive Rookie of the Year honors after leading all rookies in scoring with 22 PPG.
In November of 1991, following his third season in the league, Richmond was traded to the Sacramento Kings, along with Les Jepsen and a future second-round draft pick, in exchange for Billy Owens. 
Owens, who was drafted third overall in 1991, was drawing comparisons to the NBA's greatest point guard of all time, Earvin "Magic" Johnson.
However, Owens never became the next Magic and the trade proved to be quite lopsided as Richmond became one of the league's top shooting guards of the '90s. 
During his seven seasons in Sacramento, Richmond was named an All-Star six consecutive years from 1993 until 1998. He received the 1995 All-Star Game MVP, as he scored a game-high 23 points and led the West to 139-112 victory over the East.  
Richmond won a gold medal with "Dream Team III" at the 1996 Summer Olympics in Atlanta.
In 1998, Richmond, along with Otis Thorpe, was traded to the Washington Wizards for Chris Webber. He would eventually battle injuries in D.C. and the final two years of his contract would be bought out by the team, making him a free agent in 2001.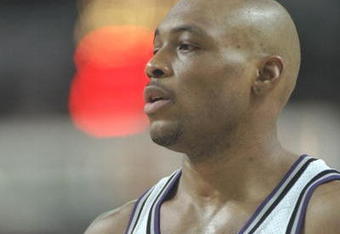 Otto Greule Jr/Getty Images
Richmond then signed with the Los Angeles Lakers, whom he would win a title with in 2002 as a little-used reserve. That season would be the last of his career. He averaged 21 PPG during his 14-year NBA career.
Richmond is one of only seven players in league history to average at least 21 PPG in each of his first 10 seasons. The other six are Wilt Chamberlain, Kareem Abdul-Jabbar, Oscar Robertson, Michael Jordan, Shaquille O'Neal and Allen Iverson.   
Richmond is currently 36th all-time on the NBA' s all-time career scoring list with 20,497 points. And every eligible player ahead of him on that list is a Hall of Famer except for Reggie Miller, who will be inducted soon.
He is also currently 23rd all-time in three-point field goals made with 1,326.
Hardaway, Richmond's backcourt mate in Golden State, had a Hall of Fame-type of career as well. The Chicago native was taken 14th overall by the Warriors in the 1989 NBA Draft after starring at the University of Texas-El Paso.   
Hardaway would have a fine rookie season, averaging 14.7 points, 8.7 assists and 2.1 steals per game. For his efforts, he was named to the NBA All-Rookie First Team.
In his second season in the league, he would make the first of his five career All-Star appearances and eventually became one of the top point guards in the '90s.
In 1991-92, Hardaway, who recorded 23.4 PPG and 10 APG, became the seventh player in NBA history to average 20 points and 10 assists in a season. He would accomplish the feat once again the following season.
Hardaway would later tear his ACL, forcing him to miss the entire 1993-94 season and a chance to play with rookie star Chris Webber, who spent just one season in Golden State.
However, Hardaway's career wasn't over yet.
After putting up about 20 points and nine assists per game the following season, he, along with Chris Gatling, was traded to the Miami Heat for Bimbo Coles and Kevin Willis in 1996.   
Hardaway would instantly form a remarkable duo with All-Star center Alonzo Mourning down in South Beach.
With Hardaway running the point and Mourning manning the middle, the Heat were known as one of the top teams in the Eastern Conference. 
Hardaway made the All-Star team in both 1997 and 1998 and then won a gold medal at the 2000 Summer Olympics, playing alongside superstars like Kevin Garnett and Vince Carter.
He was traded to Dallas in 2002 before finishing his career with stints in Denver and Indiana.
Hardaway averaged 17.7 PPG and 8.2 APG for his career, and is currently 13th all-time in both assists and three-pointers made.
In addition, he was the second fastest player in NBA history to reach 5,000 points and 2,500 assists. Robertson was the fastest.
Will Richmond and Hardaway ever make the Hall of Fame?
The both won gold medals, had fantastic basketball careers and are two of the NBA's best players of the '90s.
For several years, Richmond was the best two-guard not named Jordan, while Hardaway excited fans with his killer crossover.
They both graced the covers of video games. Richmond was on NBA Live '97 and Hardaway appeared on Live '98. Okay, video games don't matter, but they both deserve to be Hall of Famers.
Hopefully one day, Run TMC will be reunited in Springfield.