Chicago Blackhawks Countdown to Camp: Predicting a Final Roster
August 17, 2011
Jonathan Daniel/Getty Images
The Chicago Blackhawks begin on-ice preparations for the 2011-12 season September 17 when they open training camp.
Who will be among the players making the trip to Dallas when the season opens less than three weeks later?
After looking over the Blackhawks positionally in previous installments of the Countdown to Camp, it's time to look into the old crystal ball and try to see how the roster will take shape.
Forwards
Andrew Brunette    Jonathan Toews    Patrick Kane
Viktor Stalberg      Patrick Sharp      Marian Hossa
Bryan Bickell         Dave Bolland        Michael Frolik
Rob Klinkhammer   Jamal Mayers      Ben Smith
Daniel Carcillo      
X-Factors: Marcus Kruger, Rostislav Olesz, the lure of a UFA center, John Scott.
Thoughts: The 'Hawks have the cap room to carry a full 23-player roster, which I believe they will elect to do.
They have the option of retaining up to 14 forwards, assuming they keep just seven defensemen.
Coach Joel Quenneville is notorious for shuffling his lines, so I'm guessing at the combinations just like anyone else, save for the 'stache.
In my hypothetical forecast, the coaching staff decide to start Kruger in Rockford and put Klinkhammer, who (again, hypothetically) shows enough of a finishing shot to win himself a job in the rotation on the energy line.
The 'Hawks then choose to start Sharp at center, filling his spot on the top group with the net-crashing Brunette.
Stalberg gets what could be a final look on the second line. Ben Smith is on the team and can be plugged into several lines.
The 14th spot at forward will go to Olesz (provided his knee is ready for camp) or a late signing at center.
If management insists upon keeping Scott on the roster, it's likely in the hybrid role that Jordan Hendry previously filled.
Injury call-ups include Kruger, Jeremy Morin, Brett McLean and Kyle Beach, who has a September epiphany, totally figures the game out and has a monster first two months in Rockford (hey, it's my hypothetical, right?).
Defense
Duncan Keith            Brent Seabrook
Niklas Hjalmarsson    Nick Leddy
Steve Montador         Sami Lepisto
Sean O'Donnell
Thoughts: The 'Hawks fielded seven defensemen for most of last season. With a deeper group capable of spreading out the minutes on the back end this fall, I see no reason for that to change.
In this scenario, Quenneville decides Leddy has made enough progress to pair him with Hjalmarsson.
He uses Lepisto and O'Donnell according to the matchup on a given night, unless one of them drastically outperforms the other.
In case of injury, look for Brian Connelly or Ryan Stanton to be called up, depending on the need.
Goalie
Corey Crawford
Ray Emery
Thoughts: Emery comes in healthy and plays well, giving the organization the option of seasoning Alexander Salak in Rockford. Salak's reaction should indicate how much the prospect of a backup spot figured in his leaving the Swedish Elite League.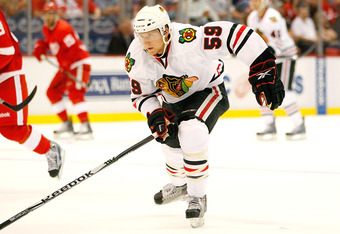 Gregory Shamus/Getty Images
It's not easy to predict how things will unfold at camp, especially on paper. There could be a lot of competition for a roster spot next month.
How players recover from offseason surgery, chemistry and development of younger players all will play a part in shaping the Blackhawks' opening night roster.
Here are links to the other installments of the Countdown to Camp:
Part Two: The Rest of the Forward Lines