Chicago Blackhawks Countdown to Camp: A Look at the Top 2 Forward Lines
August 2, 2011
Christian Petersen/Getty Images
The Chicago Blackhawks seem to have finished assembling the pieces of their 2011-12 club. We are left with a little over a month before camp to speculate on what players will make up the roster.
How is that roster going to look opening night? Again, it's cause for speculation.  We can't fast-forward to training camp and factor in injury, chemistry, or surprise performances. We're left with the parts GM Stan Bowman has gathered to forecast who earns those spots.
I'm going to look at the team as it's currently assembled in four parts.  I'll split the forwards, then focus on the defense and then goal.  Let's start with the first two lines.
Depending on how the 'Hawks choose to line up their centers, this could be pretty cut and dried.
If Joel Quenneville has decided to start the season with Dave Bolland on the second line, opposing teams will most likely be looking at lines of Sharp-Toews-Kane and Brunette-Bolland-Hossa.
To me, Brunette was obtained for a second-line role.  Toews could center Brunette and Hossa, with whom he's clicked in the past.  That leaves Bolland with Sharp and Kane, who could make good use of his passing skills.
If Quenneville can scramble the lines at will, it can't hurt for me to throw it out there. Mix and match, but the top-six includes these players if Toews and Bolland are the centers, barring injury.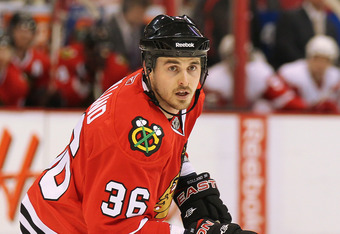 Claus Andersen/Getty Images
If Bolland is used on the third line and Sharp starts the season as second line center, some wrinkles creep into the equation. There's an opening for a wing on one of the top two lines.
There are a host of players on the Blackhawks roster who could vie for a top-six spot, and most of them will probably see time there during the course of the season.  Quenneville likes to tinker and many of the usual suspects from last year's team will get a look.
Let's suppose Brunette stays on the second line for a moment, leaving the opening on the first line with Toews and Kane.  Who might Quenneville use there?
I could see Viktor Stalberg getting another shot. He's got the speed to stay with Toews and Kane. I also don't see him on the third or fourth line with his skill set this year. Why re-sign Stalberg if he can't fit into a role like this?
That leaves Brian Bickell as another option on that line.  The one who crashes the net, not the one who looks for wristers. With Toews and Kane, he'd have to commit to getting to the crease and providing some physical presence. Ben Smith could also be in the mix, provided he makes the team.
Both Stalberg and Bickell had their shots last season, which is why Quenneville's best option may be to begin the season with Brunette on the top line. This leaves a host of players who could line up with Sharp and Hossa. Michael Frolik comes to mind first, along with Stalberg and Bickell.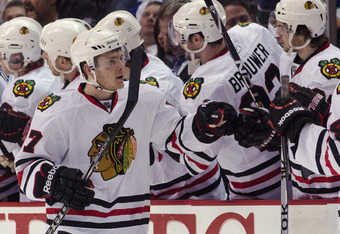 Rich Lam/Getty Images
Rostislav Olesz is a player who has been tossed out there as an option. If healthy (and there's no guarantee he is ready for camp after knee surgery), I'm sure Quenneville will toss him on the carousel for a look.
That carousel will likely operate until Bowman picks up a top-six forward. All indications are that such as deal will take place midseason, using the cap space he has filed away. It's also possible that a youngster like Smith or Jeremy Morin could rise up and claim a top-six spot.
In my opinion, the player with the most potential for such a role is Morin, who may already be the answer if he had put in a full season in 2010-11.  He was impressive in nine games with Chicago before going the the World Junior Championships.
From there, he was injured twice and missed most of the rest of the season in Rockford with what is likely a concussion.  If not quite a certainty to make the club out of camp, he could be ready to make an impact by the All-Star break.
Again, much of this speculation disappears if Sharp stays at wing and Bolland begins the season on the second line. Making a deal for a top-six forward also cements the top of the lineup.
There may only one question mark on the top two lines going into camp. However, there are quite a number of variables for Quenneville and Bowman to work out before the season opens.