Giant Concern: How the Loss of Steve Smith and Kevin Boss Affects Eli Manning
August 11, 2011
Al Bello/Getty Images
The Giants have had one of the worst offseasons in recent history.
In a little more than two weeks since the lockout ended on July 25th, the Giants have lost their starting wide receiver, Steve Smith, and starting tight end, Kevin Boss, to free agency. They also lost their first-round draft pick out of Nebraska, Prince Amukamara, for eight weeks after fracturing a bone in his left foot, and have had ongoing issues with their defensive end, Osi Umenyiora, who is still looking for a new contract from the Giants front office.
The loss of Steve Smith and Kevin Boss will have the biggest impact on the team and the progression of the offense.
Although the Giants and general manager Jerry Reese were working to re-sign both Boss and Smith, both tested the free-agent market and received better offers. Boss signed with the Oakland Raiders on a four-year, $16 million contract on August 5th and Steve Smith signed with Philadelphia Eagles yesterday on a one-year contract.
This creates a major problem for the Giants offense. The Giants have a young, inexperienced, unproven wide-receiver core right now, and both Steve Smith and Kevin Boss would have added depth and reliability to this group.
Both Smith and Boss were establishing themselves as legit offensive threats in the NFL. Kevin Boss has averaged at least five touchdowns each of the last three seasons with the G-Men. Out of his 35 receptions last year, Boss had 22 receiving first downs, which meant Boss was very efficient when the ball was in his hands.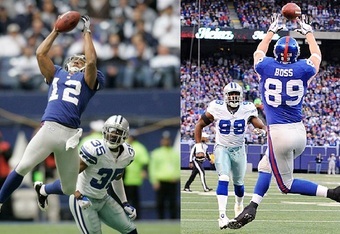 Smith had his best season with the Giants in 2009 when he had 107 receptions and 1,220 yards receiving. Smith was having another great season last year with 48 receptions and 529 yards in nine games before he had season-ending knee surgery. Out of his 48 receptions, he had 29 first downs—nine of them were third-down conversions. 
Giants quarterback Eli Manning relied heavily on both players on third down to continue drives and move the chains. This could potentially be bad news for the Giants and their fans.
Manning, who led the NFL last year with 25 interceptions, will now have more pressure coming into this season.
This makes many Giants fans nervous. Every time Manning goes back to pass, fans collectively hold their breath, hoping that he doesn't make an errant pass on third down or get sacked and cough up a fumble. Manning might be putting some of the G-Men's fans on their death beds by the end of the season, especially now that the Philadelphia Eagles' revamped their secondary with acquisition of cornerback Nnamdi Asomugha.  
Let's see if Manning can respond to the adversity and have less of his passes end up in the hands of the Philly secondary.
This short offseason has not been a good one for the Giants so far. They go into their first preseason game against the Carolina Panthers with a lot of questions on the field, along with these Osi Umenyiora troubles off the field.
When it rains, it pours and right now it's monsoon season at Giants camp.