Oakland Raiders 2011 Predictions: 5 Players Who Will Have Big Years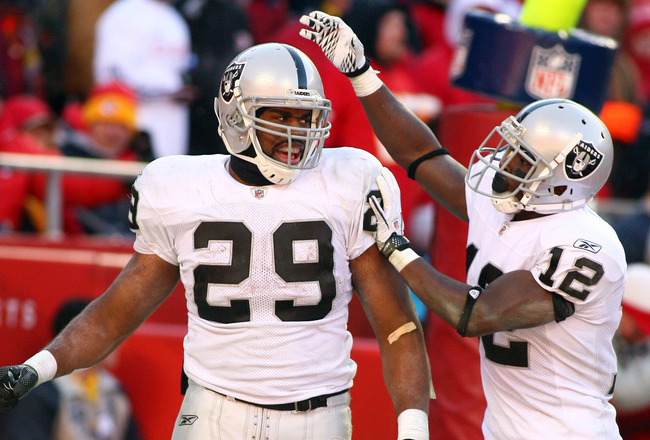 Tim Umphrey/Getty Images
The Oakland Raiders have a bunch of talent on their roster. The key to last year's success was the ability of young players to step up at big moments throughout the year. We saw Jacoby Ford become electric on special teams and Louis Murphy make big time catches.We watched as Nnamdi Asomugha shut down one-half of the field and Sebastian Janikowski knock down game winning field goals. Going into this year, we know we have the talent, but who is going to surprise us and have a breakout year? Here are my 5 choices on who I think is going to have a huge year for the Raiders.
#5: Tight End Kevin Boss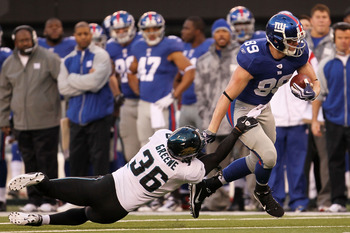 Chris McGrath/Getty Images
When Zach Miller bolted to Seattle, Raider Nation became extremely nervous about a huge gap that was left at the Tight End position. Losing a Pro-Bowl Tight End is a tough thing to replace but the Raiders quickly rebounded with former Giants Tight End, Kevin Boss. Kevin is an extremely talented Tight End that can help both the running and passing game. Boss can stretch the field vertically and could be an upgrade to the blocking game. Boss had 35 receptions for 531 yards and totaled 5 Touchdowns last year. I would look for Boss to put up even more numbers because of Oakland's ability to use the Tight End as a go to receiver. Another Tight End to watch this year is backup David Ausberry. The Raiders drafted Ausberry as a Wide receiver but then moved him to Tight End. Look for a big year from the Tight End position in Oakland.
#4: Darrius Heyward-Bay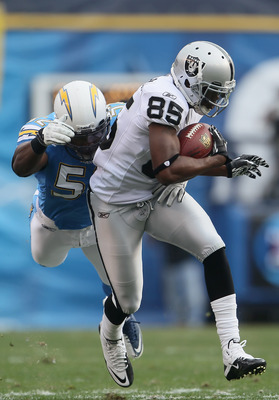 Jeff Gross/Getty Images
In 2009, Oakland passed up Michael Crabtree and drafted Darrius Heyward-Bey. Oakland saw the potential and upside that Darrius has and felt he could be a star in the making. Fast-forward 2 years, and Raider Nation is growing impatient with DHB. In just 2 years, Heyward-Bey has only totaled 35 receptions for 490 yards. He has averaged only 18.8 yards per game and has only totaled 2 Touchdowns. Heyward-Bay knows he is on the hot seat in Oakland and fans are hoping he can have a break-out year. I would look for his numbers to improve due to the attention the Raider's running game will get. Heyward-Bey has big play potential and the Raiders are going to need him to create some big plays this year.
#3:Jacoby Ford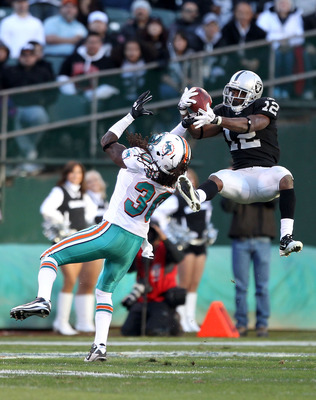 Ezra Shaw/Getty Images
Jacoby Ford had a fantastic rookie year on both special teams and on offense. Last year Ford had 25 receptions for 470 yards and 2 Touchdown receptions. On special teams, Ford was electric as he returned 3 kickoffs for Touchdowns. Jacoby has big play threat written all over him because of his elusiveness and speed. Drafted in the 4th round last year, Jacoby had a big year and made a huge impact. Ford has become a fan-favorite and Oakland needed his athleticism. I would look for his numbers to go up as he will get more looks from Campbell this year.
#2: Lamarr Houston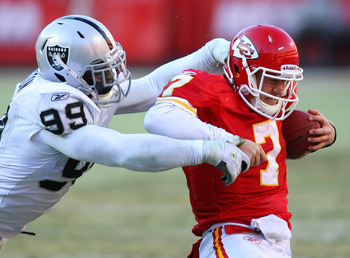 Tim Umphrey/Getty Images
I feel Lamarr Houston is going to be a key player on defense this year. Drafted last year in the 2nd round, Lamarr totaled 5 sacks, 1 forced-fumble and 39 total tackles throughout 16 games. With veterans Richard Seymour and Tommy Kelly stuffing the middle of that 4-3 defense, Houston will be able to focus on rushing the edge and getting to the quarterback. With one year under his belt, Houston gained professional experience and is one of the most physically talented defensive ends in the league. Look for Houston to have a great season with more tackles and add to his sack total.
#1 Stanford Routt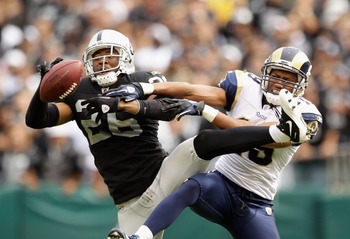 Ezra Shaw/Getty Images
The biggest question mark for the Raiders will be the replacement for cornerback Nnamdi Asomugha? Oakland signed Routt to a lucrative deal and they believe that he will take over and shine in place of Asomugha. Last year, Routt had 55 total tackles with 2 interceptions and one returned for a touchdown. Since Routt will be covering the opposing teams best receiver, look for a lot of passes get thrown his way early in games. I believe that Routt has something to prove and he will have a big year on defense for the Raiders.
Keep Reading

Oakland Raiders: Like this team?