Cleveland Browns New Player Profile: Brandon Jackson
August 8, 2011
Jamie Squire/Getty Images
Living in the state of Wisconsin is very similar to living in northeast Ohio. The people live and breathe football.
In Cleveland, it's the Browns. In Wisconsin, where I'm currently stuck living, it's the Green Bay Packers.
So since I live here I get to watch just about every Packer game and was able to see new Browns running back Brandon Jackson firsthand the whole season.
Therefore, I figured I'd try and give the Cleveland fans a better idea of who it is we brought into the fold in Berea this summer.
A former Nebraska Cornhusker, Jackson will be entering his fifth season in the NFL.
He was decent in three years with the Cornhuskers with the bulk of his production coming in his junior season when he totalled 989 yards (5.3 AVG) with eight TDs. It was good enough for Green Bay to draft him in the second round, pick No. 63.
The majority of his time with the Packers was spent as a backup to Ryan Grant, who went down for the season in Week 1.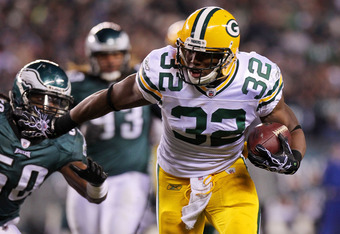 Nick Laham/Getty Images
Grant's injury gave Jackson all the opportunity a guy could ask for but he was unable to capitalize. He only hit the 100-yard mark in one game—and that one went into overtime. He only amassed four TDs in the regular season (three rushing, one receiving) before disappearing completely in the playoffs (he didn't have a single rushing attempt in the Super Bowl).
Jackson lost his starting spot early in the playoffs to a former practice player, James Starks, who exploded onto the scene racking up 123 yards on 23 carries in the Packers' opening round win over the Eagles.
Now, it should be noted that the Packers are not a running team. Why would you be when you have Aaron Rodgers, Greg Jennings, Donald Driver, Jordy Nelson and James Jones?
There weren't a whole lot of opportunities for Jackson to showcase himself as a runner last year. He was able to show that he can be productive in the passing game however.
He is a very adept and reliable option catching the ball out of the backfield (he had at least one reception every game, averaging 8.0 yards), which is a vital skill for a running back in the West Coast offense.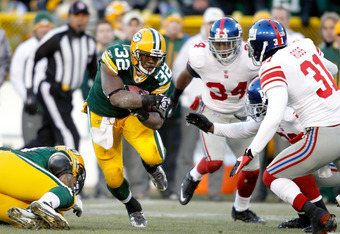 Matthew Stockman/Getty Images
I don't mean to burst a Browns fan's bubble who may have gotten excited to have signed the Super Bowl champions' starting running back.
The reality is that Jackson is a career backup...which is fine with Cleveland, because that's all we need him to be.
The Browns are set at running back with the majority of the rushing attempts this season likely to go to Peyton Hillis and Montario Hardesty. But don't be surprised if you see Jackson get some reps in third down situations.
If I could have had my choice of any of the Packers' free agents, it wouldn't have been Jackson (probably James Jones or Cullen Jenkins). But if I had to choose from all the backups in the NFL I'd take Jackson in a heartbeat.
Despite the lack of big numbers, he is a guy who works hard and is willing to grind out tough yards. (Many of his rushing attempts came in short-yardage situations which was a big factor in his low average.)
Don't expect the world from him. Just expect a consummate professional who will reliably step in when his name is called.
In the end, he has to be better than Mike Bell, right?
You can follow me on Twitter @ClevelandFlack.